World Water Day 2017: Over 30 scary pictures depicting India's worsening water-crisis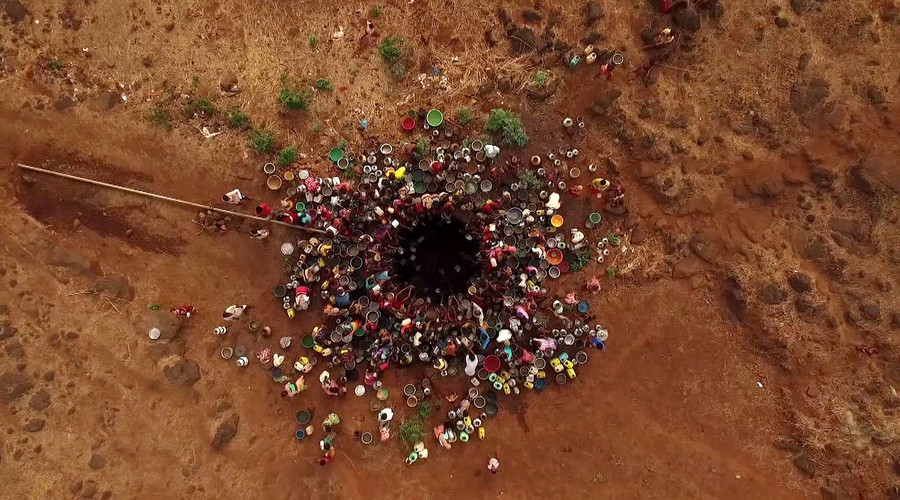 Photo: RT Documentary
Today, the World Water Day 2017 (WWS) is being celebrated with this year's theme 'Why Waste Water?". Apparently, the idea is to encourage water conservation. For a country like India, this day holds special value as it has the largest rural population without access to clean drinking water. As per WaterAid's report, 62 million people in rural regions do not have access to clean drinking water. This makes India number one in the list trending nations that are facing crisis. The report also suggests that diseases such as cholera, blinding trachoma, malaria and dengue would witness a massive rise in numbers. Also, malnutrition would prevail and prosper as rural people will struggle even to grow food and maintain livestock without water. The women would have to travel more distance on feet to fetch drinking water.
The major share in rising demand of water will come from urban population, which, unfortunately, uses more than they need and are blank about re-use of waste water. As per the report, India's one sixth ground water resources are over-burdened and over-extraction will soon consume them completely.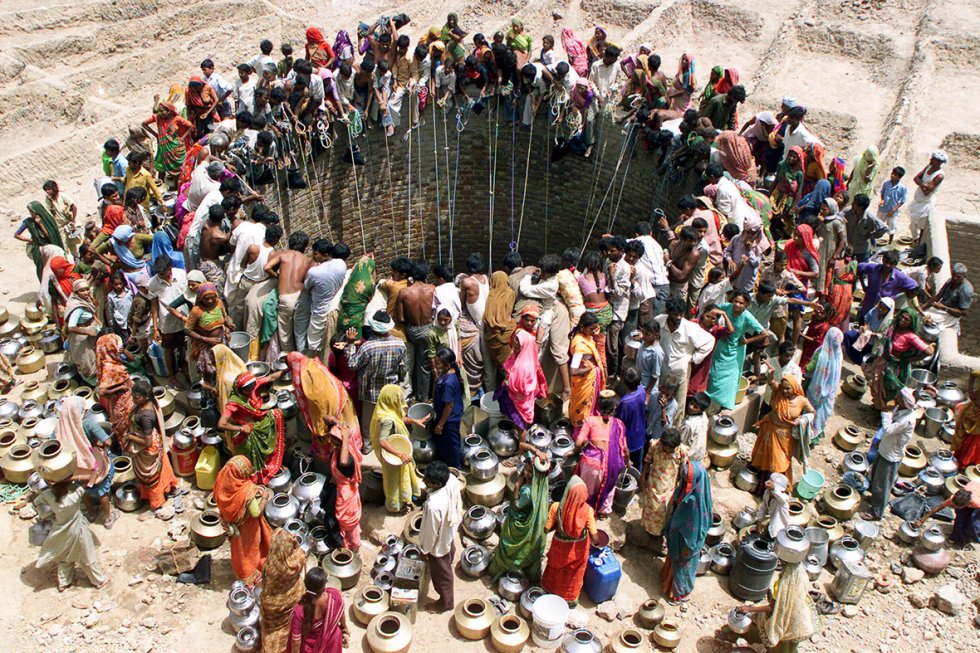 Natwarghad Village in the western Indian state of Gujarat. Photo: Reuters
Urbanization has almost choked lifelines (Rivers) of India like Yamuna and Ganga. Yesterday, the two holy Rivers were granted title of "living human entity" in a judgment by Uttarakhand High Court in hope to encourage conservation. The worst example can be seen in Bengaluru – the garden city of India where lakes have started catching fires. Isn't it too much?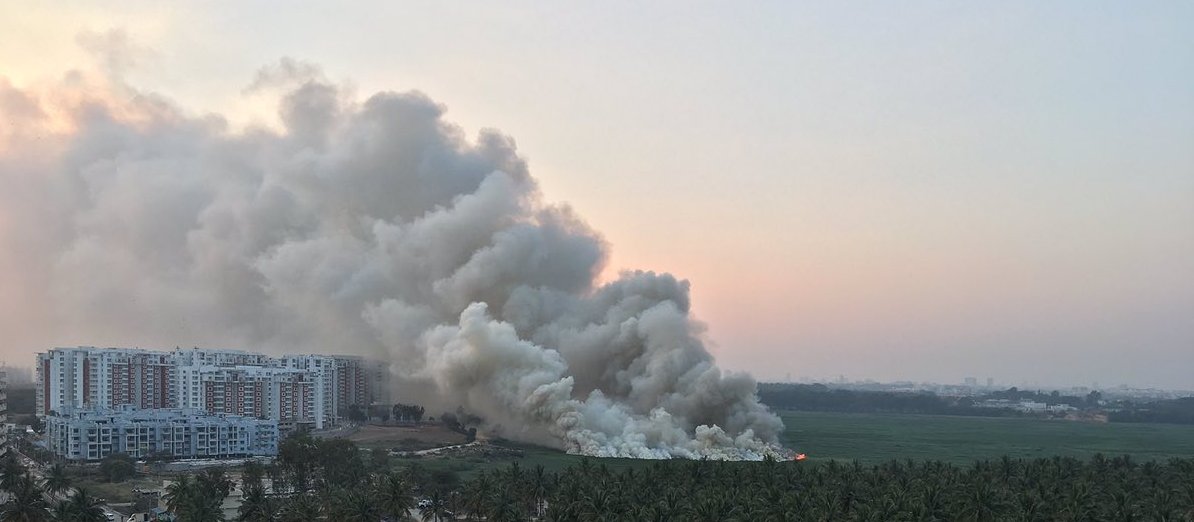 Lake in Bengaluru is so polluted that it keeps catching fire. Experts fear, the city will be uninhabitable by 2025
Currently, the best way out is to reclaim waste water by adopting new methods being used in developed nations. Israel, for instance, recycles over 50 percent of its domestic waste-water, which is an incredible solution to water-scarcity.
WWD was first observed in March 1993 after March 22 was designated as the WWD by the U.N. General Assembly. The message was clear – water conservation. But despite that message, here we are in 2017 in a dungeon with water crisis looms over our heads. But still it's not too late to observe the increasing demand of water and depleting water resources due to various man-made reasons. By 2030, the demand for drinking water is estimated to grow by 50 percent, for which the world isn't prepared.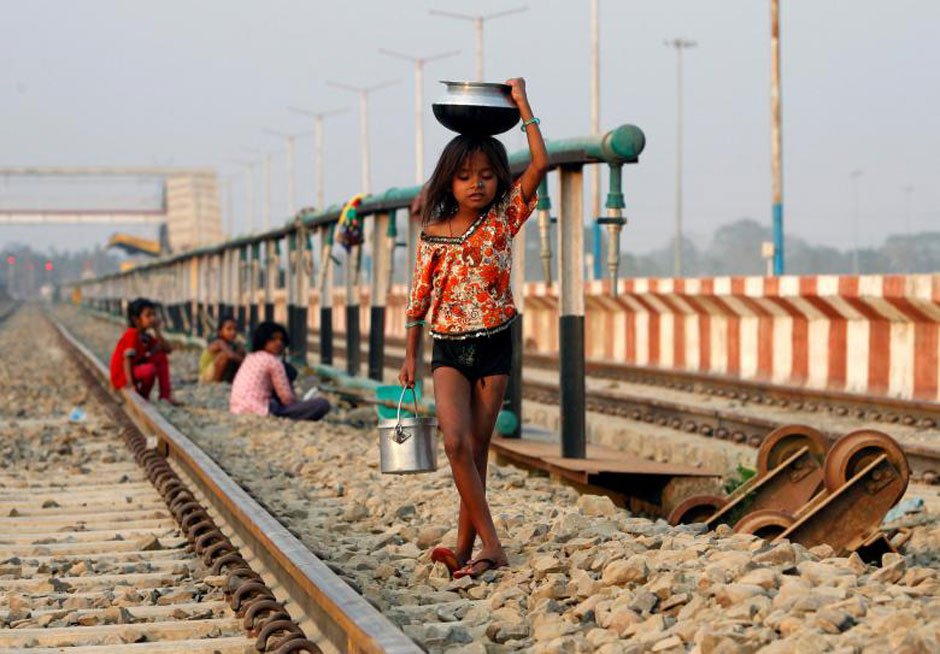 On the outskirts of Agartala. Photo: Reuters
India deserves special mention as it has the largest chunk of population without access to clean drinking water. Take a look at some pictures depicting increasing water-scarcity in various regions of India: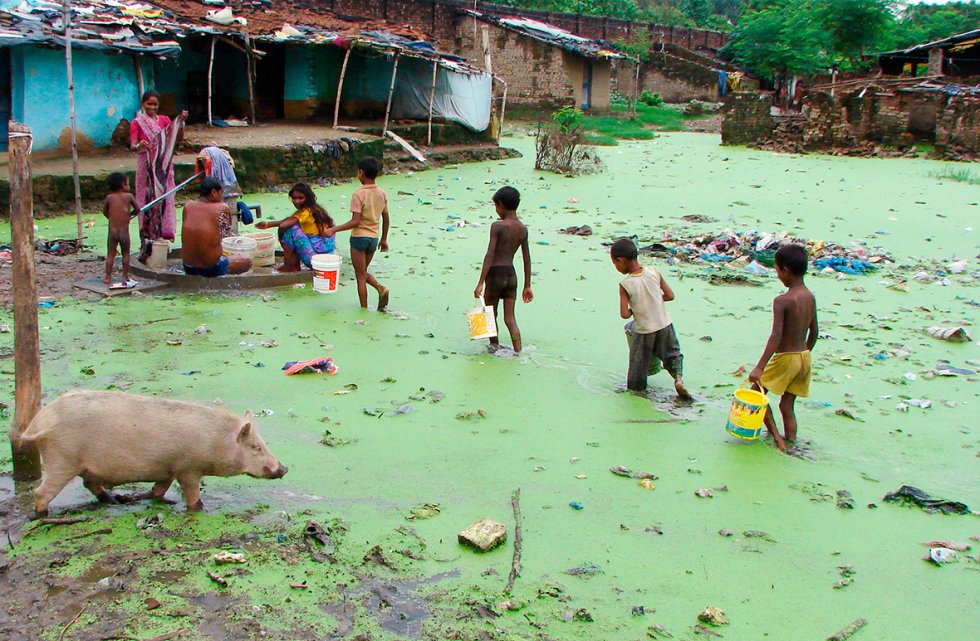 Slum dwellers in the northern Indian city of Allahabad. Photo: Reuters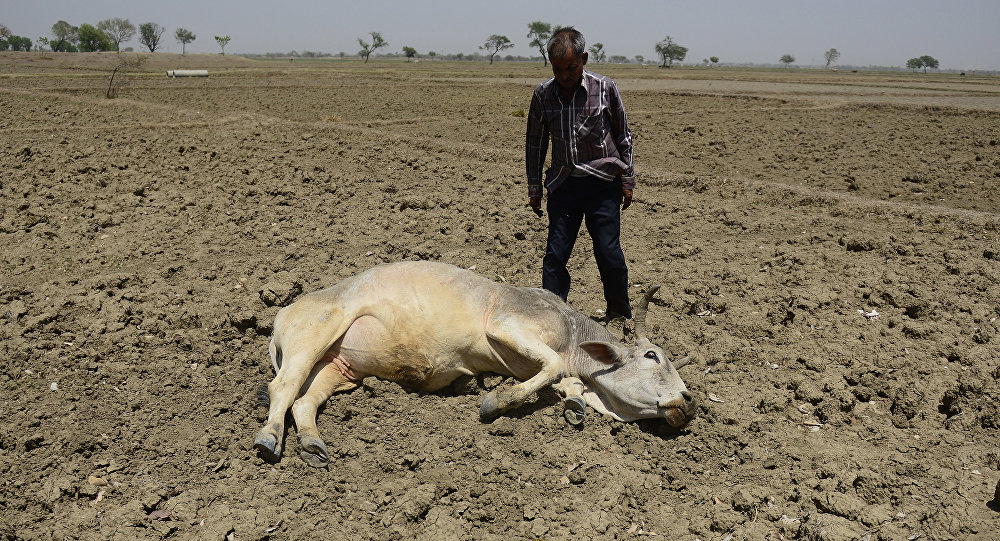 An Indian farmer tries to revive an unconscious cow dying on an unploughed field during a water crisis in Gondiya village. Photo: AFP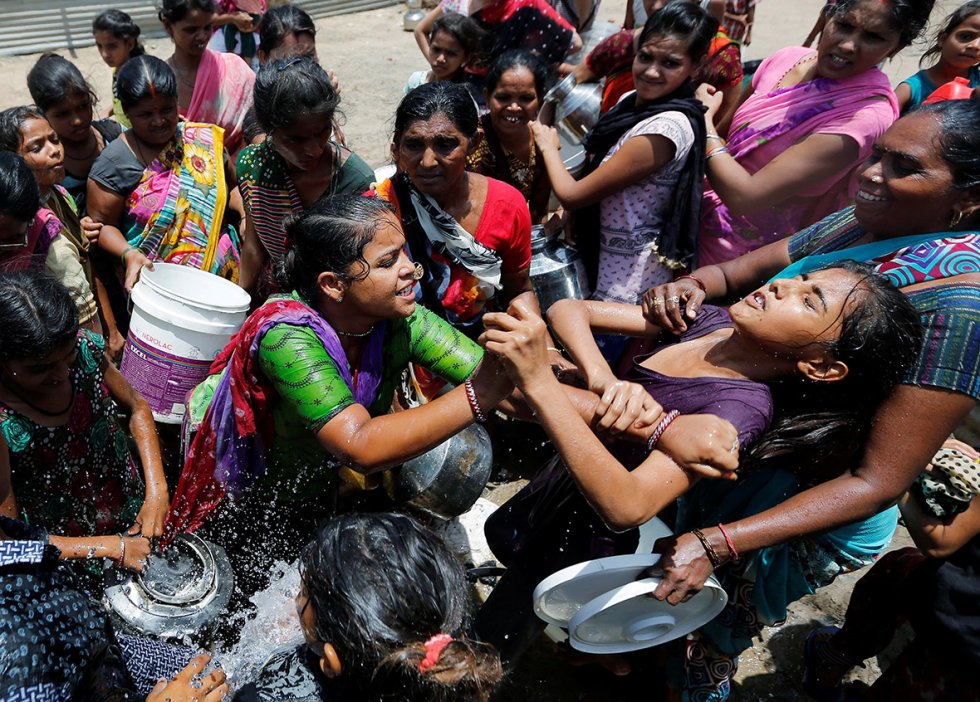 Women fight over drinking water from a municipal tanker in Ahmadabad. Photo: Reuters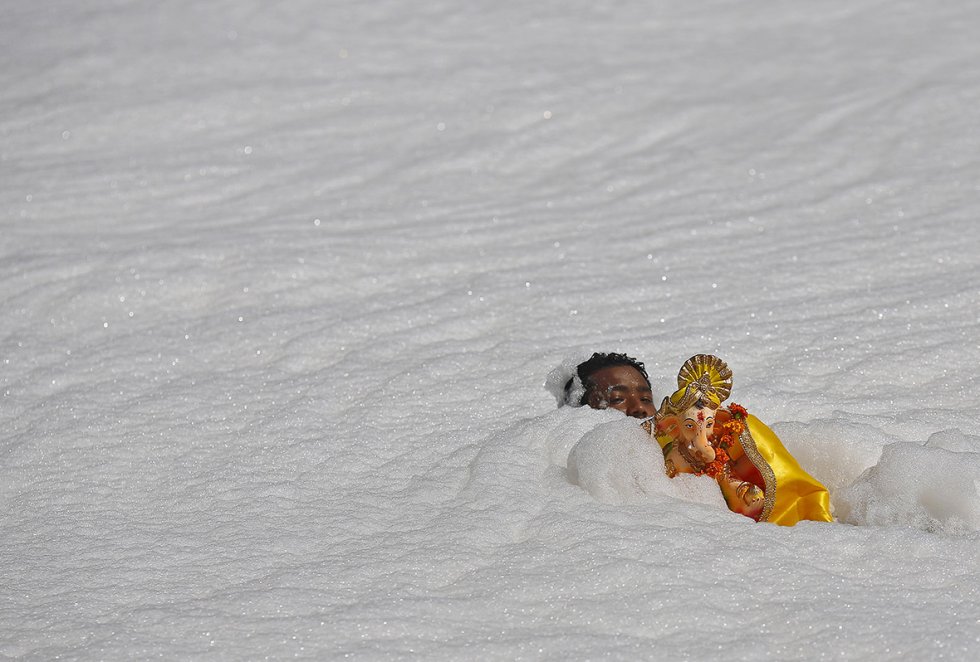 Man carrying Hindu god Ganesh statue through the polluted waters of the holy river Yamuna in New Delhi. Photo: Reuters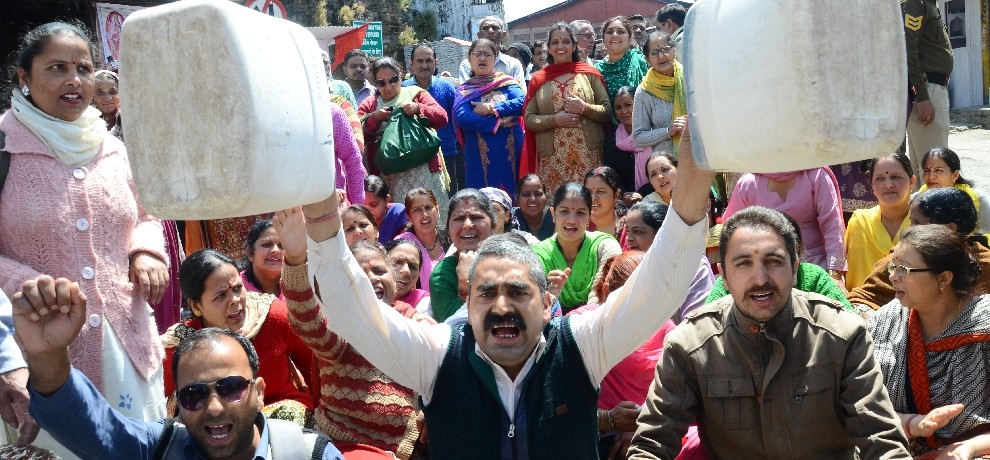 Angry people protest against civic body in Shimla for water shortage. Photo: Amar Ujala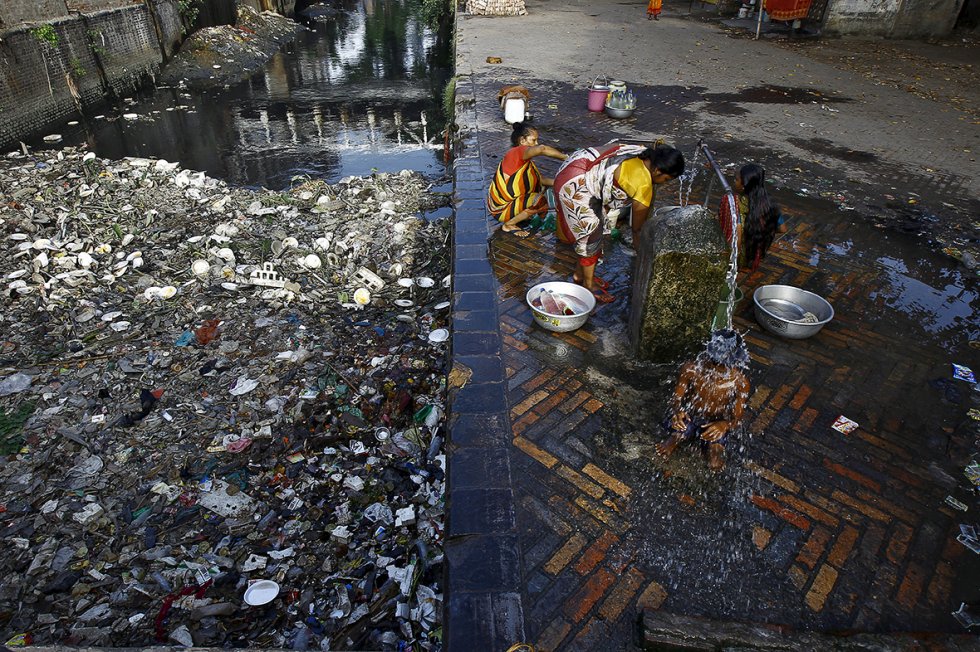 Near a polluted water channel in Kolkata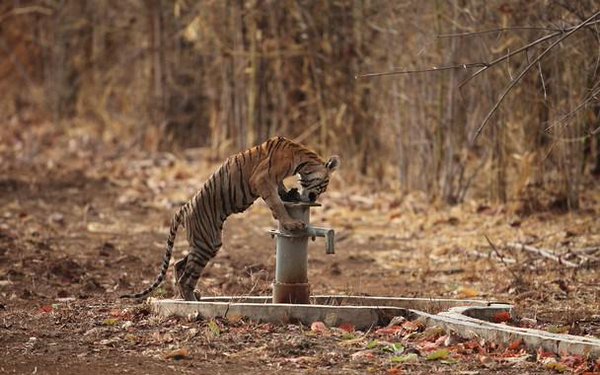 Water scarcity drives animals out of forests in India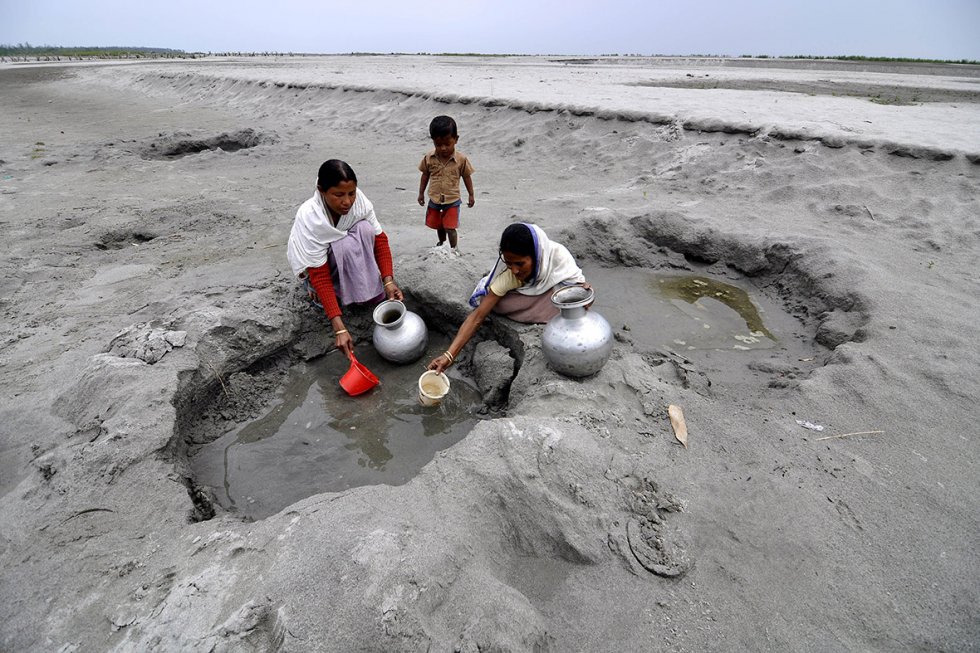 Siang River at Berasapori village in Assam. Photo AFP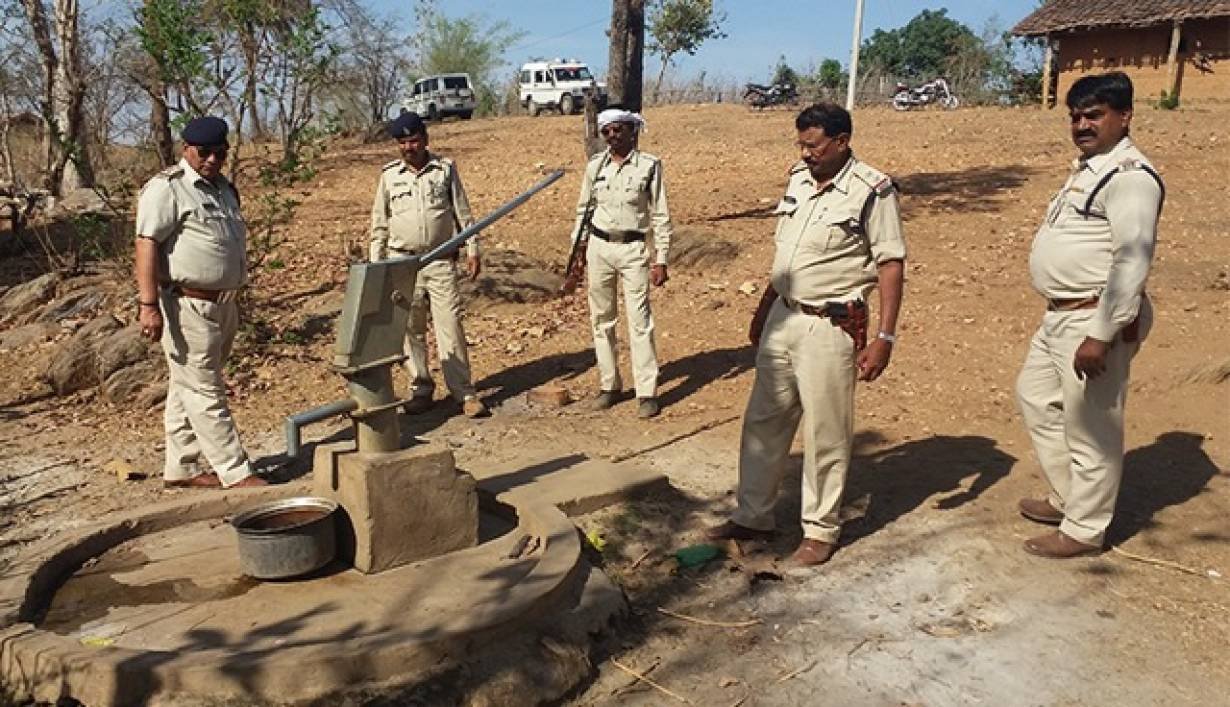 Cops on scene after a murder over water in Chhatarpur district, Bundelkhand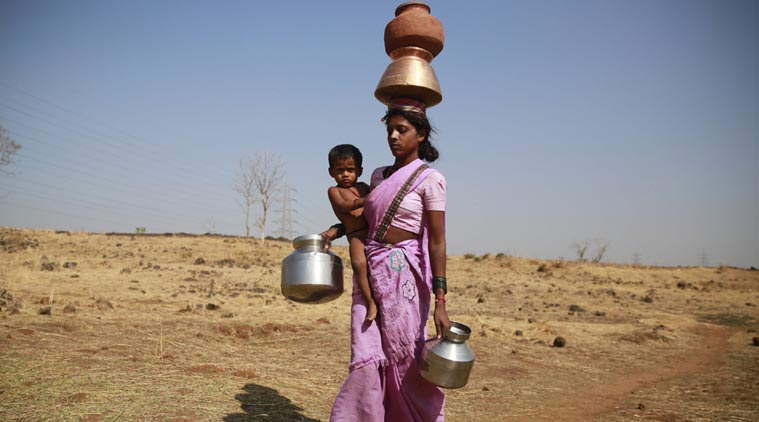 While on her way to a communal tube well at Raichi Wadi village, Mumbai. Photo: AP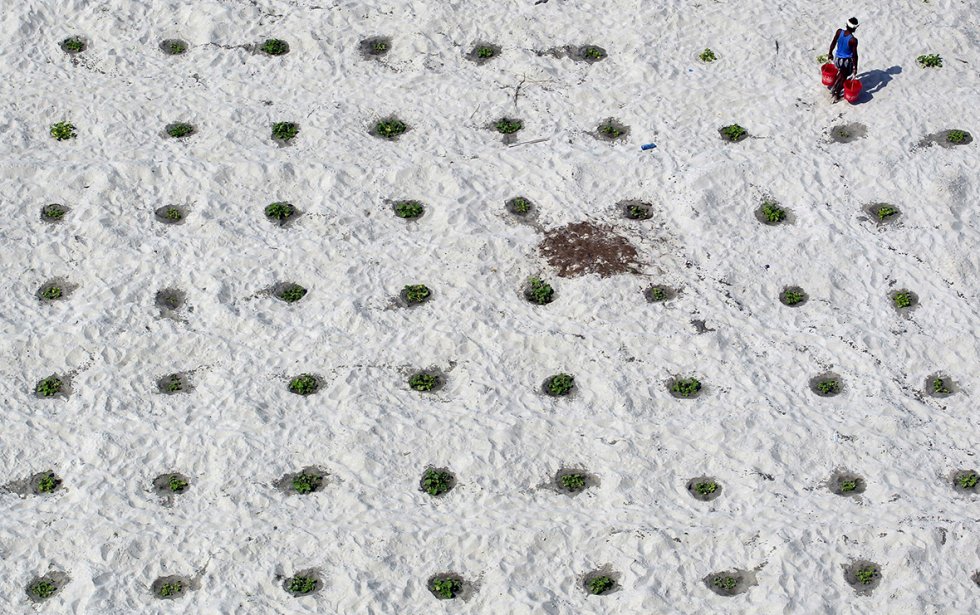 On the banks of the river Ganges in Allahabad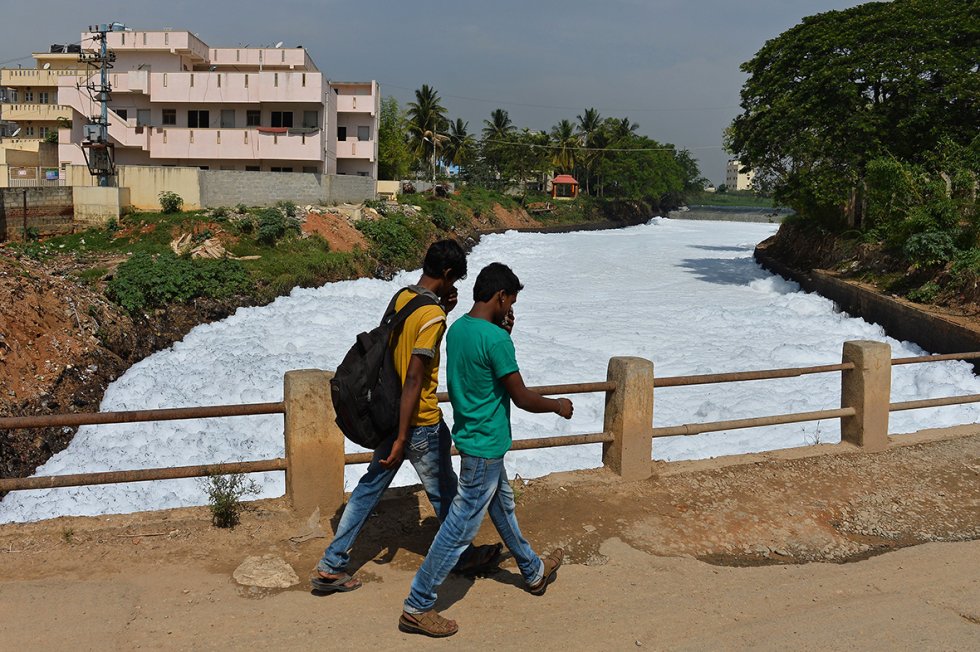 Pedestrians cover their noses as they cross a bridge over a polluted canal in east Bangalore. Photo: AFP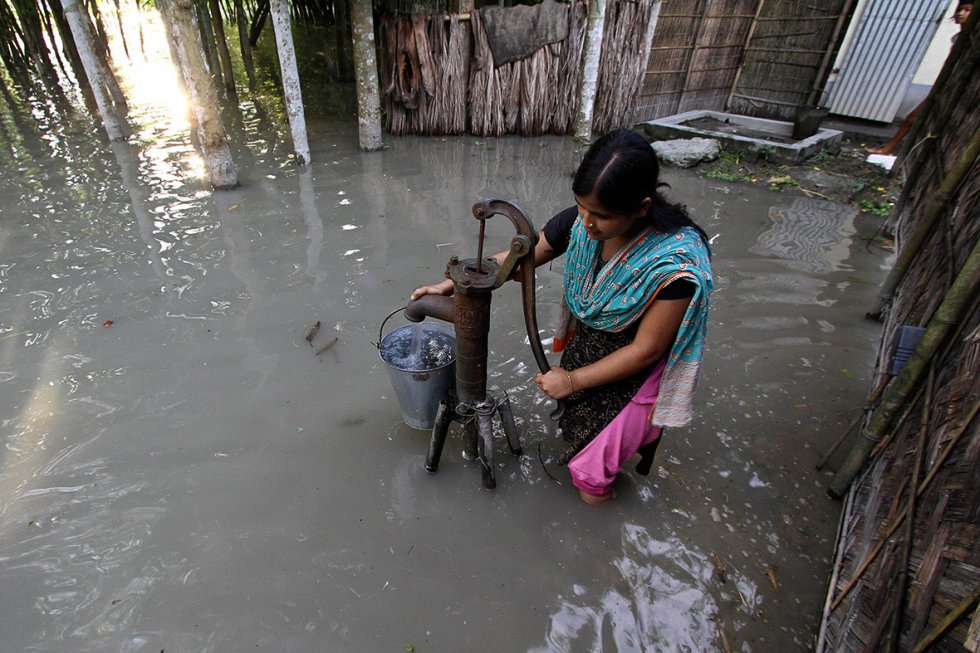 A submerged hand-pump at Dhuhibala village in Assam. Photo: Reuters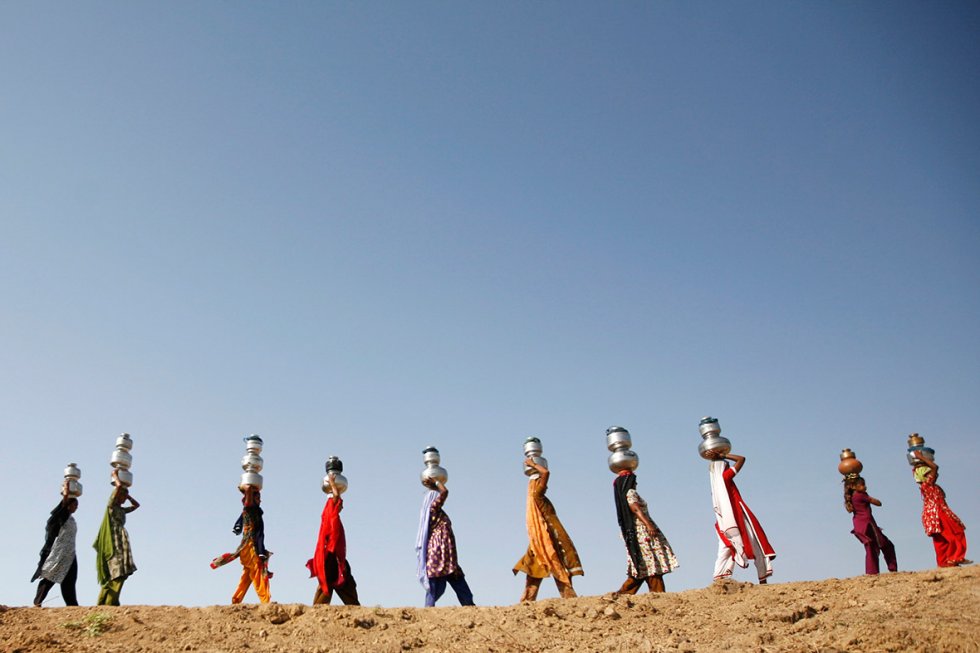 Villagers walking miles to fetch water in Meni village in Gujarat. Photo: Reuters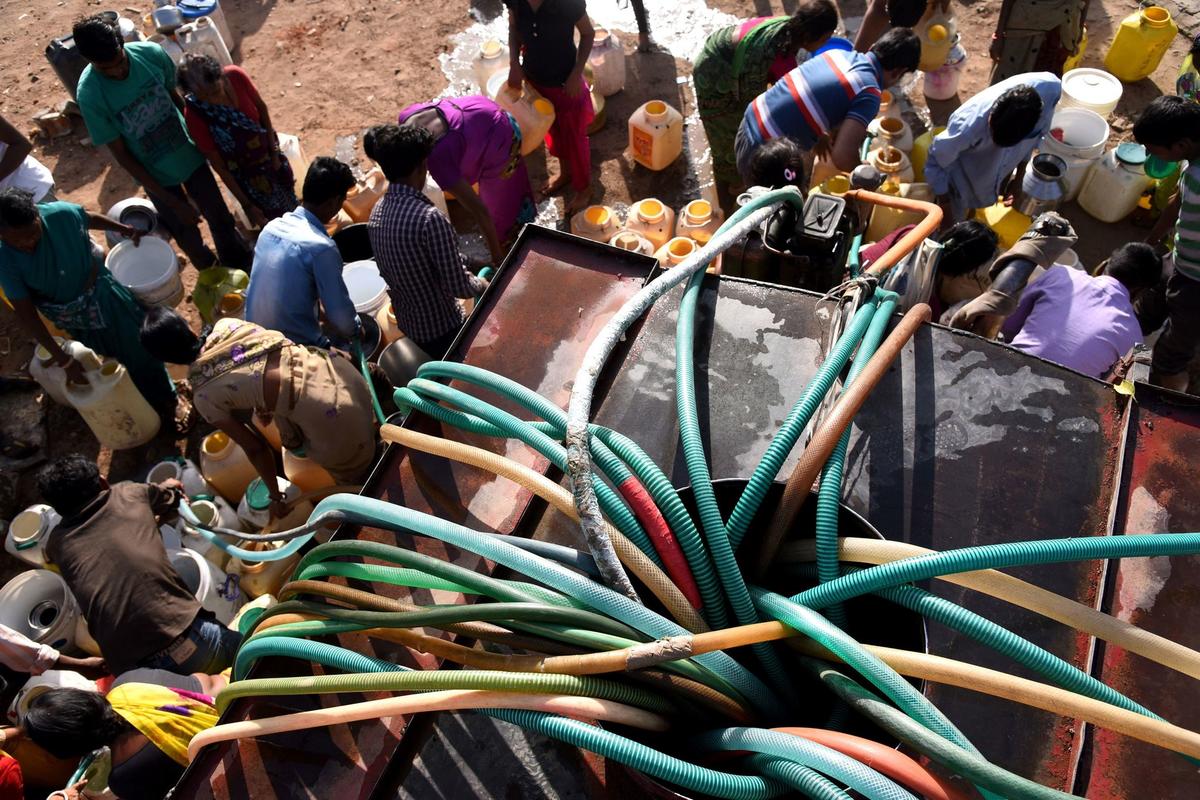 Collecting drinking water from a tanker in Bhopal, India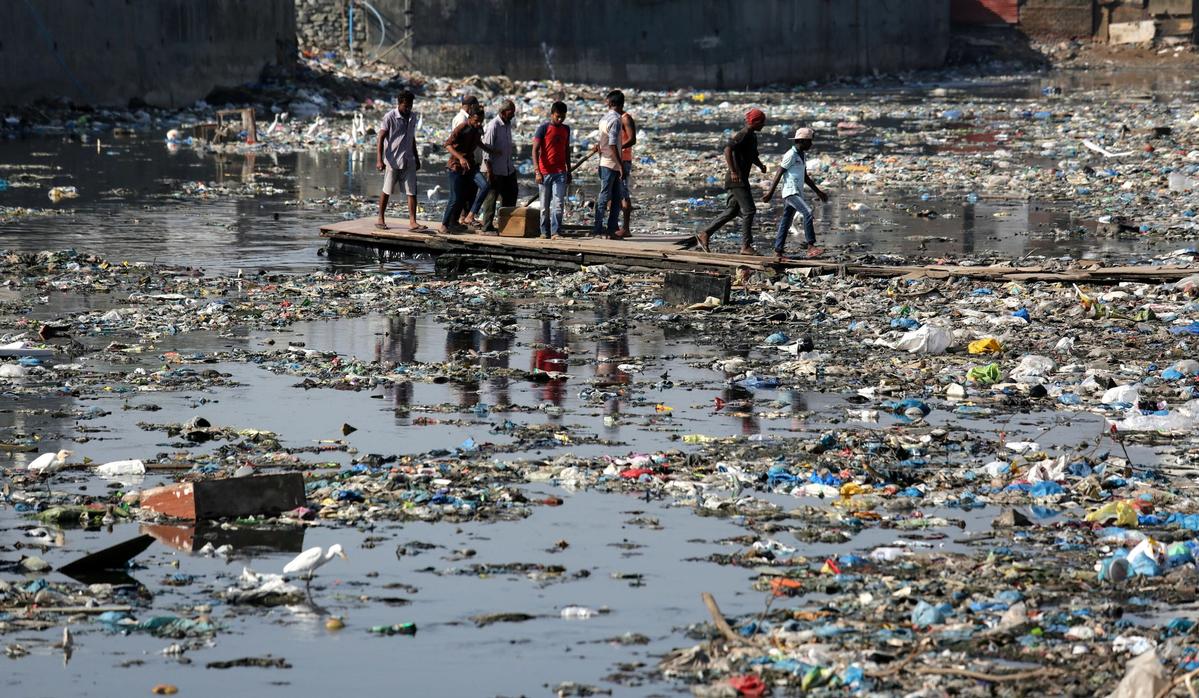 Plastic waste and other litter with the help of a makeshift raft in Mumbai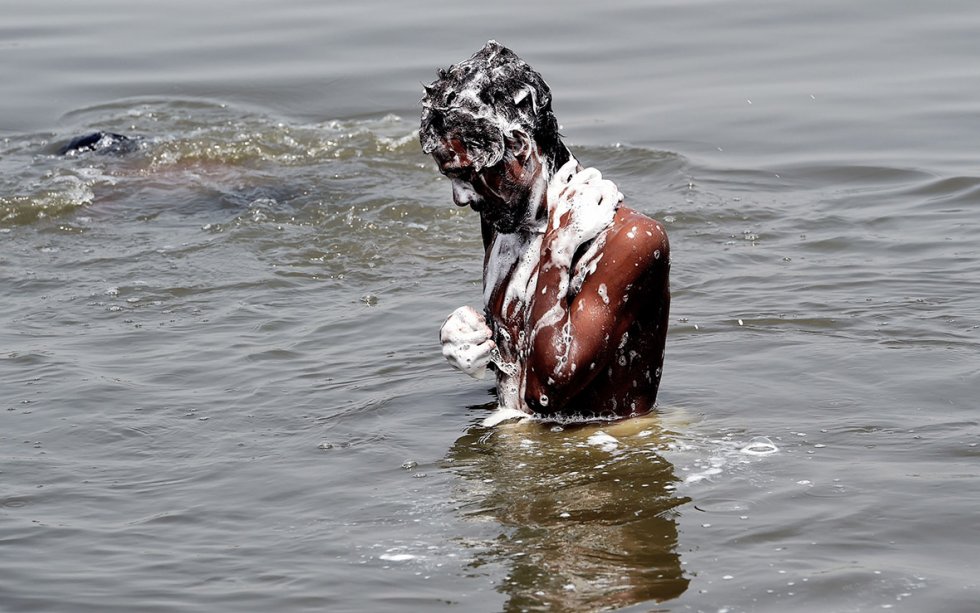 A man bathes in the polluted waters of the river Yamuna in New Delhi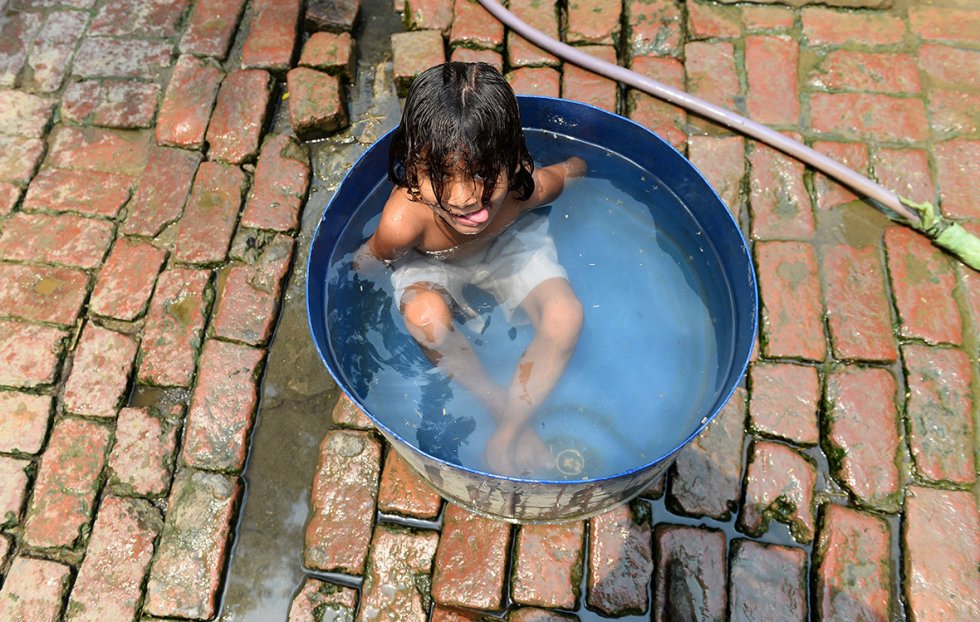 Bathing in contaminated water in Gangnauli village in Uttar Pradesh. Photo: AFP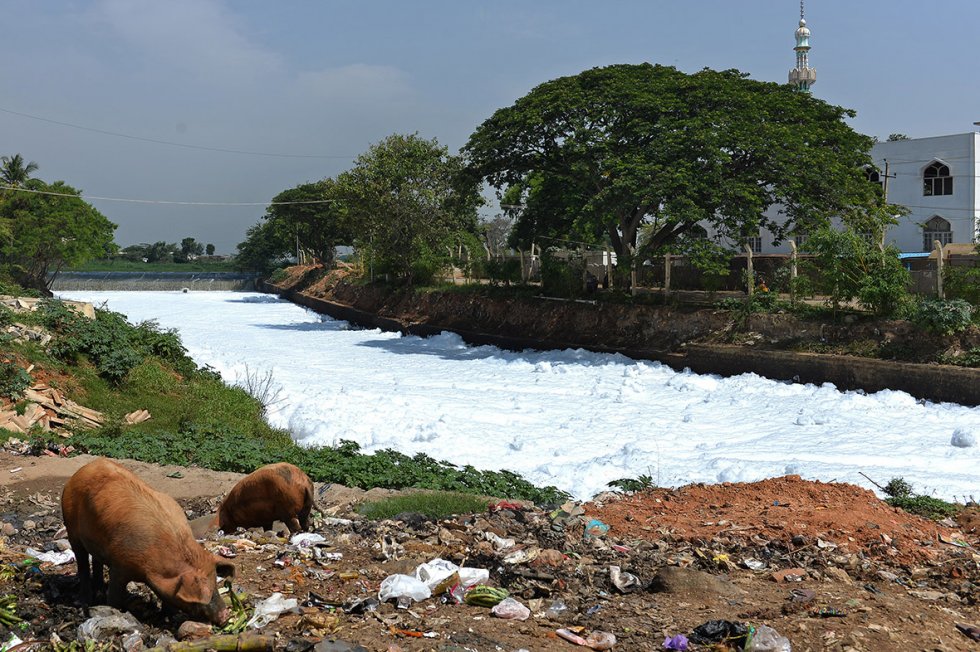 Bellandur Lake to Varthur Lake filled with toxic foam, emanating from sewage in east Bangalore. Photo: AFP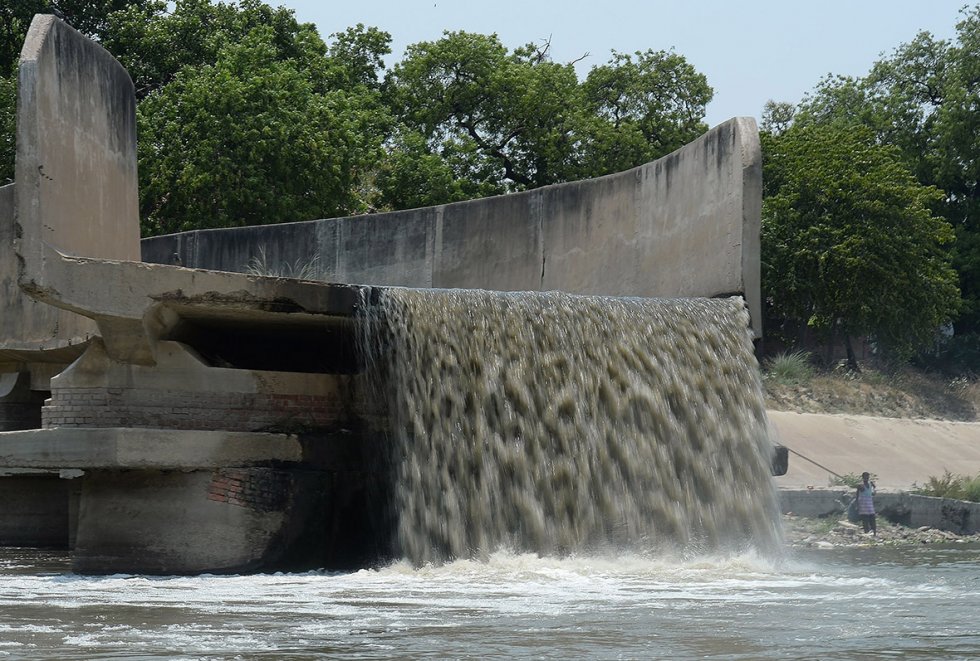 Untreated sewage waste falling into the river Ganges in Kanpur. Photo: AFP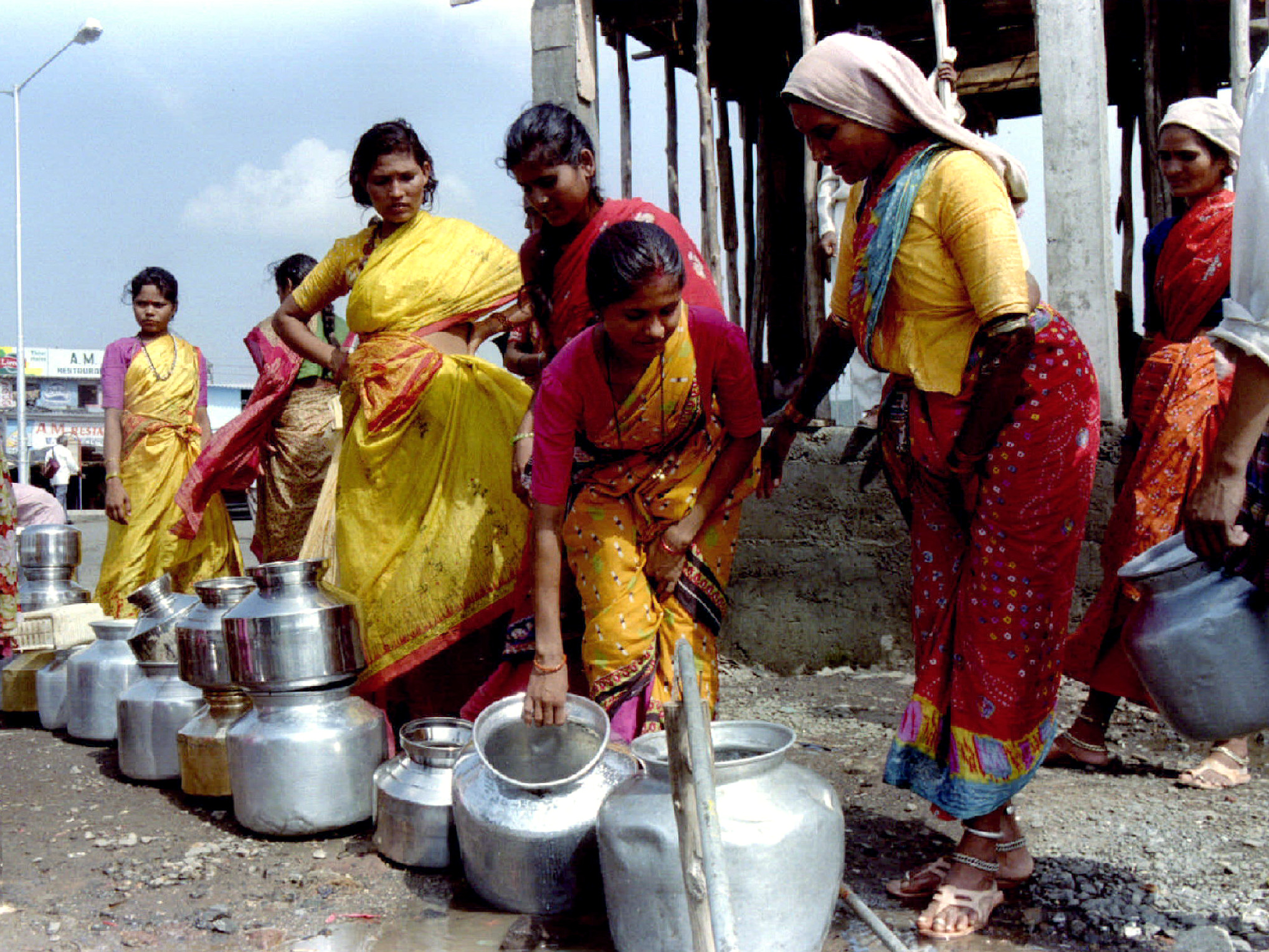 Lined up to collect drinking water in Bombay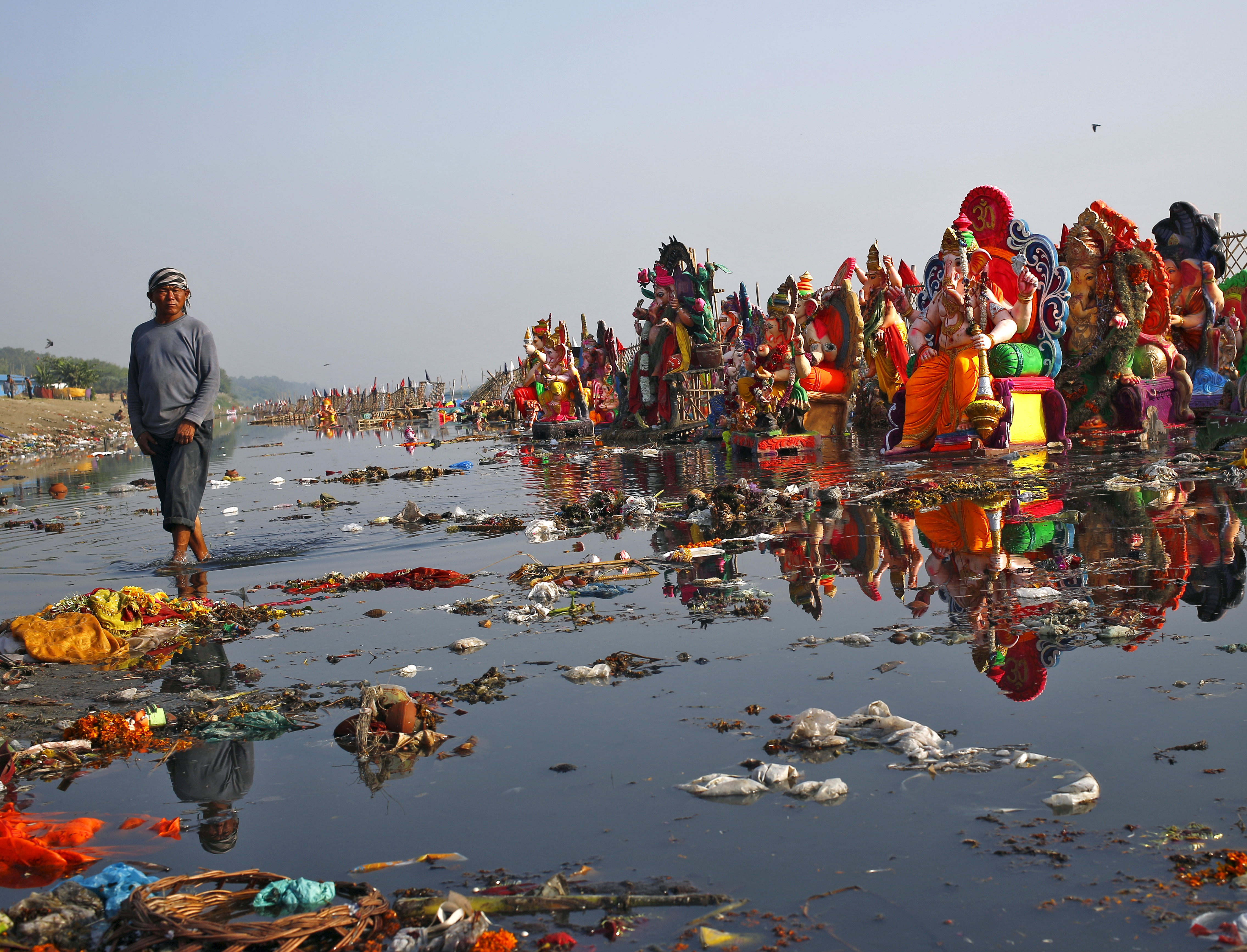 Waters of the Yamuna River in New Delhi. Photo: Reuters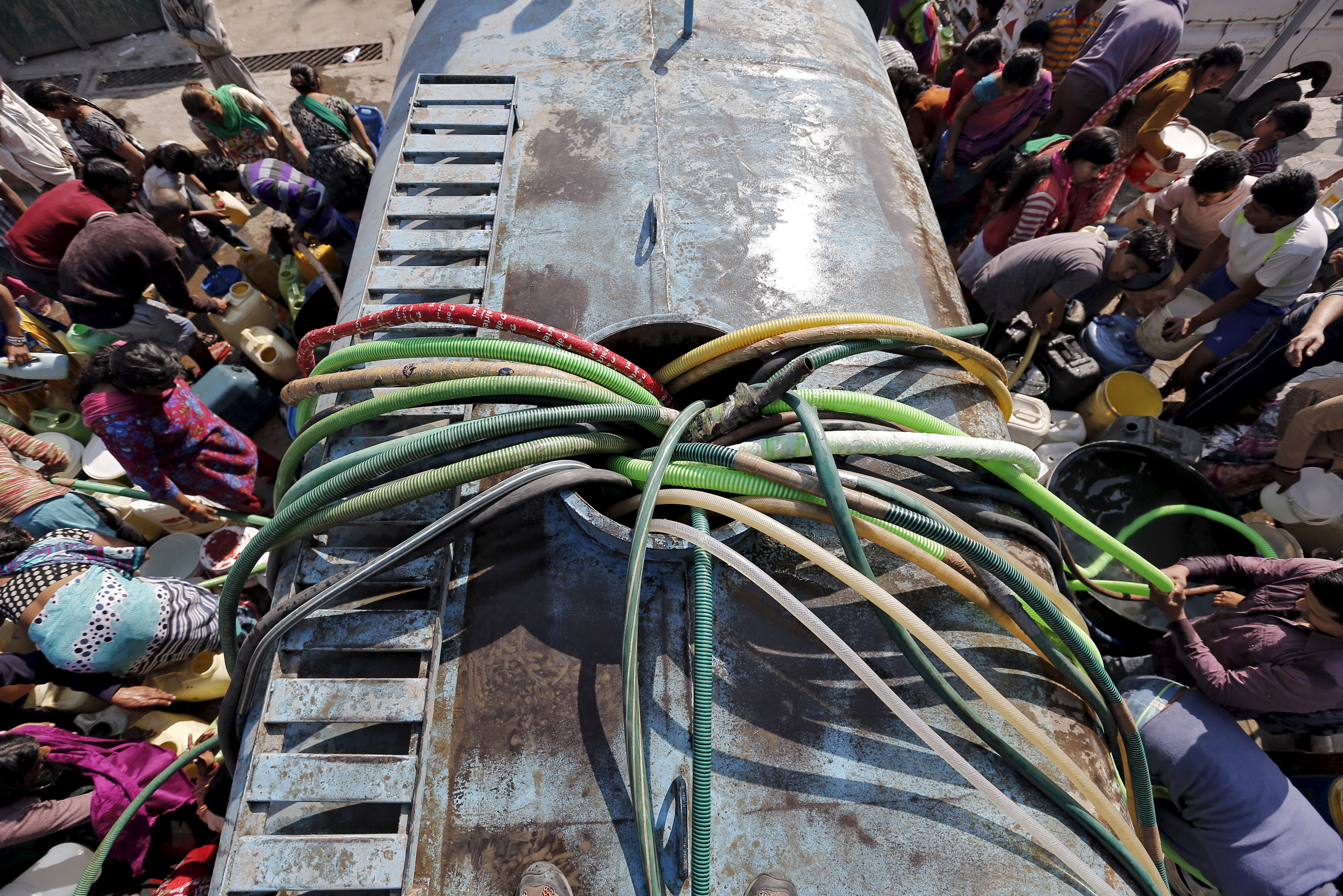 A municipal tanker in New Delhi. Photo: Reuters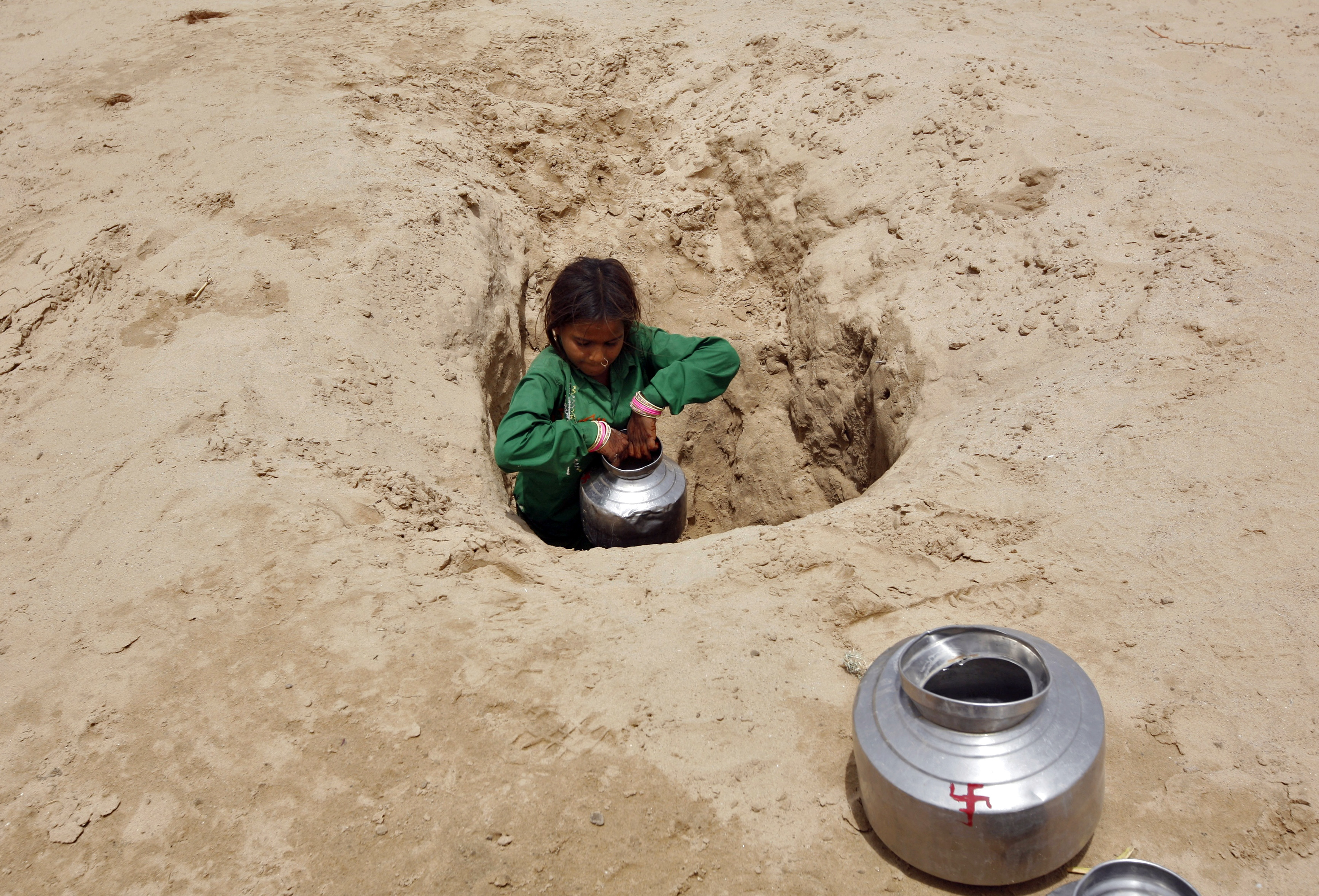 Dried-up Banas river at Sukhpur village, Ahmedabad. Photo: Reuters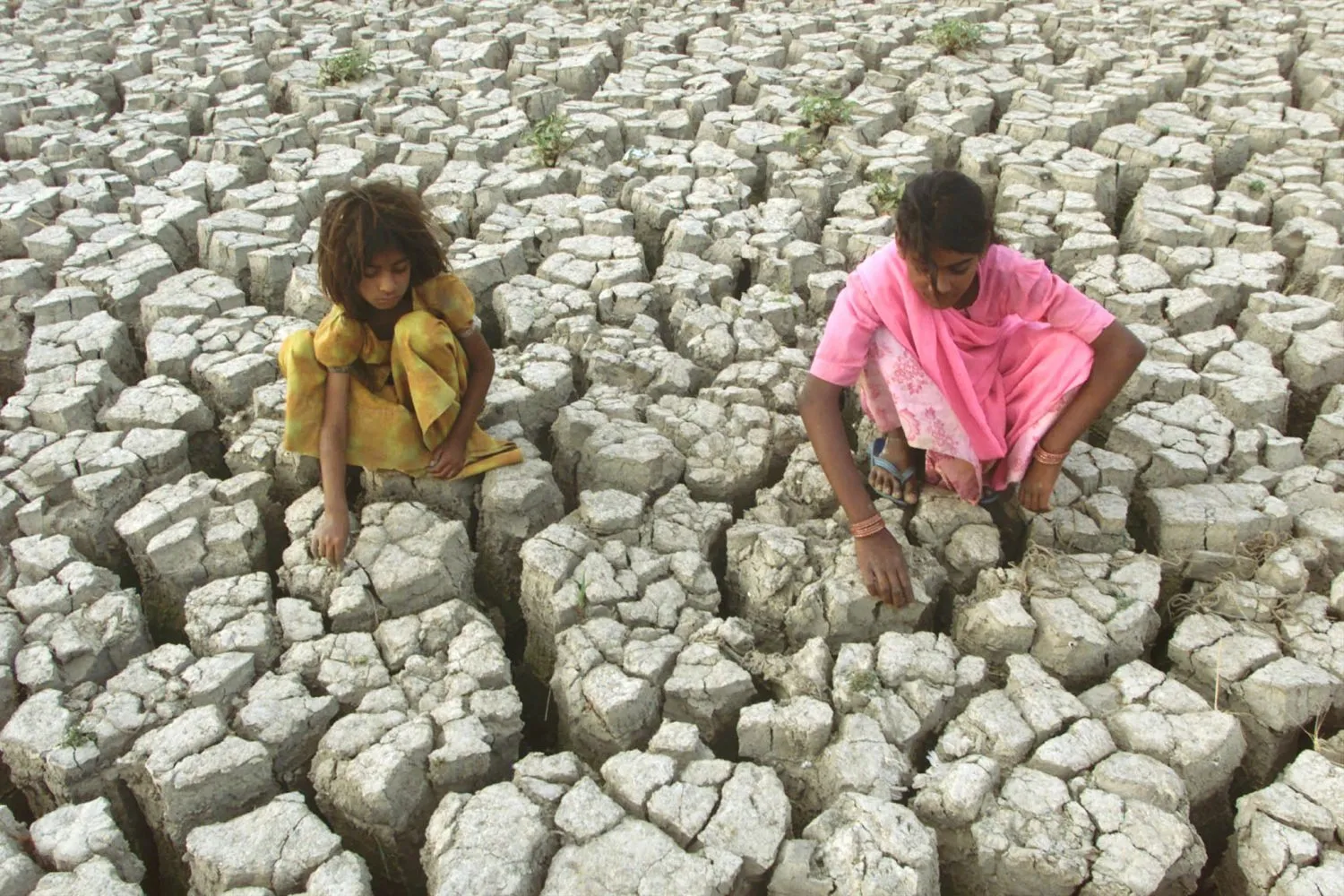 Dried out bed of the Rajsamand lake near Udaipur in Rajasthan.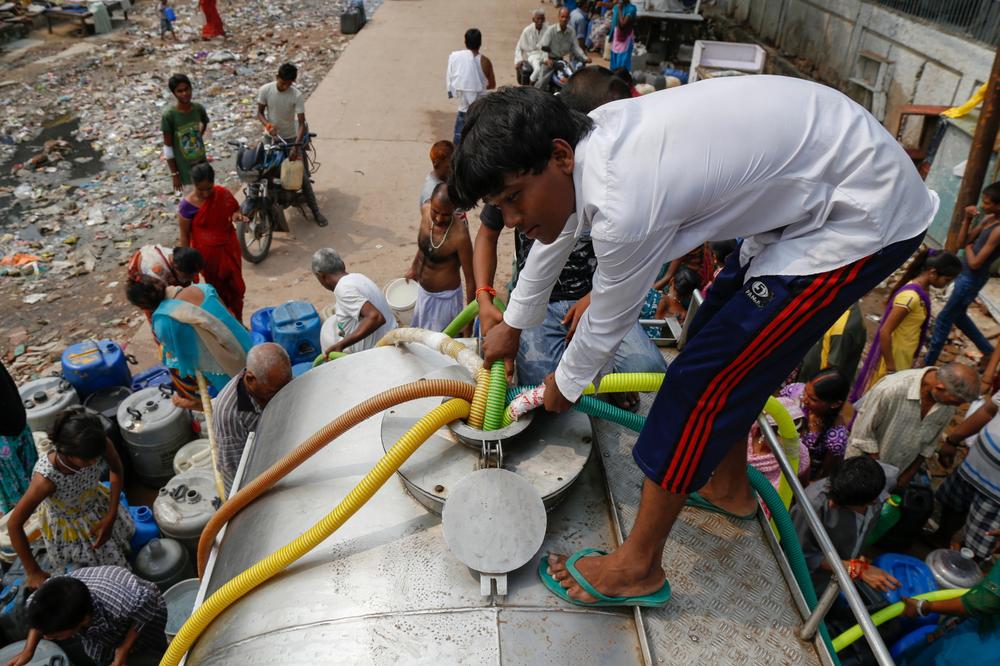 Water tanker in Delhi. Photo: Aljazeera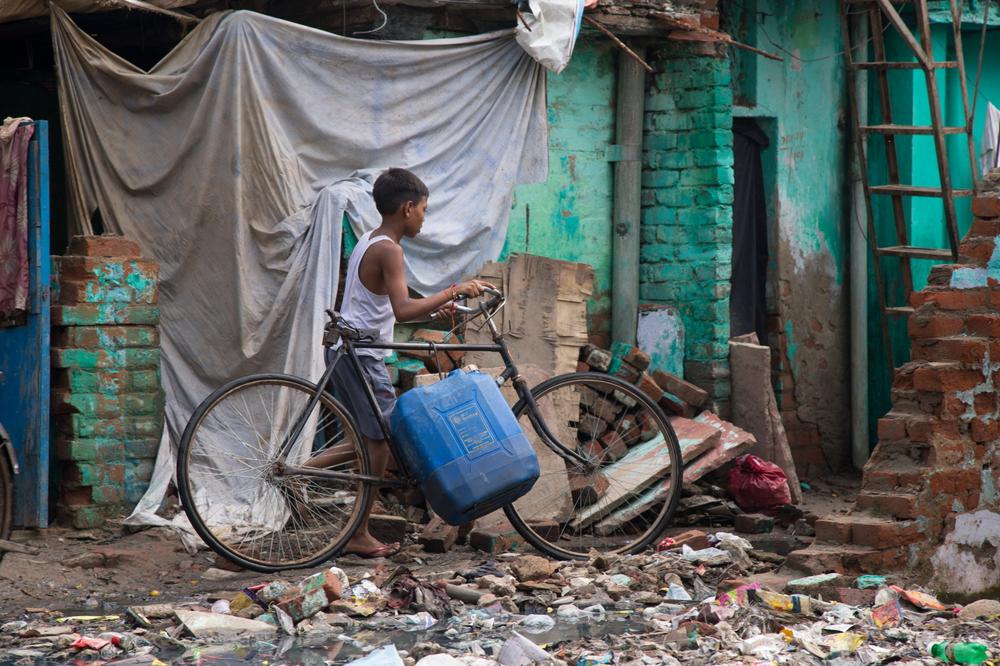 Race for drinking water in a Delhi Slum. Photo: Aljazeera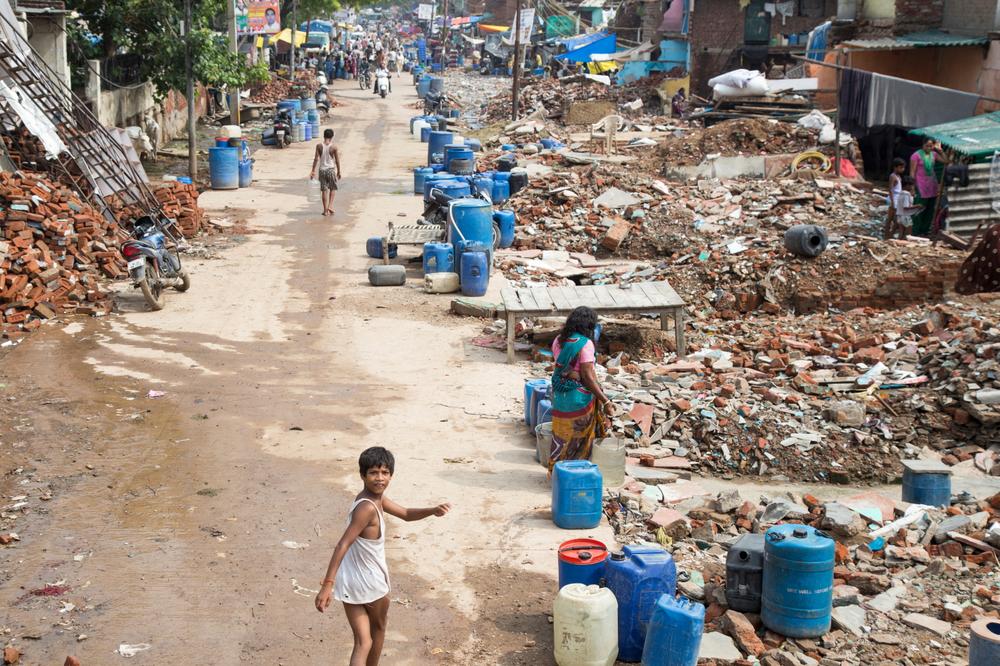 In a New Delhi slum. Photo: Aljazeera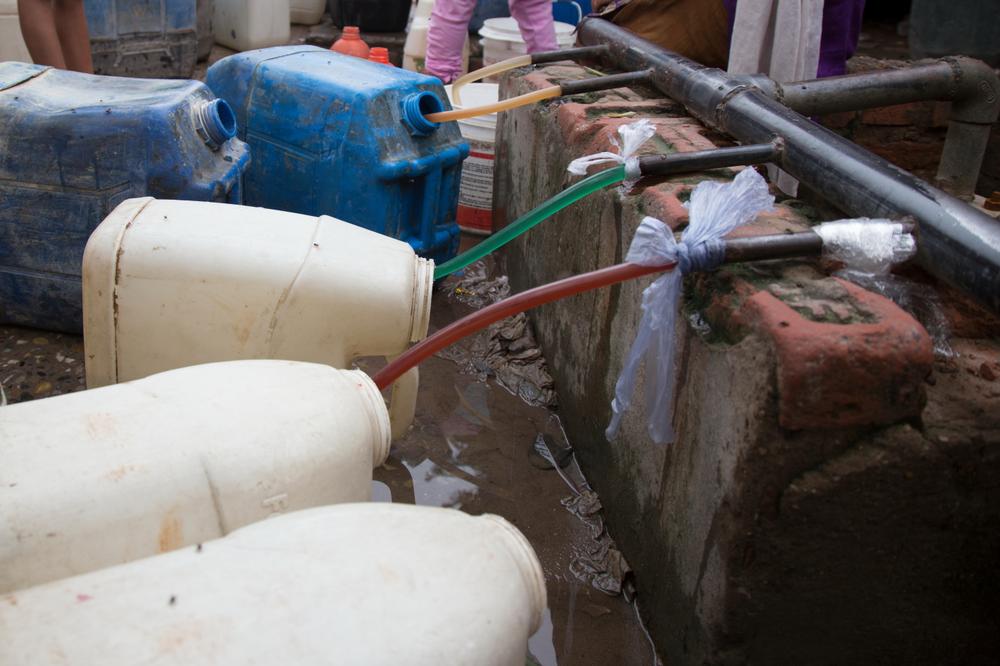 New Delhi Water Crisis. Photo: Aljazeera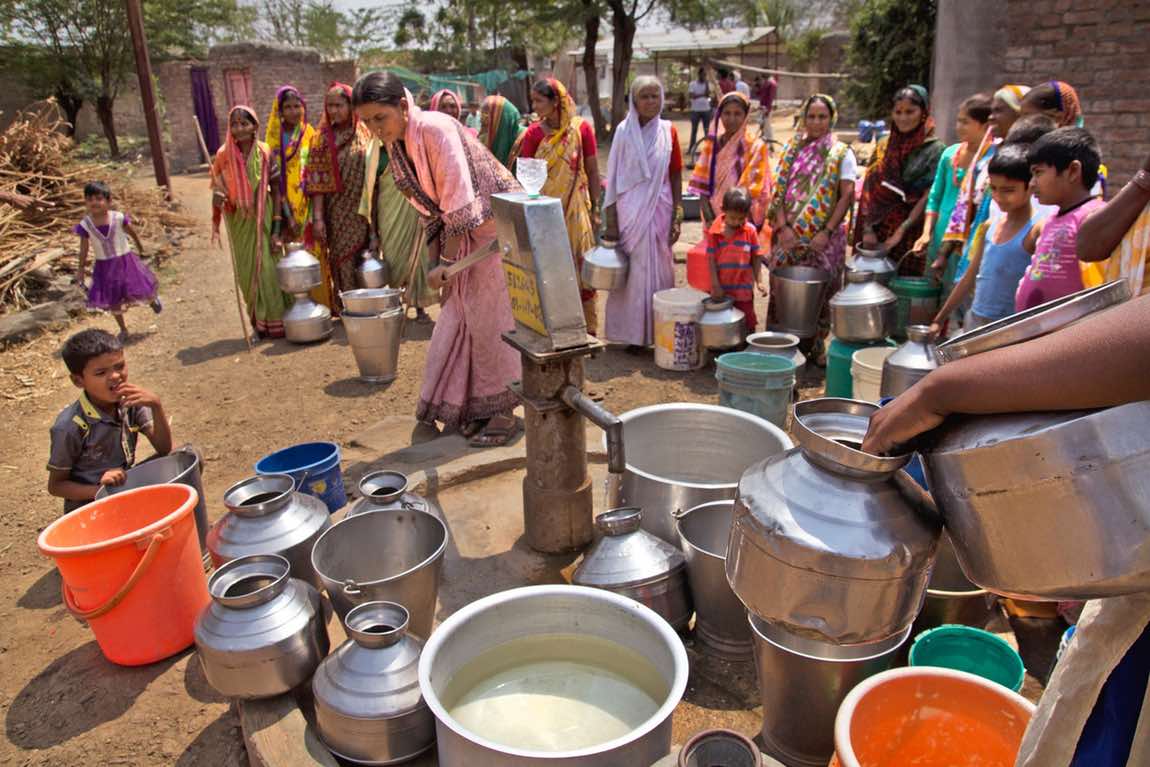 In Khomnal village of Mangalwheda Taluk, Solapur, Maharashtra. Photo: Greenpeace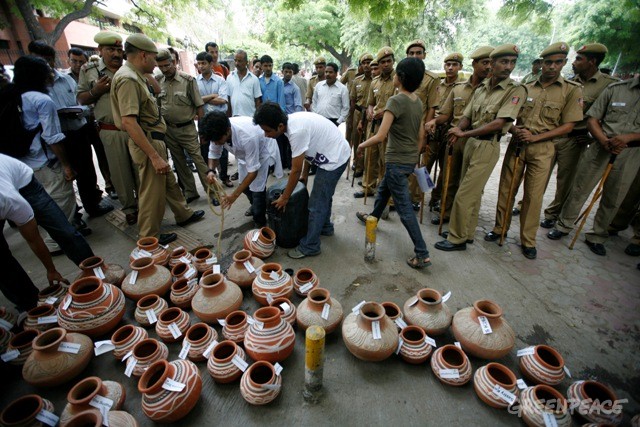 Greenpeace activists try and deposit water in the RBI to highlight one of the impacts of climate change – Water scarcity. Photo: Greenpeace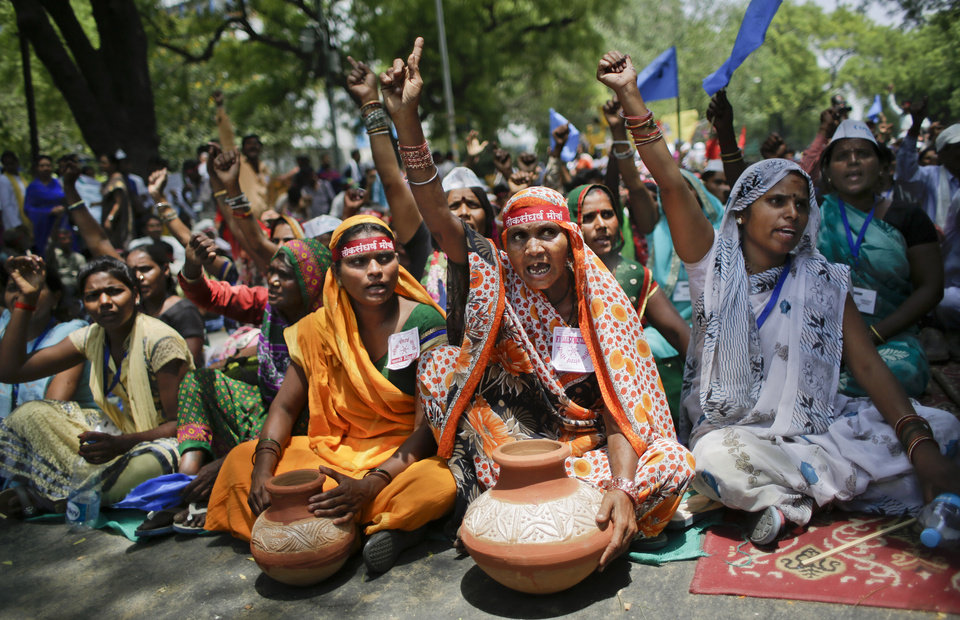 Villagers during a protest against water shortage across the country in New Delhi. Photo: AP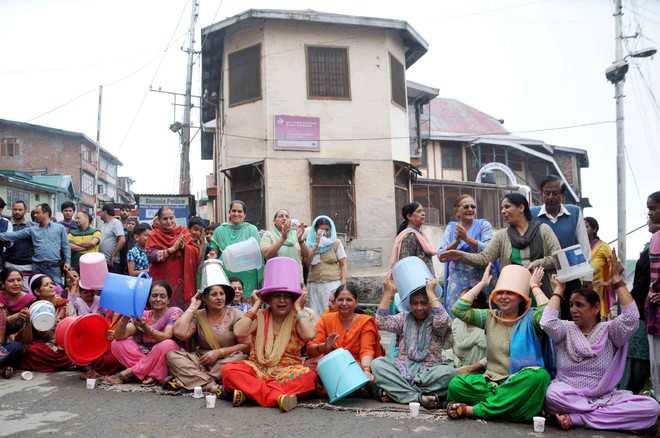 Women protesting against water-shortage in Shimla, Himachal Pradesh. Photo: The Tribune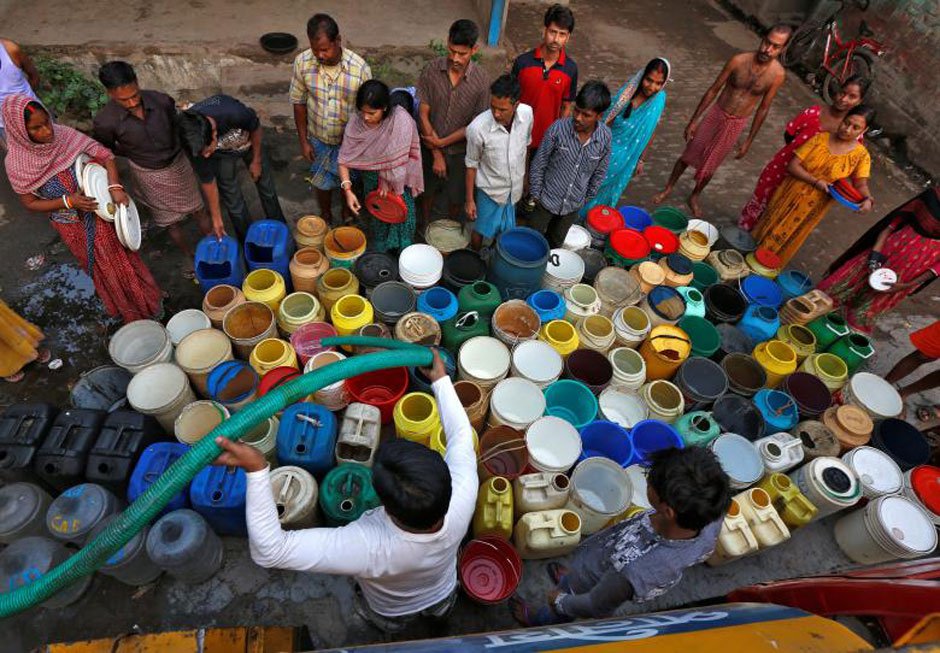 Rush for drinking water collection from a municipal tanker at a slum in Kolkata. Photo: Reuters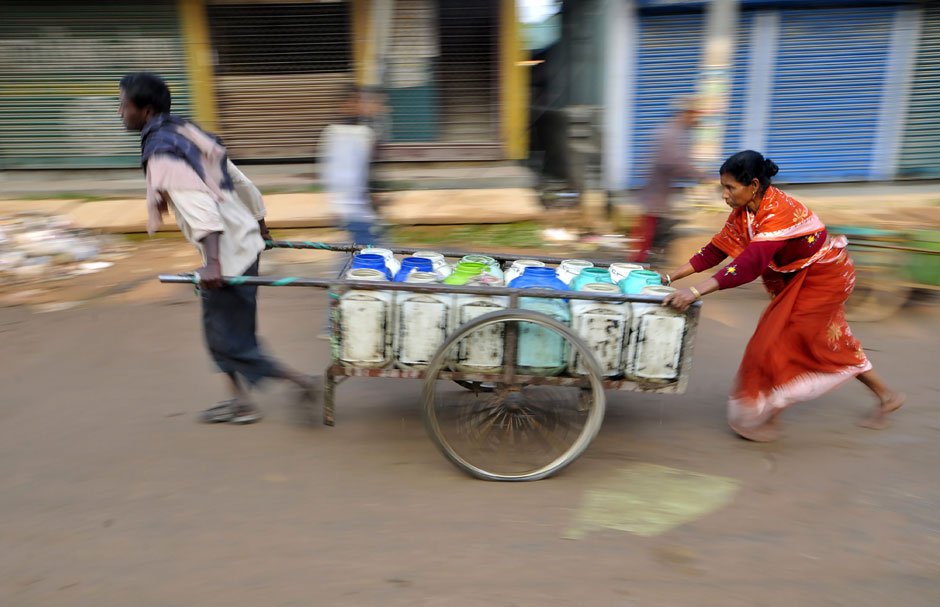 Indian labourers transport canisters of drinking water to distribute to food stalls in Agartala. Photo: AFP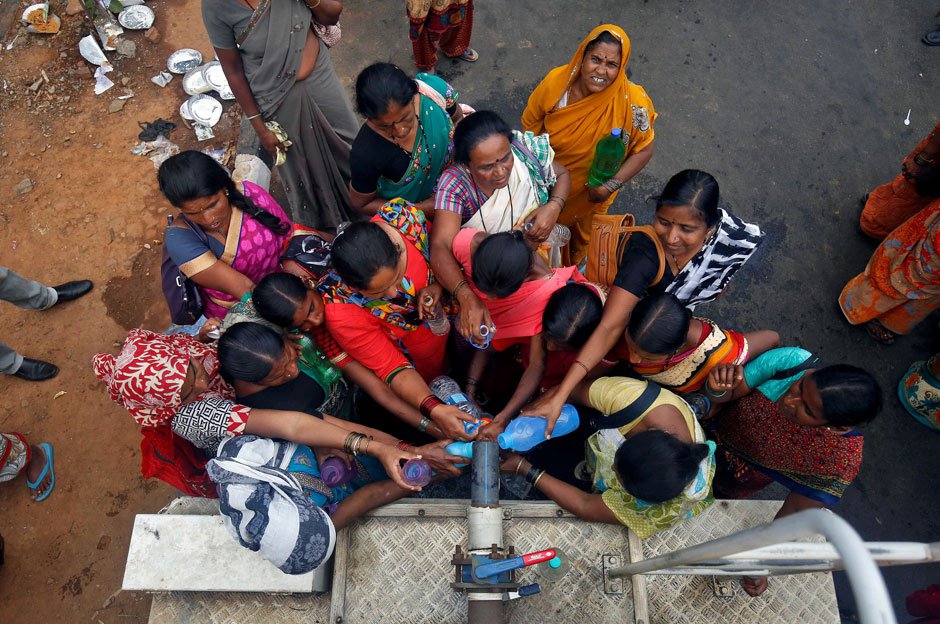 A municipal truck ahead of World Water Day, in Bengaluru.