Solicitous Eco-Warriors Who've Been Planting Forests on Their Own
The threat of existential climatic crisis has become apparent over the past few years and the entire human race is trying to save the planet from certain doom in one way or the other. Planting forests has never been so important as now.
In 2019, the raging fires in Amazon Rainforests (an ecosystem sucking up 20 percent of carbon emission) destroyed the lungs of the planet and burned down almost 80 percent of the forests.
At the same time, the Swedish environment activist, Greta Thunberg, took the whole world by the storm with her powerful and emotive speeches on the inaction against climate change.
Many followed her on "Friday for Future" strikes all around the globe and demanded stronger actions to combat the changing climatic conditions. She got many awards and accolades for her admirable efforts and has become a well-known face at a very young age within a short period of time.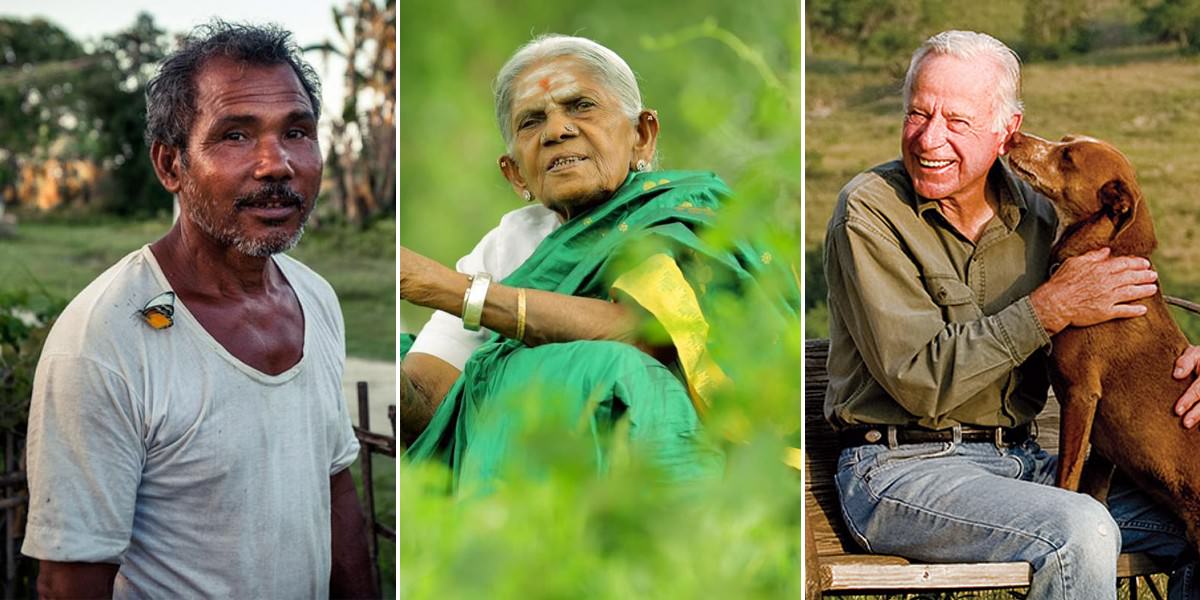 However, there are hundreds of other people who have been trying to negate the climate change situation, long before Greta, by fighting the perils of desertification and deforestation. These lesser-known people have planted thousands of trees to reduce carbon emissions and nurtured the very land that gives rise to all life.
In a way, these persistent and strong-headed individuals let their deeds do the talking and actually help the environment for a better tomorrow.
Here are some of these 'devoted to the environment' human beings, who have been silently working to save the planet and promising a better future for all those living on it.
The Forest Man of India
Jadav Payeng lives in Majuli in Assam, India, which is the world's largest river island. In 1979, the island was hit with a bout of flooding and drought, which left the island devastated.
To prevent further erosion to the island, the 16-year-old decided to plant a sapling on the barren land every day for the rest of his life.
After 40 years of dedication and love for his homeland, Jadav's woodland covers 1,360 acres that is almost twice the size of Central Park – which measures 840 acres – in comparison. The forest that Jadav selflessly planted is now home to Bengal tigers, rhino, vultures and 115 elephants.
Jadav's endeavors didn't come to light until 2007 when he was accidentally discovered by photojournalist and wildlife enthusiast Jitu Kalita. Kalita made a documentary on Jadav, telling the whole world his story through the "Forest Man".
The Padma Shri Awardee who sells milk for a living returns to his forest every day to tend to the trees and protect them from poachers and illegal loggers. He says that nothing is safe from humans, not even tigers and elephants – humans destroy everything blinded by their greed.
Jadav plans to plant saplings until his 'last breath'. Many people from across the world come to see his forest, which is known as 'Mulai Kathoni'.
David Bamberger
Fifty years ago,  91-year-old David Bamberger bought the most worn-out piece of land in Texas intending to resurrect life on it. At that time there was no grass, no water, only a few species of birds and trees. David was determined to give a new life to this wasteland.
He initiated by planting native species of grass and trees to restore the groundwater. With time and constant efforts, David managed to raise 5,500 protected acres of lush landscape that houses a collection of over 350 preserved specimens of plants on the ranch.
Selah – Bamberger Ranch contains all the vital components of any habitable ecosystem, right from the tiny microbes in the water to apex predators like Mountain Lions. David inspires the people to connect to their roots and preserve the nature and history of the planet.
Painting Cities Green with Afforestt
Shubhendu Sharma, the industrial engineer turned into a social entrepreneur, left his job 10 years ago when he met Japanese botanist Akira Miyawaki and started 'Afforestt'. This for-profit social enterprise was started in January 2011, working as a service provider to re-establish green cover.
He has a deep belief in the Sanskrit philosophy of Vasudhaiva Kutumbakam, which means "The whole world is one family". The mantra of co-existing drives Shubhendu to use the Miyawaki Method to create natural wild, maintenance-free, native forests with the lowest possible cost.
Shubhendu claims that this method helps a forest to grow 10 times faster than the conventional methods.  He says that a 100-year-old natural forest can be grown in just 10 years. Afforestt team has planted almost 4 lakh trees in over ten countries within a span of 9 years which is a phenomenal achievement.
Plant-for-the-Planet
In 2007, nine-year-old Felix Finkbeiner from Germany pitched the idea of students planting one million trees at a school presentation. He has been inspired by Wangari Maathai, the late Nobel Peace Prize Laureate who planted 30 million trees in Africa within 30 years and started the Green Belt Movement.
He founded the tree-planting organization "Plant-for-the-Planet" in 2009, an initiative led by children and young people planting forests across the world. By 2011, more than 12 billion trees had been planted around the world, with the able support of governments, businesses, individuals and civil society.
In 2011, Felix was invited by the United Nations to speak in the UN General Assembly. He urged the delegates to fight against the climate crisis not by talking, but through concrete actions such as planting trees.
His organization is responsible for planting 15.2 billion trees in 193 countries. Now 22, Felix thrives to cross the one trillion mark by planting more trees.
Radhakrishnan Nair
A businessman in Gujarat, Radhakrishnan Nair is from Kerala and he has planted 40 forests in seven states including – Rajasthan, Gujarat, Maharashtra, Andhra Pradesh, Bengal, Chhattisgarh, and Karnataka.
He has planted over six lakh trees across the country in total which in itself is a herculean task. For a living, he switched many professions until he started his own garment company in Gujarat.
His love for tree-planting began about six years ago when he saw 175 trees being cut and depriving the birds of their natural habitat. He decided to do something about it and thus he ventured out on this noble cause.
Later, he bought a piece of land and planted trees on it using the Japanese methodology of Akira Miyawaki. As his first forest planted on one acre of land in Umbergaon, Gujarat, flourished at a quick rate, he got a call from Maharashtra to create something similar on a chemical dumping yard.
Soon, Nair and his team started planting trees in different parts of the country. People invited him to convert the barren lands into lush green forests. His passionate work toward a green India has been acknowledged with many awards.
"Trump Forest"
When US President Donald Trump revealed that he wants to pull the United States out of the Paris Agreement, a trio of young activists decided to plant a forest in his name to soak up the carbon emission that would be released into the atmosphere owing to Trump's decision.
It is a New Zealand-based project, which was founded in March 2017 by British climate scientist Dr. Dan Price, American Ph.D. candidate Jeff Willis and French-New Zealander Adrien Taylor. Trump Forest was launched with a plan to create a forest of the size of Kentucky.
To achieve that goal, the plantation of an estimated 10 billion trees was required. It was initiated with an initial contribution of 1,000 native New Zealand trees.
More than a million trees have been pledged for the Trump Forest. Many people have paid for trees in forest restoration projects in Madagascar, Ethiopia, Haiti, and Nepal. While many people planted trees themselves and sent a copy of the receipt to the project.
Also Read:  Man Selflessly Dedicates 18 Years to Replant 300-Acre Forest in Manipur

"Saalumarada" Thimmakka
An uneducated woman in India's southern Karnataka state has been planting banyan trees for years and tending to them. Saalumarada Thimmakka ( Aalada Marada Timakka) has solely nurtured 385 banyan trees along a four-kilometer stretch of highway between Huikal and Kudur. She has also planted nearly 8,000 other trees.
After years of marriage, when Thimmakka and her husband were unable to have a child, they decided to plant trees. The couple started planting saplings together and after her husband's death, Thimmakka carried out the deed alone.
Thimmakka is aged over 100 years, but she still tends to her trees just like one would take care of their children. She has received numerous awards for her noble work, including the National Citizen's award of India and Padma Shri in 2019.
Theo Quenee
A few years ago, when Hurricane Irma hit South Florida, it left destruction in its wake. During the hurricane, hundreds of native mangroves that help prevent coastline erosion were uprooted.
Then 18-year-old, Theo noticed the uprooted mangrove seedlings scattered throughout his neighborhood after the storm. He decided to plant them again and protect the coasts from the inevitable soil erosion.
Theo started collecting the seedlings in his bag and bringing them home. He brought over 500 seedlings of red mangrove to his home. He created a makeshift greenhouse out of recycled yogurt containers he tended on the roof of his mother's home.
After seven months of constant watering and care, 400 mangroves remained alive and were strong enough to be planted again.
Quenee chose a location with soil rich in nutrients to plant the saplings. With the help of his friends, he constructed a PVC pipe grid and replanted the trees in just a handful of days.
Mangrove Man of India
Born into a Dalit household, Kallen Pokuddan dropped out of school at an early age owing to financial problems and worked as a farmhand with his parents.
He learned about the importance of environmental protection by popular agitation against the Silent Valley hydroelectric project in the 1970-80s. And he decided to stop the destruction of mangroves in his area.
When he started planting mangroves on the riverbanks and coastlines, his fellow villagers called him mad. He earned few enemies as well, who would pluck the saplings and throw them into the water.
Nevertheless, Pokuddan remained undeterred and kept planting mangroves. He is reported to have planted over one lakh mangrove plants in Kerala. He founded the Mangrove School and conducted over 500 classes in various parts of the state.
Pokuddan always tried to educate people about the ecological importance of mangroves and his efforts were honored with many awards. He died in 2015 at the age of 78.
Man Behind 'Punshilok'
Moirangthem Loiya, 45-year-old, from Manipur has planted a 300-acre forest dubbed 'Punshilok', which means 'Spring of Life'. Loiya has been replanting and protecting trees for the past 18 years. He left his job as a medical representative in 2002 and searched for land to plant trees.
He made a hut in the forest that he was planting and lived there for six years, ing bamboos, oak, ficus, magnolia, teak, and jackfruit trees among other vegetation. With the help of his friends and few volunteers, he cleared out weeds and planted the saplings.
Punshilok is spread over 300 acres of land and houses various flora and fauna species including herbs and medicinal plants. There are around 250 species of plants and 25 species of bamboo.
The forest also has a variety of birds, snakes and wild animals – barking deer, pangolin, porcupine, mongoose, leopard cat, and deer among many others.
Jimmy "MrBeast" Donaldson
Known for his philanthropic stunts, 21-year-old YouTuber Jimmy Donaldson, known as MrBeast, recently reached 20 million subscribers. He has decided to plant 20 million trees by raising $20 million by the end of January 2020.
According to the official website of TeamTrees, while inspiring people for planting forests, he has already planted 12,859,368 trees (at the time of writing) with the help of his followers to date. It all started when a follower joked that he should plant 20 million trees to celebrate the number of subscribers.
To fulfill his goal, he has collaborated with Arbor Day Foundation, the world's one of the largest non-profit conservation organizations dedicated to planting and nurturing trees.
He has created TeamTrees challenge to call out all social media influencers to join him in this noble cause.
Many YouTube fellows of Jimmy have donated for this climate change fundraising campaign. Tesla and SpaceX CEO, Elon Musk have also donated one million dollars to MrBeast for planting trees.
Prabha Devi 'Friend of Tree'
76-year-old Prabha Devi is a resident of Uttarakhand, India. She grew an entire forest by herself in her village. The hilly area is quite prone to landslides and illegal logging, Prabha Devi decided to plant trees in uncultivated fields to mitigate the problem. Her efforts have earned Prabha Devi the moniker of 'Friend of Tree' in her village.
The depletion of groundwater levels was a common problem in her village. Therefore, she suggested planting trees of local species like Baanj in nearby regions to increase the water holding capacity.
She knows the terrain better than anyone and educates the people of her village regarding the plantation of various trees. The trees she planted on barren land and around her home have now turned into a dense forest.
Her forest is home to more than 500 trees of all kinds including oak, rhododendron, cinnamon, soapnuts (reetha) and many more. She aims to continue with her work and plant more trees on barren land.
Anil and Pamela's Noah's Ark
Anil and Pamela came from different cultures and countries, but both have always been nature lovers. When the two got married, it was a match made in heaven. Both wanted to plant a forest.
They bought some land in Colorado, the USA, and then Hawaii, but due to some issues eventually moved to India to establish a wildlife sanctuary. The couple gave India her first and only private sanctuary, Save Animal Initiative Sanctuary.
Dubbed 'Noah's Ark' by an Oxford University scientist, SAI Sanctuary is located in the Kodagu district of Karnataka. Situated in the Western Ghats of southern India, the Sanctuary has grown to more than 300 acres from the initial area of 55 acres of private forested lands.
The Sanctuary houses a rich variety of flora and fauna. There are hundreds of different indigenous trees and plants along with numerous rare and threatened species of animals like the Asian elephant, Bengal tiger, King cobra, and Nilgiri marten.
Around 300 different kinds of birds frequently its forest canopy. Many species of flora and fauna in the Sanctuary are found nowhere else on the planet.
Tulasi Gowda Planting Forests
Nurturing trees for over half a century, septuagenarian Tulasi Gowda was actively involved with the Agasur Nursery of the forest department as part of their ongoing afforestation efforts in the Mastikatta range of Honnalli village in Uttara Kannada district of Karnataka. She is a retired employee of the forest department.
Tulasi ajji (as she is known lovingly in her village) has excellent knowledge of silviculture of the Indian forest and trees. Walking barefoot, nurturing trees, this ecologist has won the Indira Priyadarshini Vrukshamitra Award in 1986 and Kannada Rajyotsava Award in 1999.
After she won over a dozen awards and accolades, Gowda won the Padma Shri Award for her conservation efforts. She has used her unparalleled knowledge of indigenous tree species to grow forests and combat the rapidly changing climate.
Although she was happy to have received the nation's fourth-highest civilian award, she says that she cares for the trees and forests more and will continue to nurture them.
Babulal Gandh Fighting Food Scarcity
Babulal Gandhi, a 91-year-old resident of Phaltan in Maharashtra's Satara district, has lived the majority of his life in harmony with nature and dedicating it towards the pursuit of improving the state of agriculture in India.
Gandhi learned about the various techniques of farming to create a mini-food forest on his 100-acre family-owned land in Phaltan. Due to his efforts, the once-barren land is a flourishing burst of green today, with over 22,000 trees.
He has built the forest in a way that consumes 50 percent less water and every acre fetches him a profit of Rs 40,000. To tackle the problem of recurring drought in the region, Gandhi built two lakes that store lakhs of liters of water every monsoon.
The selfless deeds of people planting forests and nurturing them are truly admirable and inspiring. Not only these considerate human beings are preserving the environment but providing food and shelter to many animal species.
At the brink of destruction, the planet needs more of these eco-warriors to save it from doom.
Antonio Vicente
When Antonio Vicente bought a patch of land in São Paulo state and said he wanted to use it to plant a forest, people called him crazy. It was 1973 and forests were seen by many as an obstacle to progress and profit.
During the last 30 years, while Vicente was planting forests, 183,000 hectares of Atlantic forest in São Paulo state were cut down to make way for farming and expanding cities
While he was growing up,  Vicente's father worked at a farm. He watched his father cut down the trees for his owners, for use in charcoal production and to clear more land for grazing cattle. Eventually, the farm's water springs dried up and never returned.
Vicente knew the importance of water supplies in maintaining forests because trees absorb and retain water in their roots and help to prevent soil erosion.
So with some donkeys and a small team, he worked on his little patch of 31 hectares of land that was razed for grazing cattle and set about regenerating. On Vicente's own patch, there are now eight waterfalls and it's covered with a lush green Atlantic forest canopy.
Imran Khan
Pakistan Prime Minister, Imran Khan has a long history of promoting environmental regeneration. In 2017, he launched an initiative to plant 1 billion trees in the province of Khyber Pakhtunkhwa, which achieved its goal ahead of schedule.
Pakistan has been witnessing the effects of climate change through heat waves and droughts. To tackle this problem, Imran Khan wants to plant 10 billion trees across the country within five years.
To counteract the effects of changing climate, it is of utmost importance to plant trees across the country. Although, planting 10 billion trees might seem a huge challenge but Pakistan has orchestrated massive tree-planting campaigns in the past too.
Green Legacy of Ethiopia
Ethiopia planted over 353 million trees in 12 hours on July 1029, which is a world record in itself. Prime Minister Abiy Ahmed aims to neutralize the effects of deforestation and climate change in drought-prone areas.
This tree-planting mission was a part of the wider reforestation campaign called 'Green Legacy', which was also introduced in 1,000 sites across the country.
Millions of Ethiopians were invited to plant trees throughout the country. The Prime Minister revealed through a tweet that within the first six hours 150 million trees were planted.
According to the UN, Ethiopia's forest coverage declined from 35 percent of the total land in the early 20th century to 4 percent in the 2000s.
To create equilibrium in the ecosystem, Ahmed plans to increase the green area in the country to provide a legacy to the next generations.
Sadiman Reforesting Indonesian Hillsides
Sadiman, an Indonesian man, was deeply disturbed by the lack of forest cover around his village that was causing droughts. He, therefore, decided to plant forests but people laughed at him and called him a madman.
To remedy the situation, this Indonesian eco-warrior has turned barren hills green after 24 years of effort, making water resources available in the drought-prone mountainous region around his village.
He spent a quarter of a century covering 250 hectares of barren hillsides around his home with banyan and ficus trees to help retain groundwater and soil erosion.
The 69-year-old has worked hard and relentlessly to plant trees in the hills of central Java after fires to clear the land for cultivation nearly dried up its rivers and lakes.
Couple Restored Bralizian Forest
Renowned Brazilian photographer Sebastião Salgado and his wife Lélia Deluiz Wanick Salgado have planted 2.7 million trees over the span of two decades, completely restoring an entire forest that had been wiped out by deforestation.
In 1994, Sebastião Salgado took over family land in the state of Minas Gerais and was devastated to find his homeland deforested, with wildlife gone. His wife then came up with the idea of replanting the forest.
They raised funds and founded the Instituto Terra in 1998. Since then, they have completely restored the environment into its original state, thriving with flora and fauna.
The recovery of the 1,502 acres of forest in the Bulcão Farm in Aimorés, Minas Gerais. They renamed the farmland the Private Natural Heritage Reserve (PNHR). Over 290 species of trees were planted, thus recreating a forest of arboreal and shrub species native to the Atlantic Forest.