These Upcycling Youth Icons of India are Turning Trash into Treasure
We often throw out things when they are no longer of use to us. Well, that's how it works. But, most of the time, things like wood, metal, plastic, and cloth – can be given a new lease of life by upcycling discarded waste.
Recycling or upcycling discarded waste can reduce the burden on landfills and significantly decrease the noxious effects of waste on our environment. The rapidly changing climate and increasing global temperature have made the world community realise the importance of extending the life of discarded things.
With a big population, India automatically accumulates a huge pile of discarded waste each year. However, the Indian tradition often prevents discarding the waste immediately, because after things are done serving their primary purpose, we try to extract some other use out of them.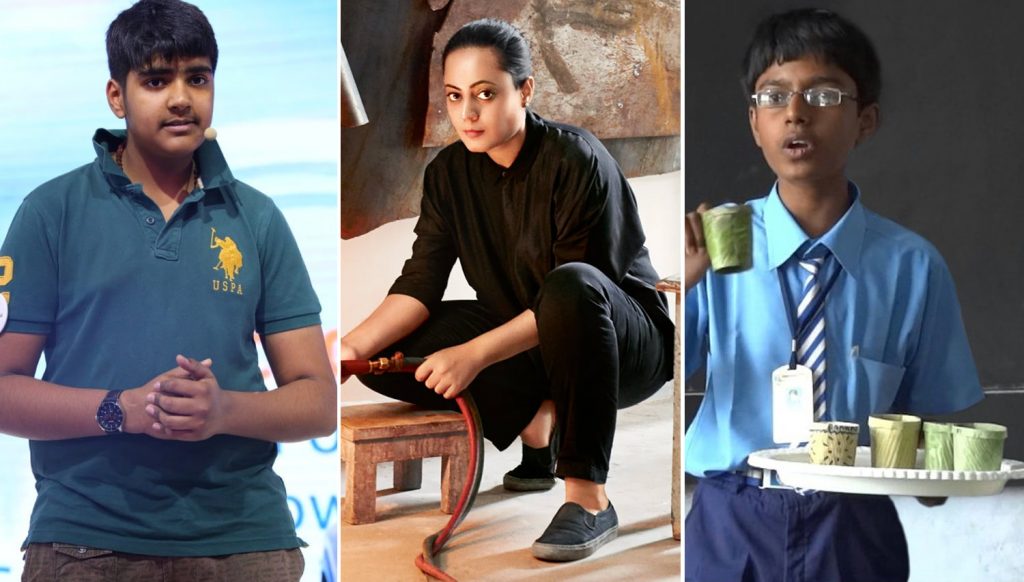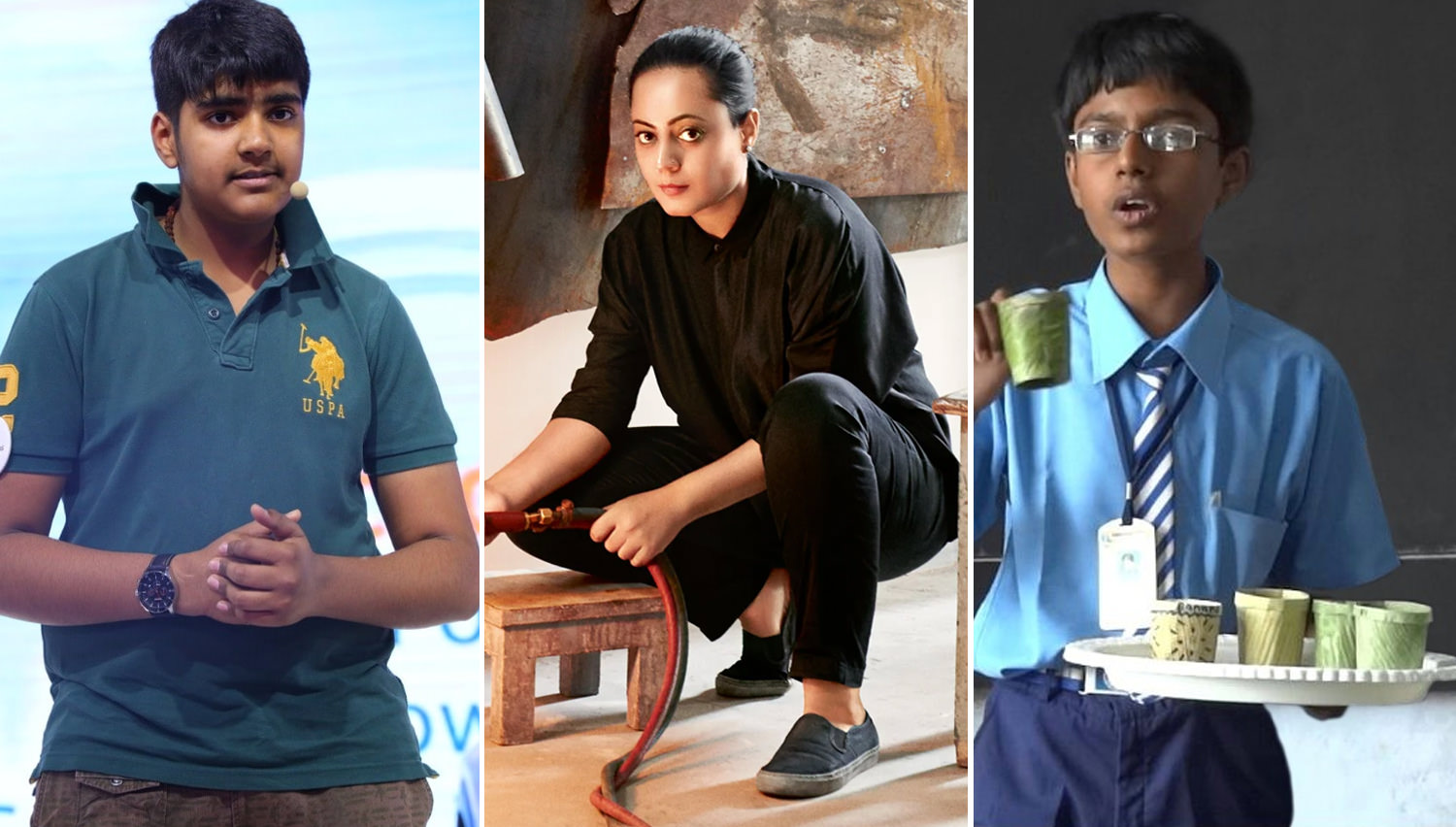 Many people are taking up upcycling initiatives to prevent discarded things from ending up in the landfills and eliminating the harmful impacts of waste on the ecosystems.
Here are a few upcycling initiatives in India that are working outside the box and are turning trash into treasure by recycling the discarded waste.
Max Xchange by Vikramjeet Singh Kanwar
The seed of Max Xchange was sown when 13-year-old Vikramjeet Singh Kanwar decided not to give out his newspaper waste. This resolution opened up new avenues to manage waste effectively and provide a livelihood to hundreds of women.
It all began in 2015, when Vikramjeet, founder of Max Xchange who is fondly known as Max, was in fifth grade in Delhi Public School and took up a community service project. Max started to collect old newspapers from the neighbourhood, selling them to a local scrap dealer and buying stationery for the underprivileged.
Eventually, people began to refuse to give old newspapers. Max realised that people will not even give up trash for free. This incident changed his outlook, style of working and he introduced Max Xchange, which allows people to exchange their dry and recyclable waste for upcycled products like home furnishing – cushions, notepads, glassware, furniture, newspaper bin liners, planters, among others.
Max Xchange collects various recyclable items, including paper, cardboard, different kinds of plastic waste, metals, glass bottles, tyres. They collect waste from over 150 locations in Gurgaon, Faridabad, and some parts of Delhi.
Reimagined by Shailaja Rangarajan
While waste management is usually considered as the process of segregating and recycling, this Bangalore-based citizen is promoting the upcycling of waste. Determined to mend the vicious cycle of consumerism and waste disposal, 41-year-old Shailaja Rangarajan is paving a new path towards conscious consumerism.
Through her Reimagined initiative, discarded waste and junk such as old clothes, plastics, tyre tubes, broken glass, wood pieces, and even multilayered plastic packaging like juice boxes are turned into stylish products, which people can buy both online or through a retail shop.
Since its launch in 2016, the company has developed over 300 products of its own out of waste. It sells another 200 products created by other initiatives. Be it fashion accessories, home decor, stationery, or furniture, Reimagined sells a wide range of products that are made of available resources and that also reduces the amount of garbage produced.
Objects with high perceived value such as an Army uniform too land up in junkyards at the end of their life. Mumbai-based startup Sepoi is striving to address this issue by upcycling old and worn-out Army uniforms into bags.
Founded in 2018, by Siddharth and Suchi Jaiswal, the firm collects used Army uniforms and turns them into trendy designer laptop bags, backpacks, and handbags with the help of rural women and artisans.
Banana Leaf Technology by Tenith Adithyaa
In 2010, an 11-year-old Indian boy, Tenith Adithyaa formulated the Banana Leaf Technology inspired by the dream to create a superior sustainable material to put an end to the environmental crisis due to plastic pollution.
Currently, Banana Leaf Technology offers a range of 30 products with their preservation methods, including plates, cups, boxes, writing paper, and envelopes. After living out their shelf life, these products can be used to feed animals or as fertilizers, as no chemicals have been used in the making process.
Dwij by Soumya Annapurna Kalluri
In 2013, after graduating as a mechanical engineer from the University of Pune, Soumya Annapurna Kalluri headed to Germany to complete her master's course with a focus on sustainability. She returned to India in 2016, and joined Godrej's Innovation and Design Centre as a researcher, focusing on material analysis and cataloging of industrial waste.
Soumya wanted to start a business and with Dwij her dream came true. Her venture rescues old jeans destined for landfills and upcycles them into utility bags. Within the three months of its inception, Dwij upcycled close to 2,000 pairs of jeans. 
Small bags are priced at around Rs 250 per piece while bigger ones cost Rs 500 per piece. The average time taken to make a bag is close to 7 days, including sourcing and upcycling to creating the final product.
Soumya says the product line currently includes reusable shopping and utility bags. However, the startup is prototyping 60-70 other products, including school mats, bottle bags, and yoga mats.
Upcycling Discarded Bottles – Megha Mendon
Although everyone talks about curbing pollution, only a few actually do something to change the current scenario. 23-year-old final year architecture student from Mangaluru, Megha Mendon decided to collect and recycle these discarded waste items into beautiful art pieces.
Recently to promote the idea of recycling and sustainability, Megha organised an exhibition at her house displaying artworks created from around 300 bottles. Apart from the exhibition, Megha has also undertaken a 5-day workshop to teach people the skill of upcycling waste into decorative pieces.
The colorful patterns, elegant paintings, or pop-themes on the bottles are quite beautiful and it also reduces the burden on the landfills. Adding LED lights to them makes it even more attractive and charms the rooms where they are installed.
Conserve India –  Kanika Ahuja
Born of a desire to reduce India's mountain of waste, improve energy efficiency, and help some of Delhi's poorest out of the city's slums, Conserve India achieves all this by turning plastic bags into high fashion. Kanika's parents started Conserve India in 1998. Although, the project was dedicated to creating an efficient energy council in slums around Delhi.
Paper and cloth are the simplest to upcycle and reuse. The project recycles plastic, tyre tubes, textile waste, cement sacks, and more. Though there are a few waste materials that the venture is trying to recycle. Littered empty snack packs are still a problem to upcycle.
Silver Nut Tree – Rituparna Das and Angeline Babu
A random question from their daughters on the recycling of a plastic bottle gave rise to Silver Nut Tree. Concerned by this lifecycle of most products that are used in daily lives, Rituparna Das and Angeline Babu came together to upcycle waste, mostly from urban homes.
Although the conceptualisation began in November 2011, the brand, Silver Nut Tree was launched in April 2012. The name Silver Nut Tree was a play on words from a nursery rhyme 'Little Nut Tree' — a childhood favourite of the founders.
The two friends saw a huge potential in upcycling everyday waste objects such as PET bottles, glass bottles, soda bottle crowns,  punctured tyres, CDs, and other electrical waste.
Many artists are also leading upcycling initiatives by utilising the discarded textiles or metal scrap in their artworks.
Turning Trash into Treasure – Monisha Narke
For the past decade, a Mumbai-based socio-environmental organization known as RUR GreenLife has been working toward a better cityscape and turning trash into treasure by recycling Tetra Paks into sustainable and degradable pieces of furniture.
The founder of the organization Monisha Narke is a mother of two and thrives to spread awareness regarding green living practices. After receiving her Masters of Science from Stanford University, USA, she returned to her home in Mumbai. She always wanted to be an engineer and to make a difference in the world we live in.
RUR GreenLife recycles the empty Tetra Paks into chairs, benches, and storage bins for schools and homes. RUR has recycled over 3.2 million empty Tetra Pak cartons and donated 250 benches to the less privileged schools.
The organization not only recycles the Tetra Pak cartons but also manufactures other products to help people maintain a healthy and green lifestyle. It also makes bio-composters and green alternatives for plastic.
Manish Nai – Artist working with Recyclable Material
Giving solo shows around the world, artist Manish Nai gives waste a new, sophisticated form for everyone to admire and enjoy. Around the year 2000, Nai used to accompany his father to work, who had a business of packing materials in Mangaldas Market in Mumbai. After seeing all the extra cardboard and packing materials lying around, he started thinking of ways of reusing it.
Eventually, the artist introduced the discarded materials into his sculptures. By 2010, he had made a habit of using waste packing materials in his paintings and sculptures. Soon, the waste textile captured his attention.
He now reuses newspapers, paper, boxes, used clothes from relatives and friends, even old installations. He uses threads from jute waste to make patterns in his paintings or to create thread sculptures,
Sakshi Gupta Recycles Scrap into Art
Sakshi Gupta is an Indian contemporary artist who specializes in building emancipatory sculptures out of industrial waste, metal scrap, and other leftovers of industrial growth in a form of art. Her installations reflect the journey between the heavy industrialising ethics of the past and the digital age movement.
Sakshi's work involves a major recycling element. She works with industrial waste, in the process, transforming these components of her artwork in the process into thought-provoking sculptures.
Her artworks simulate a contemplative gaze into the post-industrial age. By reclaiming industrial waste into a contemplative work of art, Sakshi's personal experience is brought upon to bestow a fresh meaning to various industrial excesses and generate curiosity with her unique creations. 
EcoBuddy: Everyday Sustainable Solutions
Despite working as a Project Engineer at a Pune-based company that would generate electricity using waste, Suraj Said always wondered why there was so much waste in the first place.
Wanting to do something about it, he created a volunteer group named 'We are EcoBuddy' along with some of his friends, which was formed in March 2017. The group had 15 members and would get together every week to carry out awareness drives on waste management.
In September 2018, the group was reinvented as a company called 'EcoBuddy' which sells items that are sustainable solutions for daily use objects. It took close to a year for EcoBuddy to begin operations and they started in May 2019.
They identified nine manufacturers for their seven products which are: bamboo toothbrushes, bamboo toothbrush travel kits, stainless steel straws, stainless straw kits, bamboo fibre coffee cups, stainless steel tongue cleaners, and cotton bags for fruits and veggies.
'Recycle Man' of India – Dr. Binish Desai
Curious about experiments, Binish started his journey as a little boy by inventing his first machine to convert vapour into the water in his mother's kitchen and went up to building P-bricks from industrial paper waste to becoming the 'Recycle Man' of India.
When Binish was in the sixth standard, his friend stuck some chewing gum to his pants. So, he used some paper to pull it out and enclosed it in the same. Later he noticed that the sealed gum and paper had hardened into a chunky block, which gave him the idea of P-brick. It took him two years to build a low-cost brick that could be used for industrial purposes when he was just 16-year-old.
The P-brick that Binish had made was mainly made from paper waste, leftovers of chewing gum, some organic binders, and plant extracts. He believes, "Nothing is useless in this world; what can be a waste to you is someone's asset."
He had neither funds nor resources such as land and labour. He reached out to a few paper mills to request scrap as well as some space within their premises to build the bricks. Over a period of time, Binish's firm BDream landed up constructing 11,000 toilets, houses, and buildings in rural Gujarat, Maharashtra, and Andhra Pradesh.
Another venture that Binish initiated was Eco Light Studio. The motive was to empower widows and uneducated rural women by providing employment opportunities. He conducted training sessions for many of these underprivileged women in Gujarat villages to make clocks, bags, and other accessories from waste.
In the past year, Binish and his firm were able to divert around 1996 metric tonnes of waste from ending up in landfills by turning trash into treasure. Consecutively, this also resulted in a reduction of 3,592 tonnes of carbon emissions.
Ubyld – Upcycling Wood Scraps
Bengaluru-based furniture company called Ubyld upcycles wood used in the shipping industry, providing customers with gorgeous furniture items without any harmful impact on the environment. It prevents about 90 tonnes of wood from ending up in landfills each year.
The company was founded in 2015 by Pradeep Nair, an IT professional. He was later joined by Lavanya and Arun Ashok, a former colleague at an IT company.
The company recycles pinewood and has over 2,500 designs of different products like kitchen cabinets, cots, dining sets, tables, shelves, shoe racks, among others. About 90 percent of the production involves the handiwork of local craftsmen.
Mother-Daughter Duo Upcycling the Mundane
Started by a mother-daughter duo of Maanya Dhar and Riti Jain Dhar, Imarim is a Gurgaon-based brand that upcycles the household waste that otherwise would end up in landfills. The initiative makes products ranging from notebooks to trays and decorative kettles to thalis. Home decor, furniture, cushion covers, and wall art are part of their brand.
Around 2016, Riti and Maanya began selling these hand-painted items to family and friends. Then, they decided to take it further, and Imarim was born. They have since tried to make the most of the online space, considering the unfortunate situation created by the pandemic. They visit junkyards and pick up materials from there.
Paper-Waste Turned Furniture
Spriha Chokhani, a Jaipur-based product designer and entrepreneur, has been turning trash into treasure. She is the founder of Pulp Factory, a design studio founded in 2017 that makes products by recycling waste paper. About ten years ago, the idea to make furniture out of waste paper first came to Spriha when she was studying at design school.
A  school project made her realize that materials like papier mache are quite ignored, igniting curiosity to experiment with paper more. She came up with a range of papier-mache furniture, which is 100 percent compostable. The six different styles of furniture that they have can withstand the weight up to 80-100 kg.
Moreover, these paper-based furniture items are water-resistant and made using natural materials. She has been selling the same, along with pouches, totes, and box bags made using paper textiles, under her label – Pulp Factory.
Nemital – Handcrafting Footwear from Upcycled Tyres
Pune-based entrepreneur Pooja Apte has been creating stylish Indian footwear for women by recycling discarded and scrap truck tyres. The 28-year-old was concerned with the burden of non-biodegradable material on the environment and wanted to upcycle such materials into something useful.
After extensive research on scrap tyre businesses and reading about certain African communities using discarded tyres as footwear, Apte came up with a better design for a footwear model that could be made from truck tyres.
Since starting her startup Nemital in June 2019, she has sold over 1,000 pairs of footwear, while upcycling more than 400 kg of scrap tyres in the process. Overcoming many ups and downs, Nemital now offers Kolhapuris, Mojris, sandals, and even heels.
Doodlage –  Recycling Fabric Scraps
Keen to eliminate the fabric waste and the fashion industry's environmental impact, Kriti Tula has designed Doodlage as an ethical fashion brand. New Delhi-based brand works with post-production and post-consumer textile waste to curate clothes and accessories for both men and women.
Kriti Tula says,
As a kid raised in the 90's in India, upcycling was a deeply rooted tradition in most middle and upper-middle class families. Every garment was cherished and every piece lasted more than we hoped. We were simply not so wasteful and everything was less disposable as everyone had much lesser money to spend. It was a good time for earth.
Be it swatches of fabric, an old pair of denim-tested pieces, or even vintage garments – Doodlage salvages all by creating new garments out of them. Kriti Tula founded Doodlage in 2010 when there existed no conversation around sustainability in fashion in India, and since then the brand has salvaged tonnes of fabric. The brand recycles post-consumer waste and post-cutting scraps into new fabrics to create seasonless well-finished garments made for longevity.
Bunko Junko – Upcycling Textile Waste
Bhavini N Parikh started Bunko Junko in 2017, a sustainable brand that upcycles pre-consumed textile waste to create fashion products for everyday use. Bunko Junko has a strong emphasis on women empowerment by providing them socio-economic stability by employing over 3,000 women from rural areas to do stitching and tailoring for the brand.
The brand sells upcycled garments including women's wear like kurtas, dresses, etc; home furnishings such as rugs and wall hangings; and accessories such as laptop bags, earrings, and bangles. The brand also completes textiles surface ornamentation and embroidery work orders for large brands such as Shoppers Stop and AND Fashion.
Paromita Banerjee – Upcycling Fashion Label
Paromita Banerjee created her namesake upcycling fashion label, with three different collections paying tribute to Boro. Japanese for "too good to waste," Boro appeals to the Indians to adopt the recycling techniques.
The label uses a mix of fabrics, especially ajrakh prints, with weaves and Bagh-printed textiles in Khadi in its designs to use up textile waste. Each garment is created from different discarded materials in fabric, colour, or texture, offering unique composition for each piece.
Ka-Sha – Upcycling Plastic into clothing
Created by Karishma Shahani, Ka-Sha upcycles discarded plastic bags into jackets, second-hand sneakers chopped and recreated into stilettos, and discarded chandeliers converted into gorgeous jewellery.
The brand uses old Banarasi sari borders to create the hems of skirts, and crop tops are made out of discarded T-shirts and textile waste. Ka-Sha utilizes every piece of waste from the industry to create new clothing options.
Papermelon – Turning Trash into Treasure
Paper waste is often neglected due to its biodegradable quality, but its environmental implications can have devastating impacts. To reduce paper waste, Chennai-based artist Devi Chand has introduced a unique way to upcycle paper into exciting pieces of jewellery through her brand Papermelon.
Papermelon collects paper waste such as newspapers, magazines, storybooks, gift wraps, calendars, etc. from friends, neighbors and well-wishers and meticulously turn them into pretty jewellery pieces including  necklaces, earrings, bracelets and home decor items as well.