Young Wildlife Conservationists in India are Protecting Endangered Species, Spreading Awareness
These are critical times and surely, the importance of preservation of wildlife and aquatic species is not a lost cause. Thankfully, there are a few individuals who are making a difference by actually doing something towards this cause. A few young wildlife conservationists in India have taken the reins in their hands to preserve the endangered wildlife species.
The recent natural calamities, climate change, global warming, and the ongoing human activities have posed threats to a plethora of wildlife and marine species. Many have gone from endangered to extinct category and left us wondering, 'Are we really doing enough?'
Besides encroachment of forest land, poaching, animal trafficking, and illegal hunting have always threatened the survival of the animal kingdom. When it comes to taking up the cause to change the scenario, people often say that an individual cannot change the world. But, the individual efforts do matter as they inspire others to take up this much-needed cause.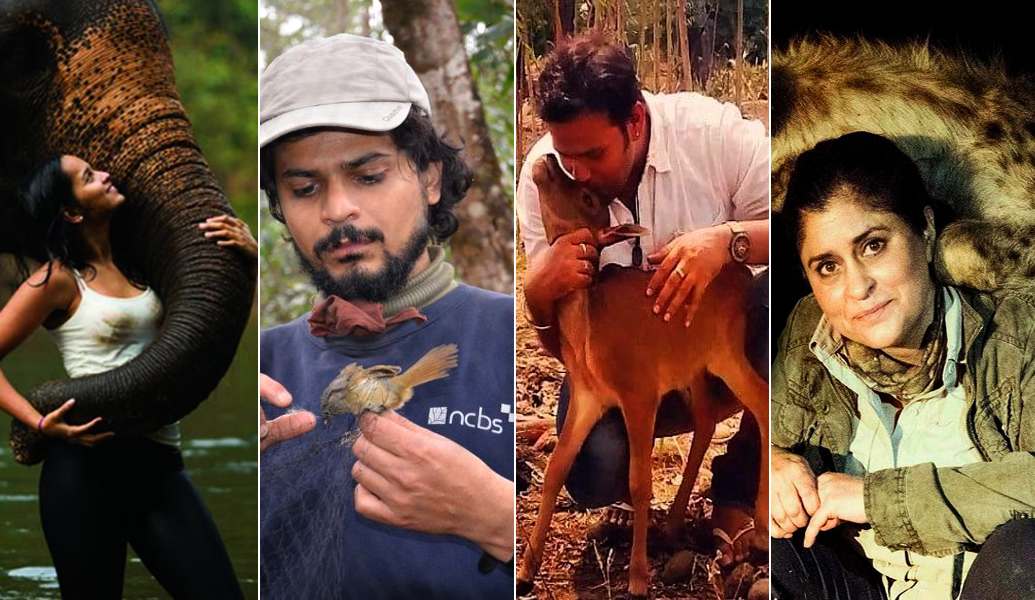 These young wildlife conservationists in India are making a difference, by conserving and raising awareness about India's animal kingdom with their singular efforts.
Latika Nath – 'Tiger Princess' of India
Born to Prof. Lalit M Nath and Meera Nath, Latika Nath is the first female wildlife biologist in India and was titled as 'Tiger Princess' by National Geographic. Her father is ex-director of AIIMS, he was on the Indian Board of Wildlife and responsible for setting up the animal conservation movement in India in the 1970s. Her father's influence inspired Latika to choose wildlife conservation as a career.
She is the first Indian to conduct thorough research work on tiger conservation and management in India after many decades. To complete her thesis on the human-elephant conflict in Rajaji and Corbett National Parks, Latika joined the team of Wildlife Institute of India that was conducting a study on elephants.
Latika spent twenty-five years working on tiger conservation and eventually changed focus from academic work to working with the tribal communities in Kanha Tiger Reserve and the Forest Department of the Government of India toward tiger conservation.
She has also worked on various other species including the Asian Elephant, the Gangetic dolphin, the wild buffaloes and high altitude mammals in the Kanchenjunga area.
Atul Arun Sinai Borker – Safeguarding Otter Population
Graduated as a Mechanical Engineer, Goa-based Atul Arun Sinai Borker always had an interest in photography and filming wildlife. Passionate about wildlife conservation, he had worked in a multinational software company for six years while simultaneously documenting wildlife. Having a profound interest in animal behavior, he chose to make a professional shift into wildlife documentation and conservation research.
Atul now is working with the Mhadei Research Center on wildlife conservation research projects. He has been working on photo-documenting small mammals in Goa, a project undertaken by the Mhadei Research Center and is funded by the Goa Forest Department.
Borker has been surveilling the behavior, habitat and nature of the endangered species of otters in India and is working toward preserving them. He wants to enlighten the people about the necessity of wildlife conservation through his documentaries.
Tiasa Adhya – Fighting for Fishing Cats
Although Fishing Cat is the state animal of West Bengal, the people seem ignorant and have been killing the animal with impunity for the past many years, putting it as a 'vulnerable' on the IUCN Red List of threatened species.
The co-founder of 'The Fishing Cat Project', Tiasa Adhya has a degree in zoology from Calcutta University. In 2015, the brutal killing of a Fishing Cat highlighted the plight of the species in the region. Adhya decided to raise awareness on the vulnerable situation of this endangered species.
This wildlife biologist is a conservationist at heart and her persistent efforts to highlight the plight of the fishing cat and address problems of habitat destruction, conflict and retaliatory killings in the state won her Nari Shakti Puraskar by former President Pranab Mukherjee and Wildlife Service Award from the Sanctuary Nature Foundation.
Purnima Devi Barman – Woman behind Assam's 'Hargila Army'
In 2014, the Zoological Society of London identified the Greater Adjutant Stork, a species of scavenging birds, as one close to extinction or an evolutionary Distinct and Globally Endangered species. There are less than 1200 birds of this species left in the world, 75 percent out of which reside in Assam. Many people consider this scavenger a disease-carrier, which mostly feasts on dead animals and garbage dumps.
Influenced by the negative stereotypes associated with the bird, the locals often cut down their nesting sites and poison their food sources. But, award-winning conservationist Purnima Devi Barman is a friend to this species, which is locally referred to as the 'Hargila', which means bone-swallower.
To help people understand the importance of this bird species in the ecosystem and for the preservation of the species, Purnima created 'Hargila Army' with more than 70 women. These women sing songs, tell stories and spread awareness about Adjutant Stork.
The wildlife biologist works for Aaranyak NGO and has received many awards including the Green Oscar or the Whitley Award for her astounding work at mobilizing a community to protect and coexist in peace with the scavenging birds.
Nirmal Ulhas Kulkarni – Protector of the Western Ghats
A Bachelor in Applied Arts from the Goa College of Art, Nirmal Ulhas Kulkarni is a herpetologist, field ecologist, conservationist and wildlife photographer. He is the Director of Wildernest Nature Resort and the Chairman of Mhadei Research Center.
In 2012, he was awarded the prestigious Karmaveer Puraskar for his role in conserving the northern Western Ghats and for his proposal to upgrade the Mhadei Wildlife Sanctuary to a tiger reserve. In past years, around 50 new amphibian species have been discovered in the Western Ghats. Three of them were discovered by Kulkarni.
His work and dedication to wildlife conservation have inspired many people to choose it as a career. He is associated with multiple state and national-level organizations that focus on ecological and wildlife conservation.
Tasneem Khan – Exploring the Oceans
33-year-old Tasneem Khan is a marine zoologist, diver, educator, photographer, sailor and explorer. She has spent the last decade facilitating interdisciplinary initiatives in the fields of ecology, conservation, education and science communication. Tasneem was also the director of the Andaman and Nicobar Islands Environmental Team for eight years.
Her new project is a floating laboratory named Earth Colab, which will provide access to hundreds of marine enthusiasts to learn about oceanic life. This marine learning lab provides a literal and conceptual learning environment in a laboratory and a studio aboard a traditional wooden sailboat.
With this vessel, Tasneem aims to expand to the Indian Ocean region and then to the rest of the oceanic world to create a floating, mobile, open-source learning facility for students, institutions and expeditions. She thrives to reveal the beauty of vast unexplored oceanic regions to the world.
Krithi Karanth – Following in Father's Footsteps
Born in a family of wildlife enthusiasts, Krithi Karanth's father, Dr. K. Ullas Karanth is a renowned wildlife biologist in India. Beginning at the tender age of two, Krithi spent most of her childhood in jungles, nature parks and studying her natural surroundings with her father. Little did she know then that she would be following in her father's footsteps.
Now a wildlife conservation scientist who serves as an adjunct associate professor at Duke University, she was radio-collaring tigers, studying predatory habits and tracking migration patterns by the time she was eight.
Krithi is a Senior Fellow at the Centre for Wildlife Studies and Affiliate Faculty at National Centre for Biological Studies in India. Her passionate work and commitment to wildlife conservation got her recognition as a Young Global Leader by the World Economic Forum. She has been continuously studying the cause and effects as well as the solutions for human-animal conflicts.
Shashank Dalvi – Savior of Amur Falcons
The journey of this naturalist, conservationist, and one of the most passionate ornithologists of India began early in his childhood. Between walks through Sanjay Gandhi National Park in Mumbai and explorations through virtually every biogeographic zone on the Indian subcontinent, this extremely talented young man has described a new species of bird to science and personally seen and documented as many as 1,190 avian species in India.
The winner of the Sanctuary Wildlife Service Award in 2017, Shashank Dalvi has a keen interest in the Northeast region of the country. His study became the first to combine biogeography and genetics of bird fauna of this region as a part of his thesis on the 'Role of Brahmaputra and hill ranges as a biogeographical barrier for avian fauna of Northeast India'.
In 2012, Shashank filmed the large-scale slaughter of Amur Falcons in Nagaland, which stirred an online campaign and garnered support from across the world. He served as a core member of the Amur Falcon Conservation Project that successfully stopped the hunting of these exquisite migrating falcons by triggering high-level government support, patrolling and enforcement.
Malaika Vaz – Passionate Wildlife Conservationist
22-year-old Malaika Vaz is a National Geographic explorer, award-winning wildlife documentary filmmaker, the country's youngest certified pilot, the youngest explorer to go on an expedition to the Arctic & Antarctica and the recipient of the National Youth Award by Ministry of Youth Affairs and Sports in January 2018.
This young woman's initial fascination with wildlife film making began while she was on research expeditions to Antarctica and the Arctic. Soon after, she worked as a wildlife researcher at a production house in India, where she had the opportunity to create her first short film on human-tiger conflicts in Central India.
For the past few years, Malika Vaz has been investigating the illegal trade pipeline in Manta and Mobula Rays across Southeast Asia. She is very passionate about science and conservation and is currently hosting an eight-part series 'On the Brink' on the extinction of lesser-known species like Red Panda, Fishing Cat, Purple Frog, and Great Indian Bustard.
Andra Phaneendra – Caretaker of Wildlife Species
A veterinarian by profession, Andra Phaneendra has rescued and rehabilitated more than 300 stray and distressed wildlife animals. Phaneendra graduated from the NTR Veterinary College Gannavaram and works with the State Animal Husbandry Department as a field veterinarian. He also serves as a Wildlife veterinary Consultant.
When he isn't tending to the distressed animals at his clinic 'Paws N Claws' in Rajahmundry, Phaneendra attends the rescue calls from the Andhra Pradesh Forest Department and people who call him all the times. In addition to rescuing the animals, he also nurses them to health and ensures their release to a safe environment.
While he was studying his five-year course for veterinary, he realized that the domestic animals receive the required medical attention from the people, but the wild animals have no one to take care of them. This fact made him dedicate his work toward the stray and distressed wildlife animals.
This courageous kind-hearted man listens to the voiceless and treats them with love and care. From snakes, monkeys to mouse-deer and leopards; he has rescued and nursed more than 300 wildlife animals in the past decade.
There are several other people who have been working hard to conserve the wildlife with their immense love and care for nature.  Dr. Kushal Konwar Sarma, a resident of Assam, has been treating elephants with his medical care for the past many years. Given the moniker of the Elephant Doctor of India, he has been working with more than 700 elephants, both wild and rogue bulls, every year.
Even after many threats from encroachers, Rohit Choudhury, the RTI activist and environmentalist has been fighting for the preservation of the habitats of elephants and the one-horned rhinoceros in Kaziranga landscape. 
These wildlife conservationists in India risk their lives to help animals in distress, spread awareness and educate people about the importance of wildlife conservation with so much passion that it is truly remarkable. Many times, they get injured and face life-threatening wounds as well, but their passion to preserve the wildlife never fades away.
These young wildlife conservationists in India stand as true icons of humanity and deliver a basic message that the human race will blink out of existence without other species.