$9 recyclable cardboard bicycle can withstand water and humidity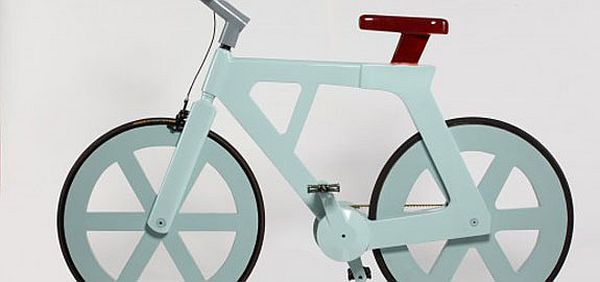 "It's strong, it's durable, it's cheap and what I like about it the most that it's made of cardboard!" These are the words of Israeli entrepreneur Izhar Gafni who has successfully made a prototype of a bicycle that has been entirely built from cardboard. The most unique thing that one notices about Izhar's green marvel is that it is waterproof, can stand humidity, costs too less and aesthetically designed. Gafni's bicycle surely takes the idea of green transportation to the next level. From the initial stages of production to the mid-stages and the formation of the final product, all the ways are eco-friendly. What more can you say about its green credentials after you get to know that this bicycle is made out of recycled cardboard!
When Gafni started with this project, his friends told him that it is impossible to create a thing like that in reality. But Gafni had the needed enthusiasm and decided to make the impossible possible. He, therefore, started this personal cardboard bicycle project that aimed at creating the greenest vehicle in the world and more affordable. He did a few experiments on how he can make the cardboard tough and strong enough to carry human weight up to 140 kilograms. The very first prototype that he created was much bulky and looked bad design-wise. Therefore, Gafni decided to invest more of his time on the development to make it less bulky, durable and comfortable. So finally his hard work paid him and he was able to create something better than his imagination itself. He coated the bicycle with brown and white material to grant it a plastic-like look.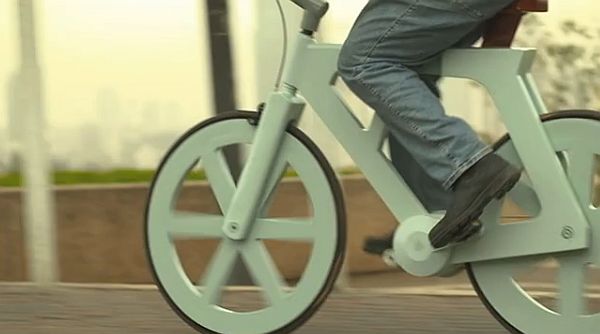 Though this bike is greener than green and that you must have understood by now, but there is one more interesting factor that makes Gafni's cardboard bicycle a modern day masterpiece – the production cost. The production cost of this bike ranges from $9 to $12. A consumer may thus get this for about $60 to $90 and that depends upon what else he/she would like to add to the cardboard bicycle. But still it is too much affordable and even a bicycles thief won't get allured to rob a bicycle that costs so less. Or even if someone steals it away because you did not lock it then you can easily afford to buy a new one as it will cost you even less than a bicycle lock itself.