Traveling Green: 10 Best Eco-Hotels and Lodges in the World
The tourism industry is getting increasingly eco-conscious to establish sustainable hotels with renewable energy and organic produce
An eco-hotel, also called green hotel, is an environmentally-sustainable hotel that has been erected to minimize its impact on the natural environment. The key features to look for in a green hotel are its practices of green living, including the use of renewable energy, organic produce, and recycling efforts. Eco-hotels can get certified by a certification program, such as Leadership in Energy and Environmental Design (LEED). LEED-certified eco-hotels with best practices can attract environmentally conscious travelers and help the planet.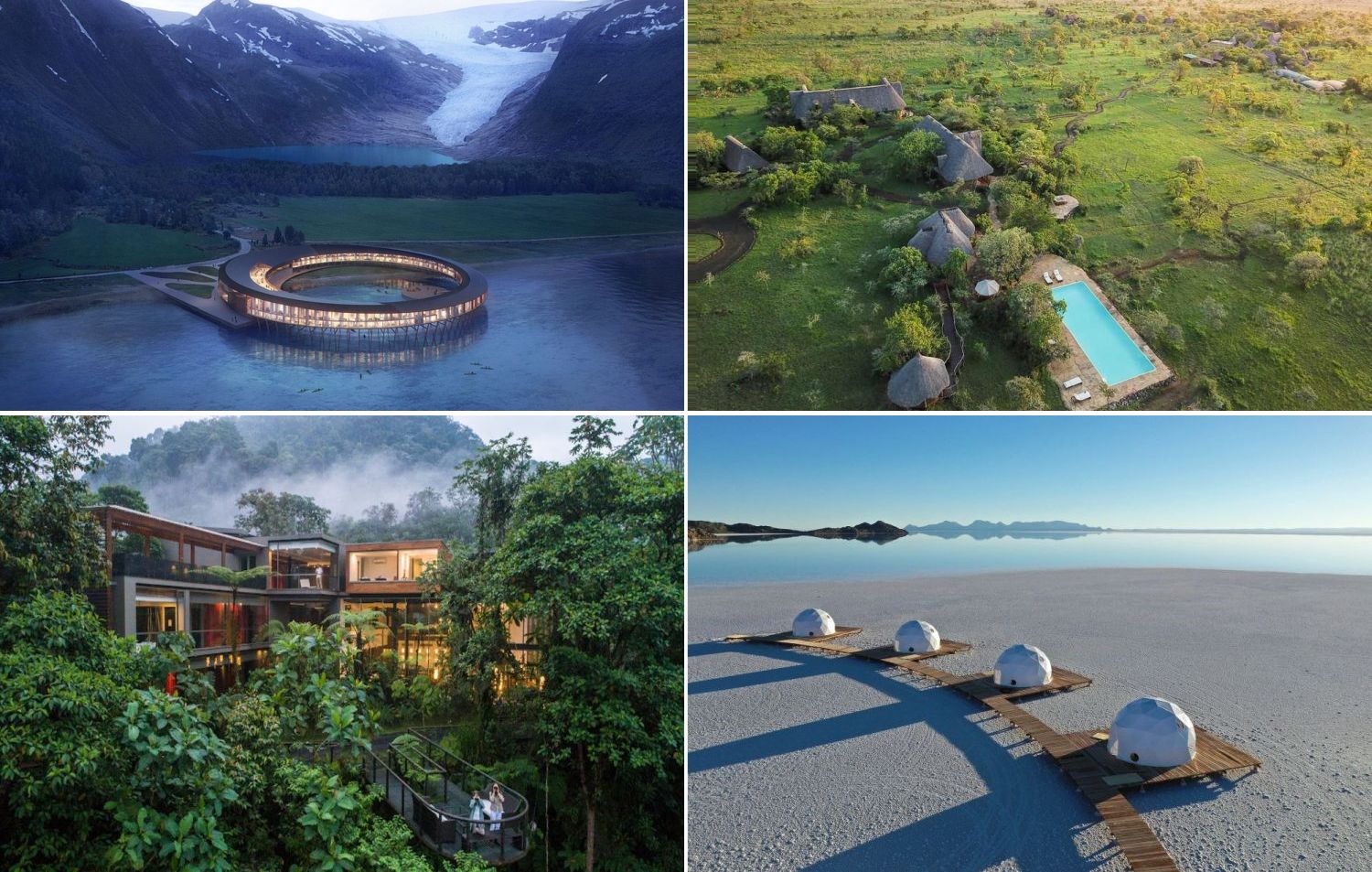 These green lodgings are a blessing for the planet, offering sustainability and adventure while lowering their own and their guests' holiday carbon footprint. There are numerous eco-hotels dotting the globe and we have picked the best for you. Moreover, you get to experience nature at its best as most of these eco-hotels are located in the world's wildest, off-grid places from jungle retreats and coastal escapes.
Svart, Norway
Offering tranquil views of crystal clear waters of Holandsfjorden fjord and breathtaking scenery of Norway, Svart is the world's first energy-positive hotel opened in 2021. This not-yet-completed hotel is to generate more energy than it uses. It will reduce its yearly energy consumption by 85 percent with solar energy.
Jetwing Surf, Sri Lanka
Located on the beaches of Arugam Bay on Sri Lanka's south-eastern coast, the construction and design of this eco-luxury hotel have been inspired by nature with structures made from wood, palm leaves, and dried iluk grass to minimize disturbance to the surrounding vegetation. The hotel uses natural ventilation and lighting, and wastewater is biologically treated.
El Nido Resorts, Philippines
With green design and architecture, El Nido Resorts offer sustainable menus and plenty of nature-based activities in a lush environment. The four resorts lead a green living, including buying local produce and employing local staff. The hotel property builds new sustainability programs every year.
Soneva Kiri, Thailand
A hidden gem in the tropical rainforests and surrounded by gorgeous beaches, this beautiful Thailand resort is the ideal blend of eco-friendly accommodation and luxury.  Soneva Kiri has a Carbon Calculator to monitor the full footprint of its operations; from energy consumption to freight, food, waste, and water. The hotel even has its own organic garden.
Also Read: Top Sustainable Cabins of This Century for Eco-Living
Kachi Lodge, Bolivia
One of its kind, Kachi is the first permanent lodge in Saral de Uyuni, Bolivia's breathtaking salt flats. Sitting at the bottom of the Tunupa volcano, the lodge offers solar-powered glamping experiences. Each of the six heated geodesic domes boasts minimalistic furniture, vibrant local art, and clear panels of stargazing.
Mashpi Lodge, Ecuador
Mashpi Lodge is an eco-hotel in the amazing Chocó-Andean Cloud Forest, Ecuador. Wonderfully, not a single tree was removed during the construction. The glass-walled lodge is largely free of single-use plastics. It has plans to expand the surrounding Mashpi Reserve by some 2,500 hectares to widen the scope of scientific research.
Kagga Kamma, South Africa
Established in a breathtaking location, Kagga Kamma features open-air bedrooms and cave-style rooms built right into the pink rock formations of the Cederberg Mountains on South Africa's Western Cape. The hotel uses eco-friendly power sources including solar power. You can enjoy the untainted beauty of the surroundings and sleep peacefully under starry nights.
Borgo Pignano, Italy
Located in the picture-perfect Tuscany, this sustainable hotel is surrounded by miles of rolling hills dotted with cypress trees lined down to the Mediterranean. The 18th century Borgo Pignano is committed to protecting its surroundings. The villa was renovated with eco-materials, is powered by solar panels, and features organic farm and vegetable gardens.
Campi Ya Kanzi, Kenya
Campi Ya Kanzi is a sustainable safari lodge in the middle of a 283,000-acre Maasai-owned reserve in Kenya. The lodge uses hot water and electricity from solar power, while rainwater and used water are recycled for the use of local wildlife to offset the carbon footprint of every guest. You can reduce your travel footprint and enjoy wild species around.
Wilderness Safaris Serra Cafema, Namibia
Northern Namibia's Serra Cafema camp is totally-in-the-middle-of-nowhere and is totally solar-powered, making it one of the most impressive eco-hotels. It is a remote tented escape sitting on land leased from the local semi-nomadic Himba tribe, showing the commitment of the property to preserve and respect indigenous communities along with natural resources.