Climate-Responsive Architecture: Meaning, Significance and Examples
Evolving with eco-friendly and sustainable building techniques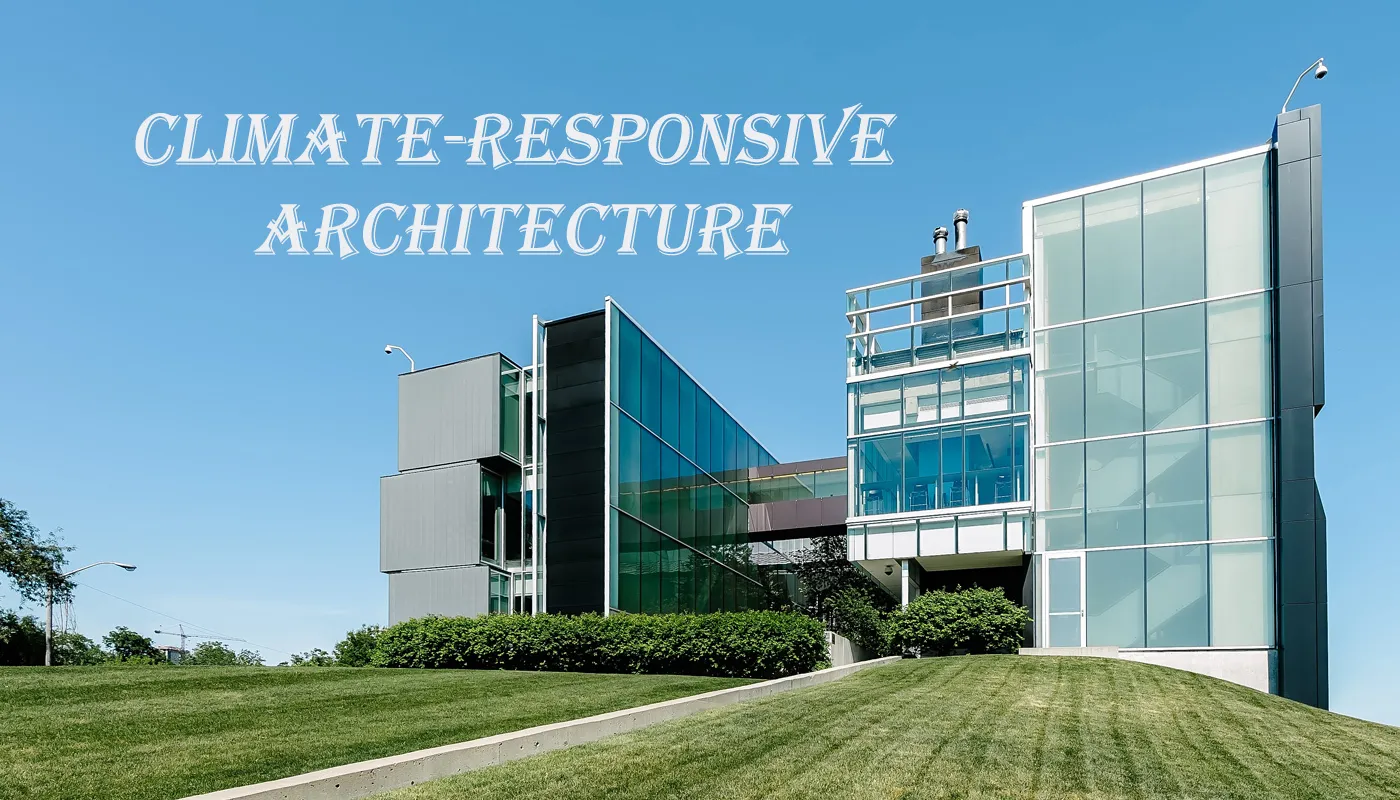 There was a time when man slept on tree branches. Then came the mud and stone huts with thatched roofs, which are still a part of many cultures around the world. Sustainable and weather-resistant, these structures then evolved into concrete homes, glass homes, and so on. But most of the building designs were not capable of keeping up with the changing climate and exploited natural resources heavily.
This prompted the architecture industry to try an approach of making sustainable housing, which was climate-responsive and utilized non-conventional and environmentally beneficial energy sources. Now, what is climate-responsive architecture? The term reflects the weather conditions of a precise area while focusing on providing a comfortable interior that is naturally energy-efficient.
Aiming to lower the environmental impact of architecture, architects and designers are creating designs that will work well in the local climate. Although it sounds easy enough, the concept has a complicated execution. Let's delve deeper into understanding the workings, significance, and factors of a climate-responsive architecture, shall we?
What is Climate Responsive Architecture?
The climate-responsive architecture uses designs that take seasons, sun path and solar positions, rainfall, humidity, natural geography, and climate data into consideration. By doing so, an architect can design practical, efficient edifices that are responsive to their surroundings.
With climate having implications on humans, their surroundings, and architecture, it has become imperative to create more sustainably efficient homes that employ natural topography to their advantage and lower carbon footprint. The goal of this architectural practice is to provide a comfortable interior that relies less on artificial energy.
There are several elements that play a role in limiting a building's energy utilization based on its geographical location. For instance, the building envelope (exterior walls, foundations, roof, windows, and doors) is an important factor impacting a home's condition.
Also Read: Types of Sustainable Homes for Lower Carbon Footprint
Characteristics of Climate-Responsive Design
Approaching building designs with a sustainable perspective that responds directly to their surroundings, climate data is the main determining factor for climate-responsive architecture. Here are several factors that define climate-responsive architecture:
Geographical Location
The geographical location of the site of a home is extremely important. The weather patterns, climate, soil types, wind direction and speed, heating degree days, and path of the sun all play a vital role in climate-responsive building. By documenting these factors, architects can make environmentally sustainable practices.
Natural Heat and Ventilation
Sun and wind are two of the most crucial factors when it comes to climate-responsive architecture. The goal is to choose a location that will maximize the amount of sunlight in winter but decrease it in summer to make it more energy-efficient. Moreover, it should have plenty of natural ventilation to achieve that goal. Stack ventilation can cool down the edifice during hot summer days.
Decrease Building Footprint
To decrease the building footprint, a climate-responsive building makes use of multi-functional spaces. Whether residential or commercial, these buildings will have fewer excavation costs and more wall area to increase natural daylight and energy efficiency.
Comfort Standards
While taking care of the ecosystems, this architecture also takes care of the comfort standards of the users. The artificial energy usage for cooling and heating is reduced through a climate-responsive design, and natural ventilation and insulation are encouraged. This ultimately increased the comfort in spaces and reduces energy loads.
Significance of Climate-Responsive Architecture
Climate-responsive architecture seeks to reduce the adverse impact on the environment. It enhances efficiency and moderation in the use of materials, energy, and the development of space. This kind of architecture has become the need of the hour as it creates sustainable homes while taking environmental conservation into account.
It applies to both residential and commercial structures and can provide benefits like natural ventilation, cool roofs, and comfortable interiors. It also promotes climate adaptability and uniqueness.
These buildings have become significant as by using vernacular architecture and local materials, the climate-responsive design is cost-effective. It lessens transportation costs, material costs, and maintenance costs while reducing the building's reliance on artificial energy.
Examples of Climate-Responsive Architecture
The climate responsive architecture has the sole purpose of lessening the building's ecological footprint, through energy efficiency, climate adaptability and environmental conservation. Here are over a half dozen examples of climate-responsive architecture worldwide.
Chesa Futura, Switzerland
Chesa Futura, literally meaning the house of the future, is a three-story apartment building created by architect Norman Foster in Saint Moritz, Switzerland. It has two underground floors for parking cars, growing plants and storage. It merges the latest technologies with traditional Swiss construction techniques. Created in the shape of a bubble, the building's exterior is made of local wood larch, which can last for a century without maintenance. The southern side is open to natural light and views, while the portion to the north is closed to conserve energy. The building is poised on pilotis that protect the wood edifice from excess moisture from the ground while disrupting the surrounding environment the least.
Papertainer Museum, South Korea
The name is a clever amalgamation of word paper and container, two main structural components of Seoul's Papertainer Museum. It is the perfect example of innovative design and exceptional use of simple materials. The structure is a temporary installation that was created to commemorate the anniversary of the Korean publication design house. The 10-meter-high structure has been built with 166 cargo containers and 555 paper tubes. Moreover, it is portable and can be disassembled and transported to other locations.
Eco Boulevard in Vallecas, Spain
Made from recycled materials and plants, the cylinder-shaped structure of Spain's Eco Boulevard mirrors a greenhouse system that lessens the surrounding temperature by up to 10 degrees. The architect of this unique climate-responsive architecture is Urban Ecosystem. It is a portable structure, meaning it can be transferred to other locations with similar climates for installation. It can also be installed at places that need reactivation of their bioclimatic adaptations. The Eco Boulevard has three such pavilions or trees of air, if you will, which have become a meeting place for the bordering populace.
Caixa Forum Vertical Garden, Spain
Created was landscaper Patrick Blanc, Caixa Forum vertical garden is located in the heart of Paseo del Prado of Madrid. The cultural center is a 24-meter-high building with a high vertical garden that houses 15,000 plants of 250 different species. The 460-square-meter of green wall is sustained through water and nutrients. This climate-responsive building creates an indoor and outdoor thermal comfort zone around the building. It is located across from the Prado Museum and botanical gardens. The hydroponic living wall attracts many tourists that can walk up, touch and explore the plants, which were chosen according to Madrid's demanding extremely hot summers and harshly cold winters.
The Garden That Climbs the Stairs, Spain
Stairs are a very basic architectural element and aside from their aesthetics and function, we rarely think about them. There are merely a handful of people who would ponder over the environmental implications of stairways. Balmori Associates designed a garden that climbs the stairs as part of an international competition for urban gardens. The garden climbs the stairway rather than being flat on the ground, which makes it a unique work of art with rippling lines of varying colors and textures. The lush planting of native and exotic plants in an urban landscape balances out the ecological impact of the concrete structure.
New Fountain Chapel, Chile
Architects Alejandro Dumay, Nicolás Fones and Francisco Vergara designed a low-cost material installation at the shore of Lake Rupanco, Chile. Dubbed New Fountain Chapel, the 20-meter-square structure doesn't consist of any distinctions or partitions. The walls, ceiling and the opening of this climate-responsive structure form a whole unit with a pinewood covering. The chapel takes the form of a small house due to its size, scale, gabled roof, small windows and porch.
The Barony House, Chile
Designed by DRN Architects of Quintero, Chile, the Barony House of La Baronia House has been made with glass and weathering steel clad exterior which protects from natural deterioration to the sea-side property. It is sheathed with warm wood for an inviting vibe and to make it a part of the climate-responsive architecture. The insides observe repetition and variation of wood to make it insulated. The materials used in construction make the structure ecological and climate-responsive.