Google Earth's Timelapse Feature Lets You Witness Horrific Changes on Earth in the Past 4 Decades
Google Earth has recently released the Timelapse feature that exhibits the horrific changes upon earth, brought by various anthropological activities in the past four decades. Using millions of satellite images from the past 37 years, the feature allows people to scroll through time to see the shocking alterations in ecosystems.
The melting glaciers with rapid global warming, the destruction of the Amazon over time, and rapid changes on the face of the earth – Google's Timelapse feature offer an overwhelming account of the biggest updates in past years.
Google Earth uses similar technology to the widely used Google Maps, but with a focus on geology and exploration rather than public transport and directions.
With 24 million satellite photos from the past four decades, from NASA, the US Geological Survey's Landsat project, and the EU's Copernicus project – it provides an interactive 4D experience that lets anyone watch time unfurling and revealing the four decades of planetary change.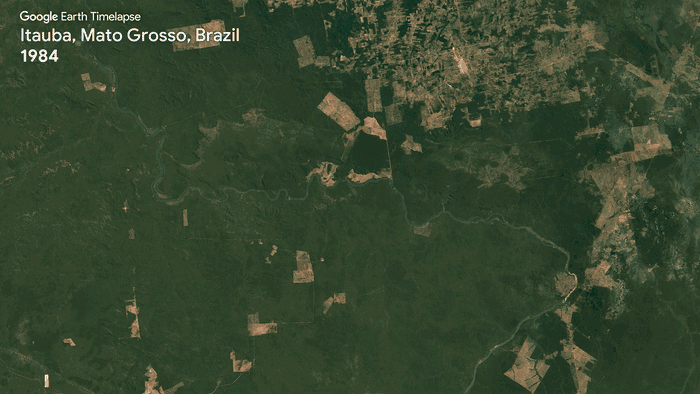 The effects of climate change around the globe, melting ice caps and receding glaciers, deforestation, urban growth, shifting oceans and rivers, etc. are the focal point of Timelapse.
According to Google,
We have a clearer picture of our changing planet right at our fingertips – one that shows not just problems but also solutions, as well as mesmerizingly beautiful natural phenomena that unfold over decades.
Offering glimpses of phenomena like the rapid retreat of the Columbia Glacier on the south coast of Alaska, it is an appeal to the mind and emotion of humankind to stop the drastic destruction of ecosystems. Processing the gigantic data took over two million hours of computer time-shared among thousands of high-powered machines of Google to get the job done as soon as possible.
It is living, breathing proof of the irreversible changes that the planet has gone through in the past 40 years.
This feature clearly helps understand the cause behind these horrific changes on the planet. Upon exploring the changes, five themes of forest change, urban growth, warming temperatures, sources of energy, and the world's fragile beauty presented themselves. Google Earth has created a guided tour of each topic to better understand them.
Google said that it plans to update this new time-lapse project every year for at least the next ten years. This will help to monitor any further planetary changes and how to resolve them.