Mumbai police converts 96- acre barren land into orchard, plants 550 fruit trees in 30 days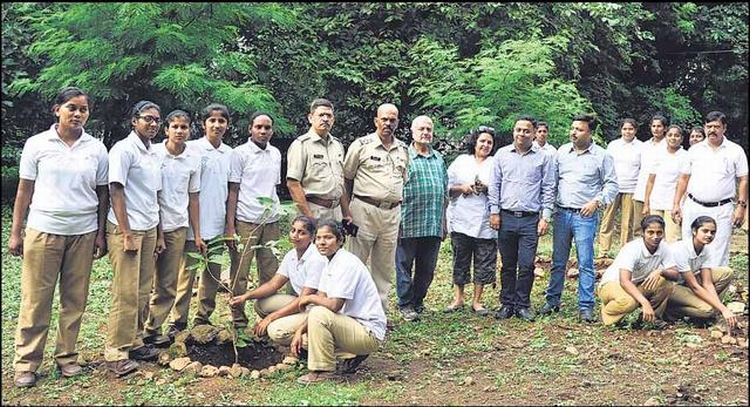 Indian police isn't much popular among people, and is mostly considered as the best tool for repression by the corrupt government. Many positive perspectives of rough policemen don't find place in media. For instance, Mumbai's Marol police have transformed 96-acre-barren land into a diverse orchard in 30 days.
The Marol police headquarter premises witnessed a surprise transformation after the police groups decided to plant trees here. Police planted 550 fruit trees in 30 days under the guidance of environmental experts Nusrat Khatri and Afzal from Kandivli. These experts had already displayed their ability by transforming Samta Nagar police station into a green zone.
The police premises at Andheri (East) houses police training centre and residential complex of 1,000 flats.
The residents also came ahead and one of them even contributed 365 trees towards the initiative.
The planted trees include about 250 kesar mango trees from Ratnagiri along with other fruit plants like star apples, custards apples, Indian gooseberry (amla), tamarind, black plum, mudapples (chickoo), banana etc.
According to officials at the camp, earlier, the area had only 40 percent cover that has increased to 75% after plantation by various groups of police taking training in the centre. During one month period, along with training, police personnel were educated  on plantation too. They learned various methods of successful plantation of fruit trees and other details such as equidistant from each other, planting the roots straight, removal of excess soil from the base and appropriate water methods.
Other than plantation, everyday, groups of police personals remove plastic waste from around the trees. The personal with prior farming experience are also delivering additional assistance in plantation.
In next 10 years, the place is likely to bloom with greenery and colors of flowering on fruit trees. With availability of such a wide variety of fruit trees, the premises will become a bio-diverse habitat for birds and butterflies. No need to mention that India requires aggressive plantation drives to deal with rapid deforestation. Not just police, but common public must be also made aware of the need of the hour.
Image Credit: Hindustan Times