Video of Man Scooping Spilt Milk Consumed by Stray Dogs
Agra, the city home to one of the seven wonders of the world was witness to one of the most heart-wrenching realities of the plight of poor and underprivileged in the middle of coronavirus lockdown. A desperate man was seen scooping spilled milk from the road which was apparently also being fed on by stray dogs just a few meters away.
The disturbing video of this unidentified man scooping spilt milk with his hands and putting it in an earthen pot unfolded after a milkman's bike was caught in an accident and spilled milk on the road in Agra's Ram Bagh Chauraha. The desperate man is seen collecting milk with both his hands and just a few feet away dogs are licking the milk.
Lockdown Impact:
इंसान और जानवर साथ साथ दूध पीने लगे।
आज अगरा के रामबाग चौराहे पर एक दूध वाले की दूध की टंकी गिर गयी।फिर क्या हुआ खुद देखिए। pic.twitter.com/OWvNg8EFIe

— Kamal khan (@kamalkhan_NDTV) April 13, 2020
This is one dimension of what the poor have to go through in the lockdown and now that it has been extended till May 3, the situation doesn't look good. Daily wagers and people who have got stuck in other states with no means of earning money for even their daily food requirements are in desperation due to this crisis.
The video was shot by two bystanders and after spreading like a wildfire, the incident was reported to local authorities who responded that the nearby police station is responsible for seeing to it that nobody goes hungry.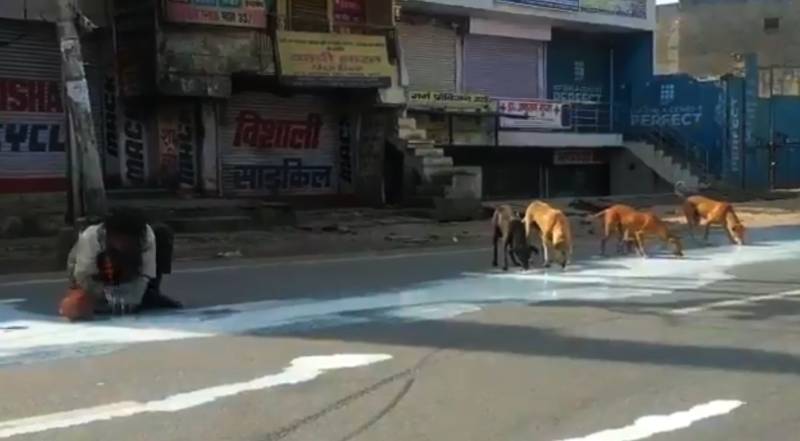 Clearly, the incident has put a big question mark on how the needy are going to survive this global crisis induced chaos in a country of 1.3 billion. However, the authenticity of this video shared on Twitter cannot be proved, as to whether the man was actually collecting milk for himself or to feed the dogs.
That said, the Hindustan Times reported that when contacted, the SHO of Itimad-ud-Daulah police station, Uday Veer Malik confirmed the incident. He said that this 50-year old man (believed to be mentally unstable) lives under the Ram Bagh flyover is fond of feeding the dogs and was collecting milk to feed the strays.
Via: NDTV