Save Environment, Get These Reusable Straws from Amazon
Ditch harmful single-use plastic straws and opt for reusable alternatives whether you are at home or outdoors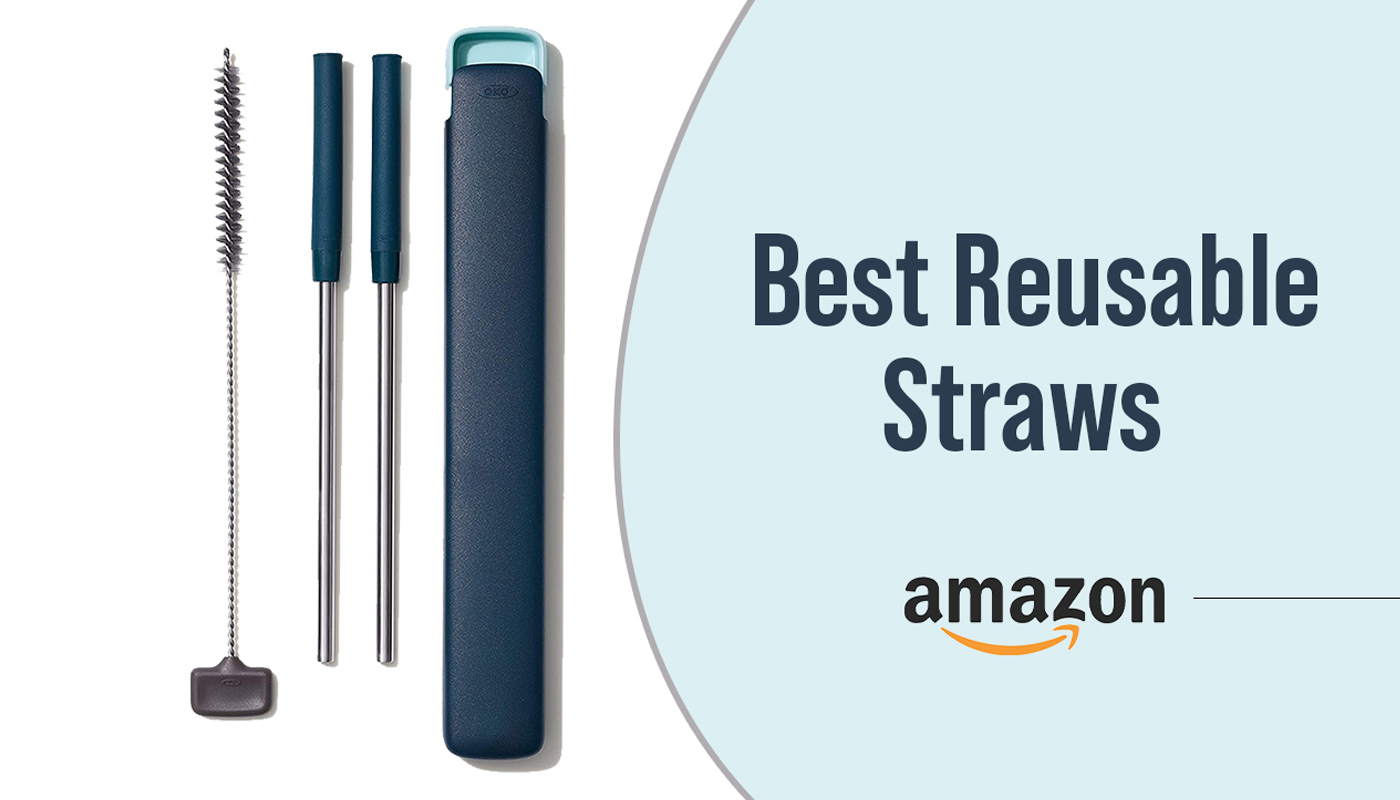 A few years ago, a mind-jolting image of a sea turtle with a straw stuck in its nose sparked a ditch single-use plastic straw movement. With tremendous efforts by dedicated environmentalists, most companies decided to switch plastic straws with paper substitutes and began to search for reusable straws. Reusable straws made their debut in vogue, with a wide variety ranging from heavy-duty metallic choices to alternatives made of eco-friendly recycled material.
These eco-conscious substitutes have taken the whole world by storm in the past few years, with them being used at homes, restaurants, coffee shops, and drive-throughs. They are available in stainless steel, glass, silicone, and bamboo.
You can choose from a variety of materials and sizes depending on the type and temperature of your choice of beverage. Read on to know about the best reusable straws on Amazon that are travel-friendly as well. Sip in style, and with sustainability.
StrawExpert Reusable Stainless Steel Straw
This set of 16 is the best choice if you want reusable straws for a big family or just need coverage against your straws predictably damaging. Each straw is made from premium stainless steel and has a tinted silicone cap. The set is dishwasher safe and comes with three cleaning brushes.
Why Choose:
Variety pack and shape
High-quality material and polishing
Strong and durable
Buy: $8
Kynup Reusable Collapsible Straws
This pack of four collapsible stainless steel straws comes with a compact carrying case, silicone tips, and a cleaning brush. The portable straw set can stretch up to nine inches. Its silicone insert keeps the stainless steel from feeling too hot or cold. Each set has a metal case that can be snapped onto a belt loop and a backpack.
Why Choose:
Small, collapsible, and portable
Variety of color
Easy to use and clean
Buy: $15
Doboli Collapsible Metal Straws
You can keep this collapsible and portable stainless steel straw in your purse or on your keys. This set of two includes reusable straws, a cleaning brush, a keychain, and a case. These Doboli collapsible straws come in different colors that can match your style and preference.
Why Choose:
Portability
Perfect for outdoor usage
Silicone tips and easy to use
Buy: $7
Flathead Silicone Straw with Travel Case
This set of silicone straws comes with a bent design for optimal sipping, a cleaning brush, and one carrying bag. Specially well-matched with Yeti tumblers, Flathead straws come in two different diameters to suit the sipping patterns of different beverages, whether you are drinking a smoothie or sangria.
Why Choose:
Dishwasher safe
Strong, durable, and leak-proof
Easy on teeth
Buy: $10
Hiware Glass Drinking Straw
Made of lead-free borosilicate glass, Hiware's glass straws are classy, extra-long, and dishwasher safe. The set of 8 comes with four bent and four straight straws, and two cleaning brushes. Each piece is handmade and doesn't leave any metallic or plastic aftertaste.
Why Choose:
Perfect for drinking hot/cold beverage
Reusable and dishwasher safe
Mason jar compatible
Buy: $8
Eco-Pals Collapsible Travel Straw
The only travel straw you'll ever need, Eco-Pals collapsible straw is perfect for sipping on the go. This travel-friendly, collapsible straw comes in three different colors, a sleek carrying case that can fit in the smallest of bags, and a collapsible steel cleaning brush.
Why Choose:
Suitable for a variety of beverages
Portable straw carrying case
Easy to clean and eco-friendly
Buy: $7
Oxo Good Grips Stainless Steel Straw Set
The OXO straws are extendable and come with an easy-to-use cleaning brush and a handy carrying case. Durable stainless steel straws are the best way to reduce plastic waste. They have adjustable silicone tips that are easy on the lips and come off for cleaning.
Why Choose:
Dishwasher-safe
Aesthetic color options
Easy to use and clean
Buy: $14
Klean Kanteen Stainless Steel Straw Set
These stainless steel straws by Klean Kanteen come with a silicone tip for easy sipping and cleaning, and a cleaning brush. The silicone tip is removable, making it easier to clean. You can choose between four- or eight-packs, which come in a variety of bright colors.
Why Choose:
Reusable, Durable, and Sustainable
Versatile and compatible with various beverages
Perfect for taking out on camping and hiking trips
Buy: $9.5
Softy Silicone Straw
This set of five Softy silicone straws is flexible, chewy, bendy, and kid-friendly. These straws are tall enough to fit in a 20-ounce cup, yet slim enough to fit through narrow cup openings. The set comes with five different color straws and a squeegee for easy cleaning.
Why Choose:
Dishwasher safe
A straw squeegee for cleaning
Suitable with various beverages
Buy: $13
Ecotribe Reusable Metal Straw
This set of four reusable metal straws is available with two wooden cases, two cleaning brushes, and a soft drawstring carrying case. They can be used for a multitude of drinks including iced coffee, smoothies, or a glass of cold water.
Why Choose:
Environmentally-friendly
Non-toxic and BPA free
Rustproof and shatterproof
Buy: $10