7 Crucial Wildlife Corridors in the United States of America
Acting as links across landscapes that connect patches of fragmented habitat, these wildlife corridors are offering safe passage to animals without human intrusion
Wildlife corridors are acting as essential links between fragmented patches of landscapes that are crucial for the survival of so many flora and fauna species. The United States of America has an abundance of natural treasure, which unfortunately has fallen victim to humankind's curiosity and greed to advance. At such a time, wildlife corridors in the US are offering respite to its unique species.
To satisfy our need of staying better connected, humans have created modern conveniences including highways. However, wildlife has been paying a huge toll on this social need of humankind as anthropogenic activities are destroying natural habitats and disconnecting them from their biodiversity. This results in unwanted human-animal encounters, which creates trouble for both.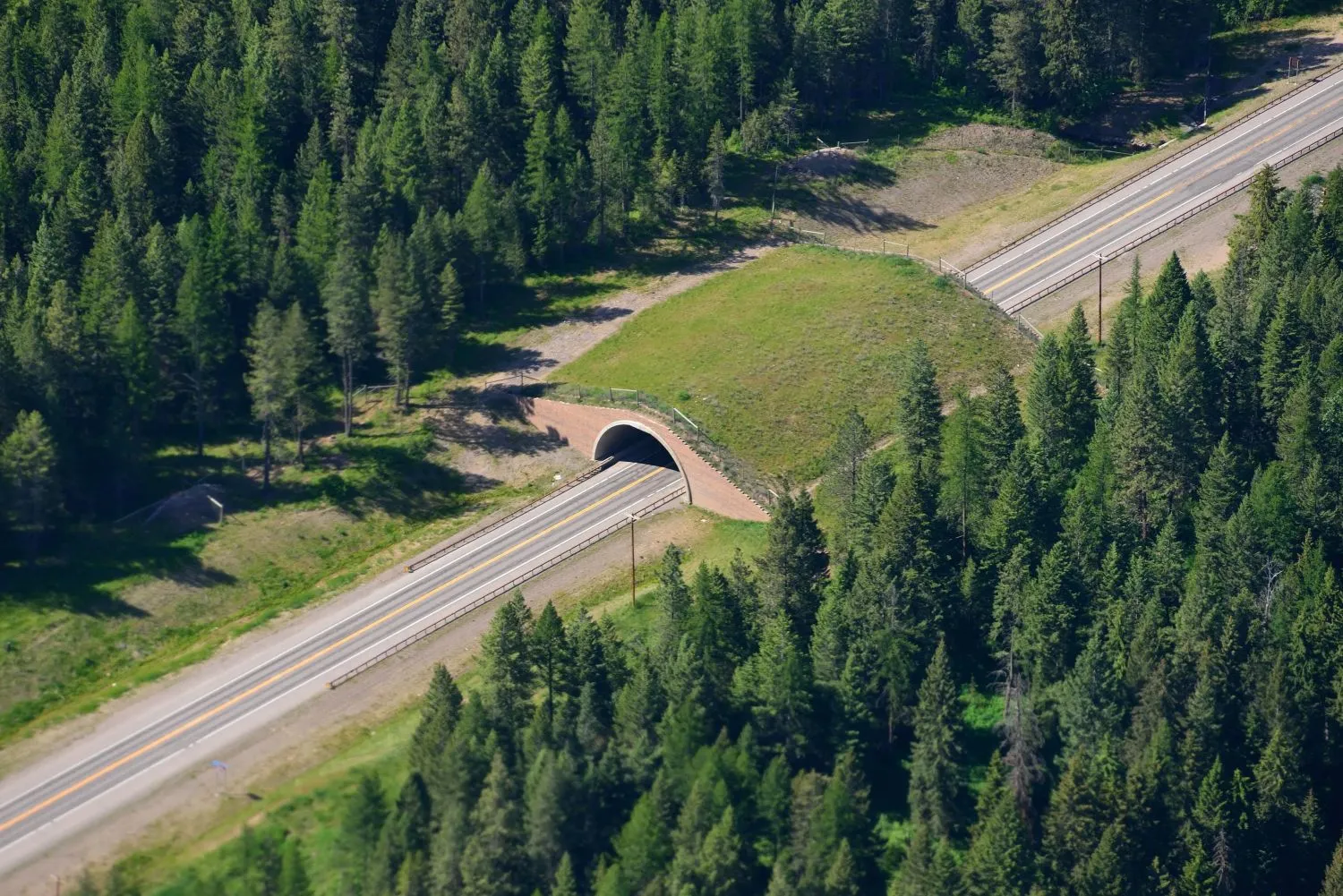 Wildlife corridors have emerged as areas of preservation and growth of species. Wildlife corridors, also known as habitat corridors or ecological corridors, are wildlife areas designed to keep local, migratory animal species from the encroaching human population in regions where human-wildlife interactions are unavoidable.
There are so many wildlife corridors across the world, but today we focus on these connecting bridges in the US, here only 12 percent of lands are protected. Read on to know more.
U.S. Highway 93 North Wildlife Crossing, Montana
U.S. Highway 93 North in Montana is the site of one of the largest safe-crossing efforts in the nation. There is a total of 41 fish and wildlife crossing structures that includes underpasses and overpasses, all of which were created along the 56-mile road stretch.
Fences have been installed along portions of the highway to direct the wildlife into safe corridors. Camera traps have recorded a variety of species making use of the crossing structures, including grizzly bears, deer, elk, cougars, and other wild animals.
Lower Rio Grande Valley National Wildlife Refuge, Texas
The Lower Rio Grande Valley, from Falcon Dam to the Gulf of Mexico, is right in the middle of infrastructural development in Southeastern Texas. The wildlife refuge has been working with conservation groups for more than three decades to construct a wildlife corridor along the river valley offering secure passage to species.
This process also involves purchasing land from farmers and then replanting the fields with natural foliage to maximize the green cover. The wildlife along the Lower Rio benefitting from these efforts comprise migrating birds and rare mammals such as the ocelot.
Burnham Wildlife Corridor, Illinois
The Burnham Wildlife Corridor is a 100-acre landscape within Burnham Park that is located on a crucial piece of real estate along Chicago's Lakeshore area. The park is home to the prairie and woodland bionetworks that are aboriginals to this part of Central U.S.
It is majorly used as a sanctuary for the three million migratory birds that go through the Windy City annually. People have been able to participate in the clearing and planting of these new habitats to safeguard wildlife.
Yellowstone to Yukon Wildlife Corridor, North America
The Yellowstone to Yukon Conservation Initiative is a joint Canada-United States charitable organization that aims to protect the 2,000-mile region. It connects and protects habitat along the mountainous ecosystem from Yellowstone National Park to the Yukon.
The corridor sprawls 2,000 miles (3,200 kilometers) along the Rocky Mountains of North America. It guards essential habitats and keeps them well-connected. Many wild species navigate through this passage, including pronghorns, grizzly bears, elephants, black bears, tigers, rhinos, elk, and cougars.
Wildlife Overpass over U.S. 101, California
The Southern California mountain region is the habitat of mountain lions, but the loss of habitation and genetic diversity in the area has stimulated the conservationists and authorities to construct a wildlife migration crossing that will span 10 lanes of traffic northwest of Los Angeles above U.S. 101. The corridor will break ground in April, 2022.
The overpass will be covered in greenery and will provide favorable terrain for mountain lions and other wildlife species to traverse safely between the two habitats, divided by the highway. It will be constructed in Liberty Canyon, an area that experts have identified as a critical point of connectivity for numerous species.
I-80 Wildlife Bridge, Utah
Interstate 80 has had several wildlife casualties as it cuts through major migration routes across the country. Several species try to cross the highway in order to migrate from one place to another, resulting in collisions with fast-moving vehicles. To avoid such occurrences, an overpass was built in 2018 over interstate 80 to offer safe passage to the animals.
This overpass is now used by various wild species such as moose, porcupines, deer, and bears. It is dotted with rocks, boulders, and logs to give it a woodland-like appearance that appeases the wild animals and they take the safer alternative to cross the highway.
Pine Mountain Wildlands Corridor, Kentucky
Part of Kentucky Natural Lands Trust, the Pine Mountain Wildlands Corridor connects existing protected areas on Pine Mountain to create a 125-mile forested migratory corridor from Virginia to Tennessee. The Trust partners with state, federal, and nonprofit organizations to identify and protect these areas.
The corridor offers safe summer nesting grounds and a migration way for birds returning from Central and South America. The region is home to nearly 100 rare flora and fauna species, some of which are endemic.