60+ Most Moving, Memorable Pictures of 2022
Relive this year's best and worst moments before we move on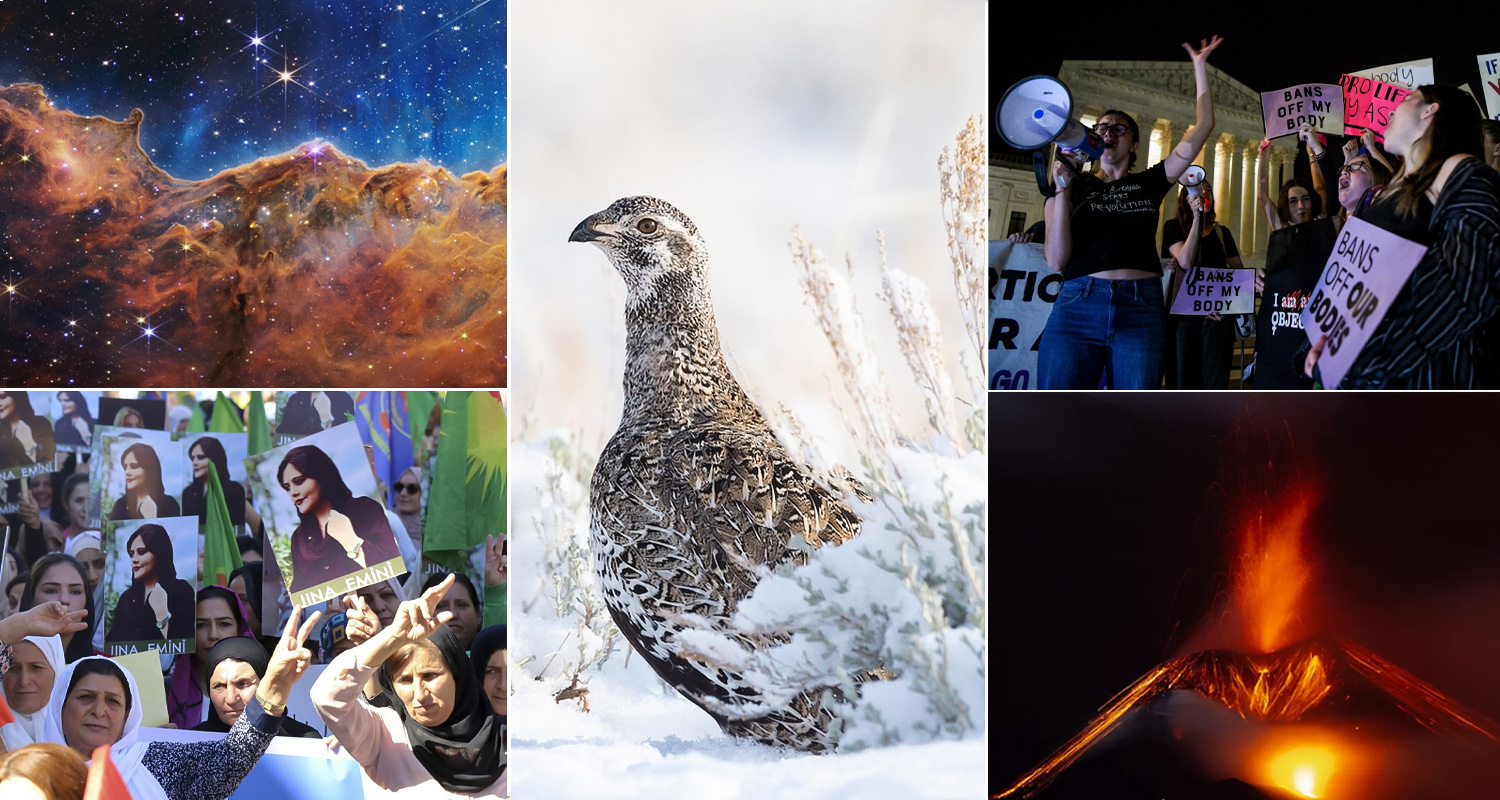 English illustrator and painter Frederick Barnard once said, "A picture is worth a thousand words." But I think nothing beats a picture and a thousand words. If we are going to relive the best and the worst moments of 2022, perhaps we need both of these mediums to convey much that has happened in the past 12 months.
This year has been one of turmoil, war, natural disasters and filled with natural beauty – all of which are captured and immortalized through photography. Let's stroll down memory lane to look at the best pictures that reigned major photography awards in 2022. But the round-up of 2022 in pictures will be incomplete if we neglect the most stunning, most moving, and most memorable photos of the year that didn't make it into any contest. You will find these at the end of this photolog.
Best of Wildlife Photography Contests 2022
Taken in California, this picture of a white-tailed kite hovering in mid-air showcasing spectacular anatomy in rich detail won the grand prize of $5,000 at the Audubon Photography Awards 2022.
This image full of emerald-green heads and brown and white feathers-a sea of Northern Shovelers-looks absolutely breathtaking and straight out of a painting.
Two male sharp-tailed grouse seem to be having a bit of a rumble, though the reasons are unknown.
This female greater sage-grouse is searching for food in the snow, as the morning sun highlights its perfectly patterned feathers.
A gorgeous butterfly sea slug was pictured on the seabed in Alotau, Papua New Guinea.
A tiny, shy shrimp hitchhiking on a huge Spanish dancer nudibranch.
Taken in the Mediterranean Sea, a few crabs are floating alongside a beautiful barrel jellyfish in this picture.
Have you ever seen a mother octopus nurturing her eggs in a tube? Well, feast your eyes on this mesmerizing shot taken at Blue Heron Bridge.
This curious conch snail with its fascinating appearance is a wonderful shot of the underwater species.
The Grand Prize winner of the Scuba Diving Through Your Lens Underwater Photo Contest 2022 is this amazing shot of a flying fish from the boat on the flat-calm water surface.
Like bees to honey, these male insects are running toward a female to get the chance to mate and procreate.
A stoat emerging from its burrow in the early morning was surprisingly happy to see the freshly fallen snow.
This caracal, a medium-sized wild cat, nabbed a flamingo in its mouth and stopped for a moment to pose.
When you meet the King of the Jungle, you bow in front of him – a winning image from the Nature TTL Photographer of the Year 2022.
This snow leopard is scouring the area for food in the Ladakh mountain range, in India.
This African elephant is playing in the Ngorongoro Crater in Tanzania.
There is so much we don't know about space. But one thing that we know for sure, is that it is absolutely mesmerizing.
Amid anthropogenic waste, a blooming sunflower against a stormy background shows how life always finds a way to survive and thrive.
These two parrots seem to be fighting over something. Looks like he forgot to bring food.
This winner of the underwater category from the Nature TTL Photographer of the Year 2022 is depicting the beauty of rich marine life.
Wildfire Season 2021-2022
Oak Fire devouring the insides of a home in California.
Wildfires destroying Joshua Tree National Park amid climate change.
A fire marshall vehicle parked in front of the raging Rocky Mountain National Park wildfire.
This year wildfires in the US have ravaged national parks badly. The Great Smoky Mountains National Park was among the ones bearing the brunt of the wildfires.
The state of California experienced one of its most intense and harrowing wildfire seasons amid a prolonged drought.
California wildfire only grew intense and scary as the state experienced a heat dome.
California wildfires left thousands homeless as flames engulfed man-made structures and forests alike.
A residential area in California turned into smoke and ash within minutes as a wildfire devoured it.
The destruction was left in the wake of wildfire season 2021-2022, where forests and human settlements both went up in smoke.
A fireman trying to put out embers after a wildfire ravaged a human settlement.
A burning house in California as the governor declares a state of emergency in the state.
A fire marshall trying to douse an inferno during California wildfires.
Ukraine-Russia War
15,000 Ukrainians took refuge in the subway system to escape Russia's bombings.
A suburb of Kyiv reduced to rubble by Russian attacks.
A family died after Russian shells hit them as they were fleeing in Irpin, Ukraine.
Residences destroyed by Russian missiles in Kyiv. Lives have been left in shambles.
Natural Disasters 2022
Distraught family after a 5.6 magnitude earthquake flattened tens of thousands of homes in Indonesia in November.
Distraught Indian farmers after paddy fields were destroyed by floods.
Houses collapsed into the Atlantic Ocean in the Outer Banks due to sea level rise.
Sand dunes now occupy the space where the Mississippi River usually flows.
A mountainous iceberg calved from the Sermeq Kujalleq glacier in Greenland.
This picture depicts the death and destruction in wake of Hurricane Ian.
Entire human settlements were either uprooted or left in shambles in the aftermath of Hurrican Ian.
Damaged marina in Fort Myers in the aftermath of Hurricane Ian.
Streets were submerged in hurricane waters and life came to a standstill.
A man sitting on a destructed street in Matlacha after the hurricane ravaged the region.
The destroyed road between Matlacha and Pine Island after Hurricane Ian caused widespread destruction in Matlacha.
People sitting near a water fountain in London as summer heat broke records this year.
The active volcano on the Cumbre Vieja mountain range erupted on September 19.
The volcano was active for over two months, spewing ash and lava and burying colonies all around it.
The volcanic eruption shrouded houses and forests in magma and sent molten rock toward the Atlantic Ocean .
People were left distraught as their lives were uprooted by the volcanic eruption on the island.
The lava devoured anything and everything that came in its path.
The lava flow marked a path toward the Atlantic Ocean over a scarcely populated area.
The lava flow engulfing homes in La Palma volcanic eruption.
The volcano is located in the south of La Palma Island, which is inhabited by about 80,000 people.
Lava devoured roads, farms and swimming pools on the island, while smoke and ash eclipsed the sun.
Life-Altering Events
Breathtaking picture of previously invisible nascent cosmos taken by James Webb Space Telescope.
Protests ignited after the overturning of Roe v Wade, which banned abortion in most of the states in the US.
Women at the forefront of protests against compulsory hijab laws were brutally crushed by the Islamic regime in Iran.
Nuclear fusion record was achieved at the National Ignition Facility at California's Lawrence Livermore National Laboratory.