Winners of the Biggest Avian Photography Contest of the Year
The Audubon Photography Awards 2022 brings a spectacular collection of images for bird lovers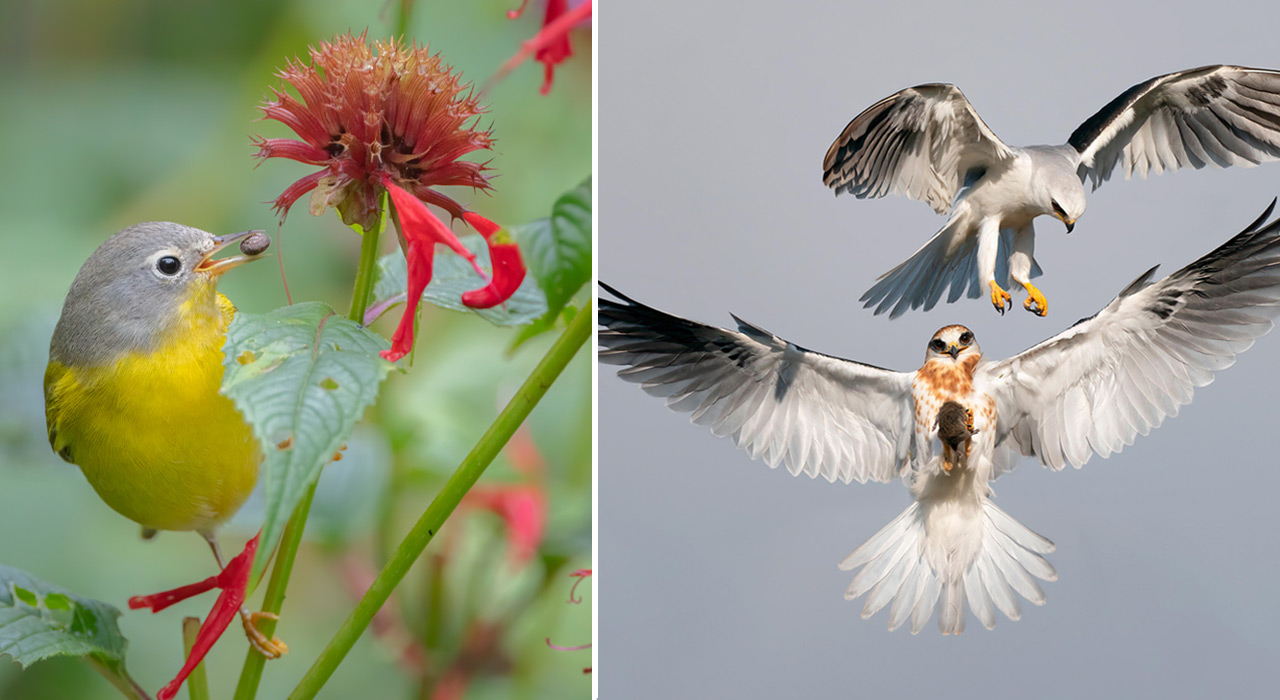 Avian species are extremely fascinating with their colorful plumage and rarely documented behavioral traits. Wildlife photography is a medium that efficiently captured the beauty of various birds in unique moments. One such contest is the Audubon Photography Awards, now in its 13th edition, which enthralls bird lovers year after year. The winning images for the Audubon Photography Awards 2022 have been announced and they are simply breathtaking.
With 2,500 photographers and videographers submitting around 10,000 entries for 2022's contest. Some contestants worked hard for years to capture a blissful moment of avian life, while some stumbled upon it and were lucky enough to make it immortal through the art.
Revel in the beauty of nature with the winning images of the Audubon Photography Awards 2022, from the daring action of a raptor to the elusive details in the feather patterns of ptarmigan.
Spread Your Wings: Taken in California, this picture of a white-tailed kite hovering in mid-air showcasing spectacular anatomy in rich detail won the grand prize of $5,000.
Picture Perfect: This image full of emerald-green heads and brown and white feathers-a sea of Northern Shovelers-looks absolutely breathtaking and straight out of a painting.
Getting Groomed: This pair of common ravens seem to be adhering to their bro code where one is grooming the other before its snow date.
Talons Are Out: Two male sharp-tailed grouse seem to be having a bit of a rumble, though reasons are unknown.
Searching in Snow: This female greater sage-grouse is searching for food in the snow, as the morning sun highlights its perfectly patterned feathers.
It's Family Breakfast Time: A Western Grebe and its two infants are sharing a silver fish as the bright red eyes of the Grebe stare right into the camera as if a warning to not intrude on a family moment.
Just Enjoying the View: A white-tailed Ptarmigan sits on a cliff reveling in the mountain and valley view in Jasper National Park of Alberta, Canada.
Posing for Portraits: With its bright orange eyebrows and air sacs, this greater prairie chicken against a blurred grassy background looks as if posing for an artist.
'Anybody Home?': This black-bellied whistling duck with a long brown body and pink legs must want an urgent exchange of words with a woodpecker to be peeking around the latter's home.
Hawaiʻi ʻamakihi: This Hawaiian honeycreeper drinks nectar upside down from the pink flowers of the sandalwood tree as a bee approaches the flower cluster.
Snail for Dinner: This tiny Nashville Warbler perches on a scarlet bee balm plant with a snail in its mouth.