Love and Compassion of Motherhood in the Animal Kingdom
The bond between a mother and its offspring is eternal
Every year, the world comes together to honor human mothers by celebrating Mother's Day on the second Sunday of May, but what about the rest of the animal kingdom? What do we really know about how mothers across the animal kingdom go through motherhood? Well, they are not that different from human mothers, although some non-human species even might be way more protective of their children.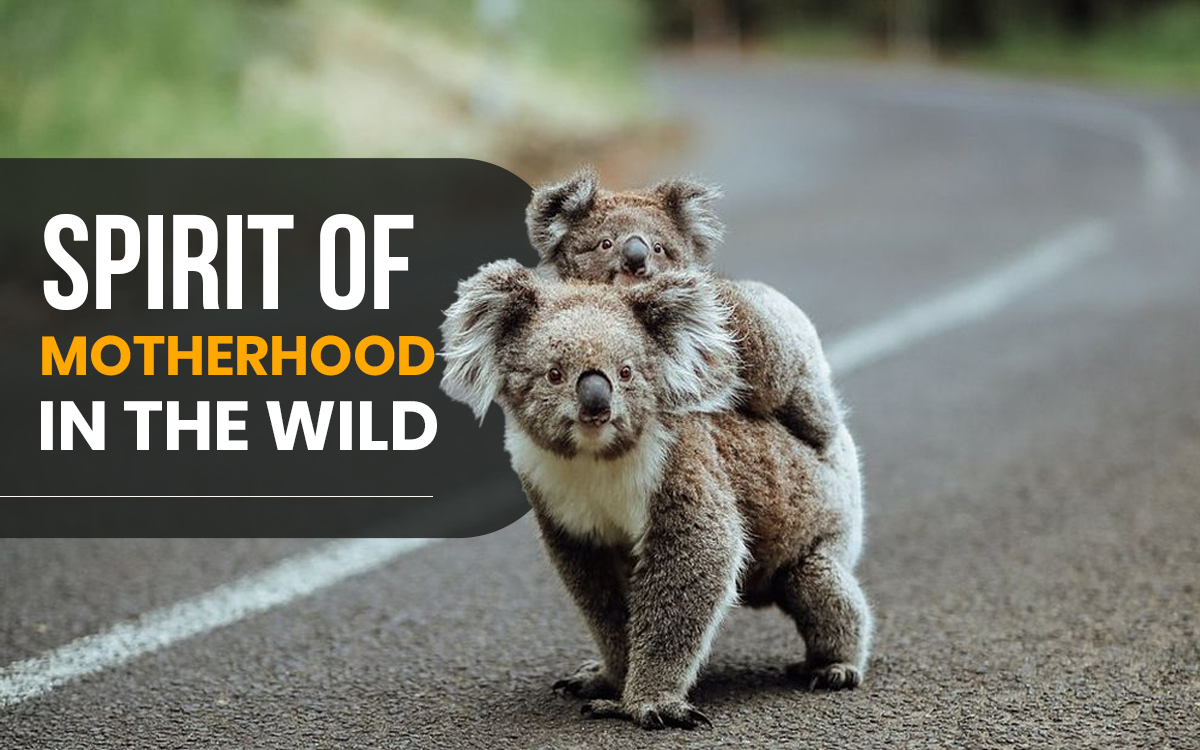 The sheer love, compassion and commitment of mothers is widespread in the animal kingdom, with wildlife photographers capturing mothers who would do whatever it takes to protect and nurture their young ones. From small creatures to mighty species, we bring to you 20 heart-touching pictures from the animal kingdom to celebrate the occasion of Mother's Day.
The tender warmth beautifully captured through the dynamics of a young Sichuan snub-nosed monkey embraced by its mother.
Protective shields – The herd of female elephants encircled the newborn as a bull elephant tried to separate the calf from its mother.
This eastern grey kangaroo and her joey were among the few survivors who endured 2020 bushfires in New South Wales and Victoria.
The Protective Hand – It is a heartwarming shot of a mother and baby Sumatran Orangutan in the Pinus Jantho Nature Reserve of Sumatra, Indonesia.
This grebe family seems to enjoy its swim time together in California, as the chicks huddle on the mother's back.
A newborn Sandhill Crane colt resting atop its mother, enjoying a windy day in Florida.
A chick flamingo with its mother in Ría Lagartos Biosphere Reserve in the state of Yucatán, which is home to Mexico's largest flock of Caribbean flamingos.
This polar bear family is enjoying a fun playtime as the kids embrace the warmth of their mother.
A mother oystercatcher is giving its young one lessons to forage and how to open crustaceans.
An elephant mother helping a young calf stand up and face the world with all its might.
A white rhinoceros with its young one walking through the picturesque Tanzanian landscape.
The family that eats together stays together. A rhinoceros grazing alongside its calf.
An elephant along with its calf enjoying family time was pictured in a savanna of the African wilderness.
A zebra and its foal in the mist is probably one of the most gorgeous black & white wildlife photographs ever captured in the Etosha National Park in Namibia.
A heartwarming picture of a koala walking with its baby on its back across a road in Australia.
Capturing the bond and close connection between a fawn and mother deer, this shot was taken at Berkeley Deer Park in England.
The picture was captured just before the sunset with a cow and its calf as the main subjects.
Captured in the Cisarua region of West Java, Indonesia, this heartwarming photograph of a female proboscis monkey embracing its baby is truly mesmerizing.
An old Olive Ridley turtle shuffles amidst the waves, ushering a young hatchling into the safety.
An adult polar bear along with its young cub enjoying the frigid environs of the Arctic.