8 Best Indoor Garden Systems for Fresh Farm-to-Table Food
With escalating climate change and food insecurity, indoor gardens have emerged as the best option to grow fresh vegetables and herbs from the comfort of your home
When it comes to food, fresh is the best. But most produce have to go through weeks and hundreds of miles of travel before reaching your table, which means that by the time your food reaches you, it might not be as fresh as you'd hoped and is mainly food waste. So what to do? How to acquire farm-fresh food? Well, the answer is simple – indoor garden systems.
Indoor gardening systems can be fairly easy to operate and an efficient way of exercising your green thumb, whether you are a seasoned gardener or an amateur like me. You can have several reasons for growing produce inside your home, including lack of outdoor space, cold temperatures or the desire to acquire fresh food from the comfort of your kitchen.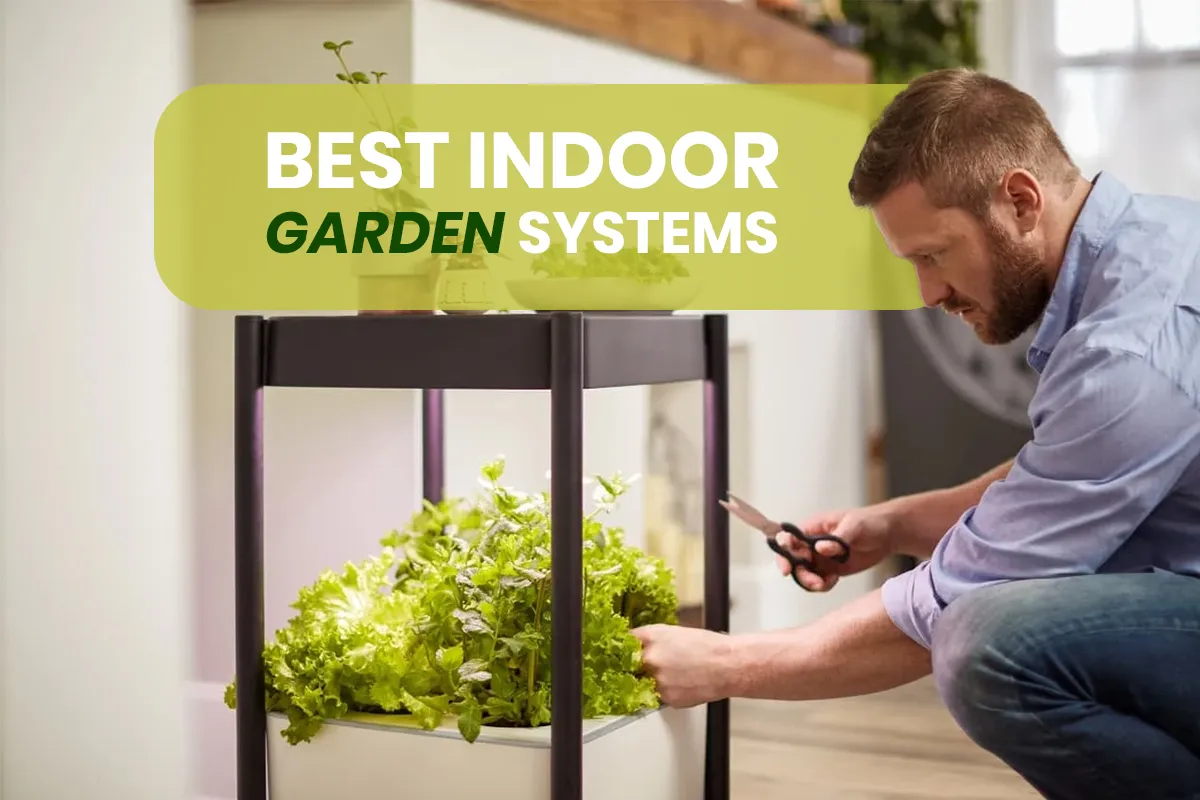 You can grow fruits and vegetables like cherry tomatoes, peppers and microgreens to fresh herbs such as thymes, rosemary and parsley. Many systems are equipped with indoor gardening essentials, including grow lights, self-watering containers, and auto-timer among other.
Indoor gardens allow you total control over a plant's growth and its environment. If you are itching to try out your green thumb, I have compiled a list of the 8 best indoor garden systems that'll deliver fresh farm-to-table food!
AeroGarden Harvest Elite
AeroGarden has brilliantly advanced technology, especially when it comes to lighting and hydroponics. The Harvest Elite allows you to grow fresh herbs and vegetables in any season without the need for an outdoor garden bed or direct sunlight. Featuring a stainless steel base that uses a hydroponic growing system, it is equipped with high-performance LED grow lights that are mechanically turned on and off through a customizable timer. There is a 6-pod herb seed kit that offers you the best and fresh produce.
Click & Grow The Smart Garden 9
The Click & Grow is a soil-based system that features an automatic watering planet and built-in LED grow lights. It allows you to select from over 60 pre-seeded biodegradable plant pods and insert them into the container. Add the water into the tank and use the water float meter to check the overall water level. The system comes with nine complimentary plant pods, including three mini tomatoes, three green lettuce, and three basil pods. It will allow you to have fresh vegetables and herbs growing within your home.
Rise Gardens Single Family Garden
A smart, hydroponic garden rise by Rise Gardens works as an indoor gardening system and a decorative piece of furniture as well. Featuring a self-watering and self-fertilizing mechanism, this modular garden is Wi-Fi enabled and app-controlled, and fits in any room. You can monitor the water levels, LED grow light settings and nutrient levels through a mobile app to keep track of your plant growth. It comes with 16 seed pods, including lettuce, arugula and red pepper and the pod tray can hold up to 12 plants. You can also add vertical extensions to the system.
Lettuce Grow The Farmstand
The Farmstand by Lettuce Grow is a self-watering and self-fertilizing hydroponic system that grows plants in nutrient-rich water without soil. You can get this garden system for both indoors and outdoors. Made with recyclable packaging and available in five different sizes, you can grow a variety of vegetables, herbs and leafy greens of your heart's desire. All you need is to add water to the tank, add nutrients and test and adjust the pH levels once a week. Besides, it is easy to assemble in 10 minutes and takes about five for maintenance per week.
Back to the Roots Water Garden
Hydroponic gardens are a wonderful way to employ your green thumb even if you are living in a small city apartment. With a brilliant aquaponics system, the Back to the Roots Water Garden is basically a self-cleaning fish tank that can grow small greens for you at the top. You can opt for fish or maintain the system by utilizing the water. This kit includes seeds, fish food, a natural dechlorinator and growstones.
Moistenland Hydroponics Growing System
Compact in size, Moistenland Hydroponics Growing System allows you to grow a dozen of different plants at once. It comes with an LED grow light panel with an automatic on and off timer, an air and water circulation system, and two grow modes. In vegetable mode, the blue light boosts leaf growth; and in fruit mode, the red light promotes flowering. The device comes with 12 grow baskets, sponges, and domes, but you need to purchase seeds separately.
Véritable Smart Garden
Gone are the days when you had to put up with ugly devices and appliances. As interior design established itself as a crucial aspect of homes, the design of various devices has improved. This beautiful indoor garden has two adjustable LED lights with an auto-on and off switch and a 68 fluid-ounce tank to hold enough water for your plants for a month. You will also get various herbs from this smart garden.
Miracle-Gro Twelve Growing System
This double-duties as an indoor garden and a side table. Featuring an LED grow light with three different modes, this system comes with a two-gallon water tank, a water-level sensor, and a recirculating pump. It allows you to grow four different plants at a time. There is also instruction books for planting and growing, a starting seed kit, a transplanting kit, plant nutrients and an accessories storage bag. You can even control it with your phone via Bluetooth and regulate watering and light from your device.
Happy Gardening, Folks!