Delhi air poisoned with most toxic pollutant PM1 – Researchers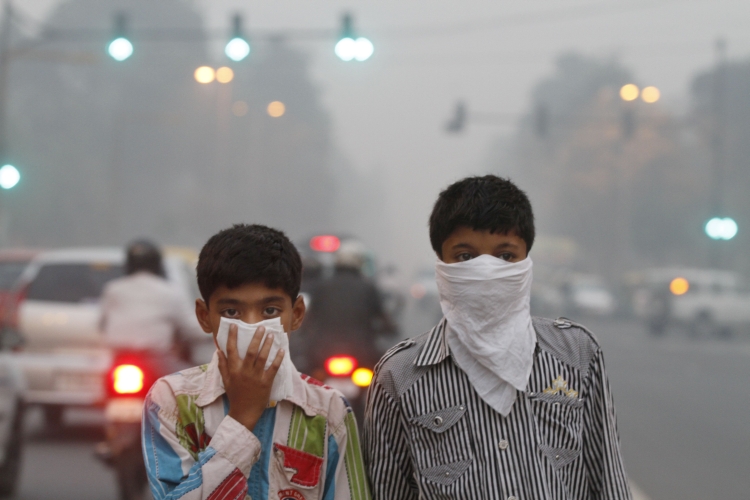 A research by scientists at a Delhi based independent agency SAFAR revealed that Delhi isn't just world's most polluted city, but its air is also contaminated by lethal class of pollutant particles in vehicular emissions – PM1 particles – the thinnest class of pollutant particles.
PM 2.5 particles, which are considered very lethal to cardiovascular system, had raised alert in many nations; however, India is still deep asleep. Now, ultrafine PM1 class of particles was recorded to be way high than national air quality standards. These particles are 0.5 to .25 microns in size and that makes it easier for them to enter and land deep inside our lungs. These particles are like micro needles. These particles penetrate tissues in cardiovascular system leading to cardiovascular diseases.
What makes it more lethal than PM 2.5 particles is the capability to diffuse with blood. Through blood, PM1 particles can reach different organs and brain will be the worst hit.
Earlier the global index for air quality had ranked Delhi as the world's most polluted city among 178 other nations. This new research has now intensified the worries of environmental scientists and green activists. According to researchers, PM1 was recorded to have reached quite high levels even in the low-pollution pre-monsoon season.
SAFAR reports PM1 levels to have reached 70 micrograms per cubic meter. Unfortunately, India does not have any defined standard for PM1 particles. The standard for PM 2.5 is 60 mg/m3. The thinner the particle, more lethal it is.
That means Delhi is ecologically screwed.
Let's take a look at what scientists say about this nightmare. Gufran Beig, project director, SAFAR, said, "On most days, the proportion of PM1 is about 35% of the PM2.5 emissions but on Thursday it was more than 50% of PM2.5 emissions. This shows that people are breathing in ultrafine particles that have serious health impacts."
What the scientist fear most are the health implication of high amount of PM 1 particles in breathable air.
Explaining this aspect of vehicular emission, T K Joshi, director of Centre for Occupational and Environmental Health (COEH), said, "There is no safe standard for PM1 simply because there is no level that can protect everyone from its health impacts. There are people who are extremely sensitive to even very low levels. The current thinking is that we reduce the fine particles as much as possible. It is a very expensive proposition though."
The researchers have recorded the biggest source of PM 1 particles to be the vehicular pollution, especially diesel.
According to Roychowdhury, Head of CSE's clean air campaign, "There have been studies in the UK that found 90% of diesel emissions to be PM1 particles. It's not surprising to find high PM1 levels even in cleaner areas because these cannot be seen and they don't collect together like the bigger particles. Such tiny particles cannot occur naturally in the environment. They are most likely from traffic sources."
Earlier, the emission was measured in terms of weight of particles, but now it is counted in the number of pollution particles as against the weight of particles.
This isn't the first study. Earlier, IIT Kanpur had also reported higher concentration of PM1 in Kanpur.
During the discussion on the topic, Dr Sujeet Rajan, Bombay Hospital Institute of Medical Sciences had informed, "They irritate the airways and provoke an intense inflamatory reaction which causes swelling in parts of lung besides increasing production of musus. This leads to tightening of chest, wheezing and breathlessness that often lands a patient into hospital. Complications aggravate with the presence of co-morbidities like cardiovascular diseases."

These are some of the cities in India that are being monitored. However, states like Himachal Pradesh are mostly negligent and hesitate to discuss or disclose stats about air pollution. The worst hit is the capital of Himachal Pradesh – Shimla, once summer retreat of British. Take a look at the videos showing unchecked diesel emission in Shimla city.
Another trouble that haunts health experts is that PM1 particles do not come down even with rain drops. That means, even after rain, when the concentration of pollutants is brought down, PM 1 will be still present in the air.
The National Green Tribunal (NGT) had imposed ban on plying of vehicles older than over 10-years age to cut down the emission. It's not enough. Despite pressure from European countries to cut down air pollution, Indian government is carefree and taking very little interest in the topic.