Indian photographer wins Environmental Photographer of the Year 2015 contest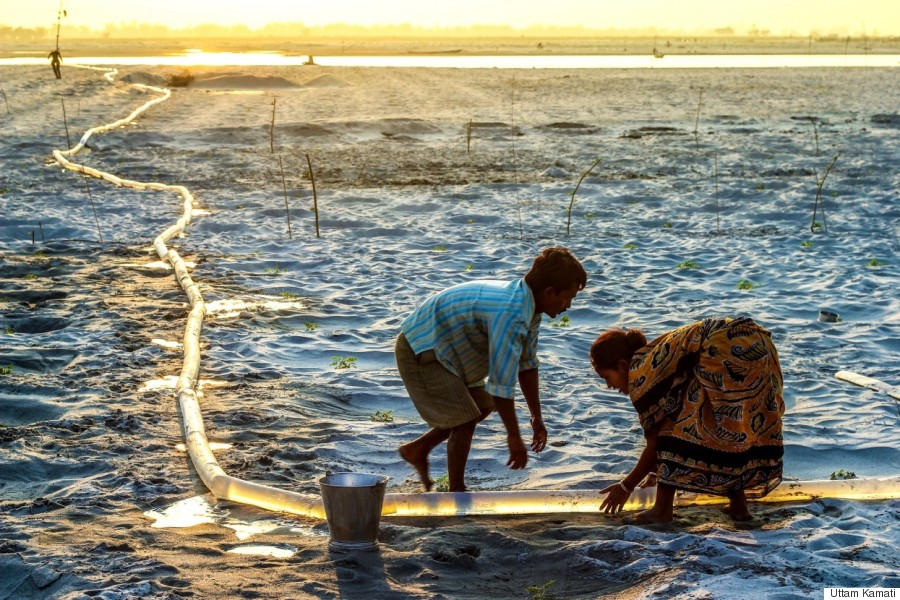 Uttam Kamati, an amateur Indian photographer and filmmaker, won the prestigious Atkins CIWEM Environmental Photographer of the Year Competition 2015 for his image themed 'Watering Melon'. His picture depicts a poor Indian couple watering watermelon sapling on the Tessta river bed, in West Bengal, India.
The competition had received about 10 thousand entries from 60 countries. The selections were judged by Dr. David Haley.
Behind the photograph, Uttam Kamati has a story of devastating effect of climate change on agricultural activities, thus, irony of poor agrarian community residing on the banks of the Teesta river in West Bengal.
According to Uttam
Teesta is one of the main rivers in West Bengal, India, and one on which many lives depend. I started photographing this river in 2009, covering all seasons, and all local agricultural activities and festivals. The family in my image is shown watering melon plants. They couldn't plant seeds since it was so late in the season, so they were directly planting and watering with a pump in same day. Because of the erratic climate, farming in the river is becoming harder: as each day passes the river bed becomes drier, particularly in the middle of winter and summer. Melons need a constant, balanced water supply otherwise they will die in the extreme heat. While their use of the pump shows true resourcefulness , its expense is in danger of outweighing their profit. After taking this image, I visited that area again at the very end of the season and heard that the family had run a huge loss this year due to an unexpected rainfall which ruined their heavy labour.
Take a look at some other entries that depicts nature and civilization under the shadow of climate change.