Delhi's first solar-powered plant will recycle 'sewage into drinking water'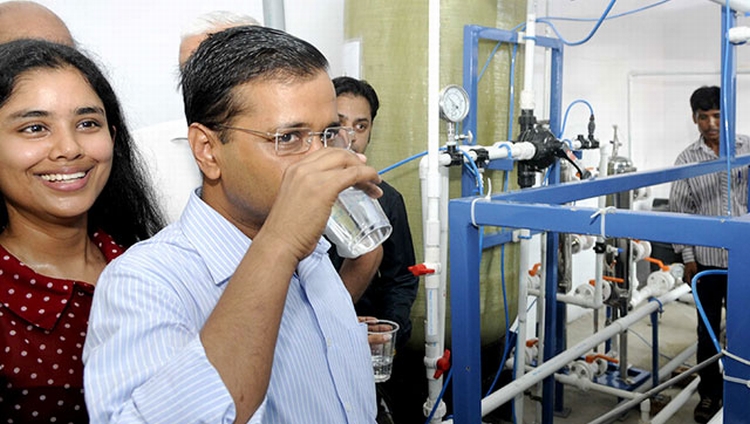 On Thursday, Delhi CM Arvind Kejariwal inaugurated Delhi's first sewage treatment plant that will recycle sewage into drinkable water using advance, tested technology.
The treatment plant is powered by solar energy, and that makes it highly eco-friendly. Delhi Jal Board (DJB) in collaboration with a NGO, SANA (Social Awareness, Newer Alternatives), commissioned the project called 'Sujala Dhara' or toilet to tap water.
The project was set up at a cost of Rs. 55 lakh. The plant can treat 5,000 liters of sewage to provide 4,000 liters of drinkable water every hour. The plant operates 24 hours a day and will produce 25 million liters of drinking water annually.
Bio-filtration nano membrane filtration – the technology in use is already working well in the United States. The water is treated through a bio-filter that consists of seven layers of organic and inorganic material including plants, earthworms, sand and pebbles. Further, the water is passed through a nano-filter membrane for more treatment. This membrane has a size of 0.001 micron.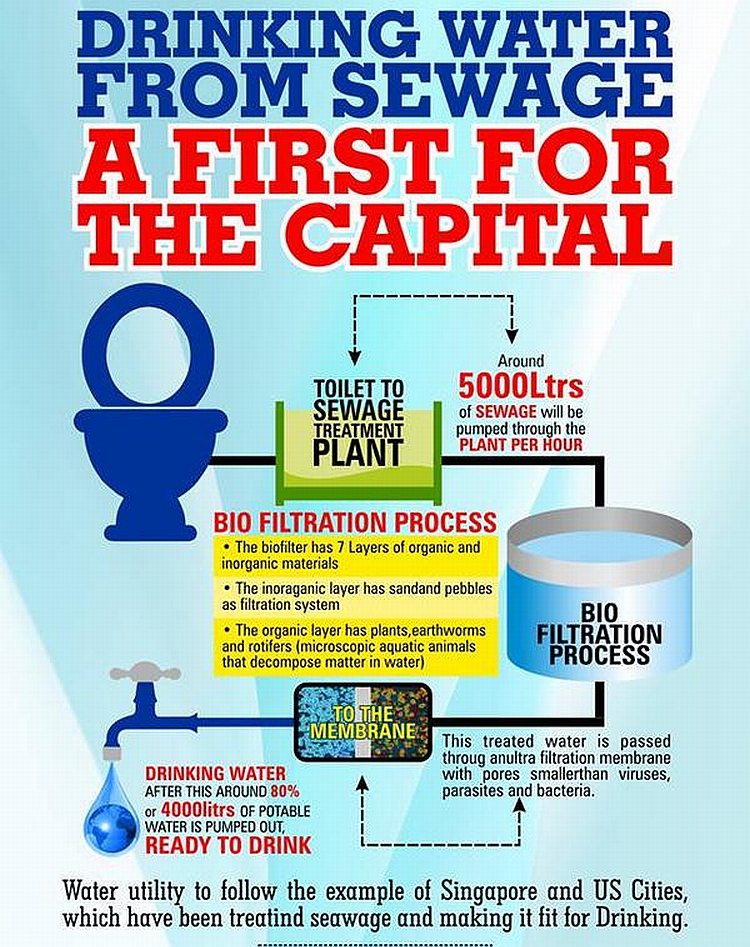 However, it's a challenging task to get acceptance from public. People will hesitate to use the water. But to encourage and convince the residents, Delhi government has taken an appreciable initiative. The treated water will be bottled and supplied first to DJB and Delhi Secretariat offices. Kejariwal hopes that watching MLAs and the CM drinking treated water will help convincing common people too.
The government is contemplating on setting up six more such plants to combat increasing water-shortage. Considering the prospects and benefits of recycling sewage water, Kejariwal said, "Neighbouring states will stop giving us water in the coming few years as they need to meet the requirement of their citizens. Waste water reuse and management becomes very important in such a case. Only about 50% of the city has sewer connections. If we plan to expand the network with the current plans, we will need years and around Rs 30,000 crore. The solution is to starts smaller plants like this one. These can be built using development charges."

It's a highly appreciable initiative by APP government. Moreover, India is lacking behind in keeping up with sustainable and eco-friendly developments in developed nations. Delhi has been ranked the most polluted city in the world. Harnessing solar energy for such projects will further cut a lot of grid electricity consumption.
Delhi is troubled by both water-shortage and electricity bills. Such solutions attend to both troubles.
Via: LiveMint
Image Credit: Hindustan Times