Google Street View may be measuring air pollution on your city roads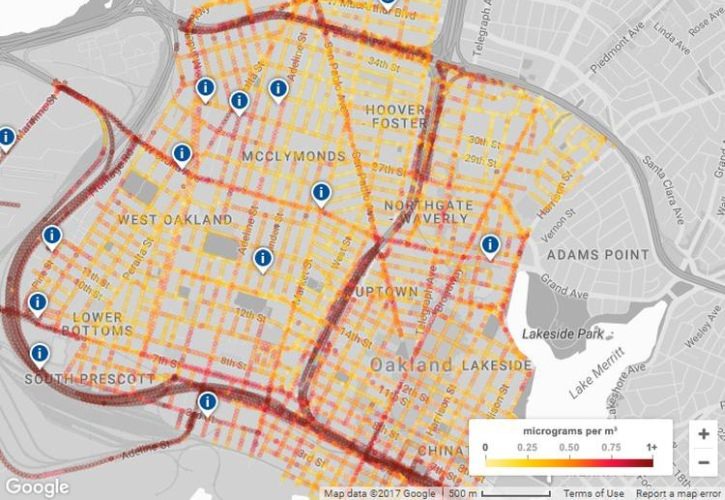 World Health Organization's research reveals almost 92 percent of the world population lives in places with an unsafe level of air pollution. Countries are trying to make some difference and check air pollution, but the measures are not at all significant.
The quality of air around the world is deteriorating by the day. Air pollution is so much that it has become the fourth largest threat to human life after high blood pressure, dietary ailments and smoking.
Delhi, the city with worst air quality is trying to check air pollution with 20 new air-monitoring stations.
In India's capital, air pollution data is currently monitored by 28 monitoring stations. The new stations will take the total number of air monitors installed in the city to 48. The process of installing new stations is in an advanced stage. They shall be installed by October this year.
Air pollution levels in Oakland, California are however being monitored in an all-new manner. According to reports, Google is using Street View vehicles to monitor air pollution levels on city roads of Oakland.
Under the joint venture of Google, US Environmental Defense Fund and the University of Texas at Austin, cars are fitted with pollutions sensors to detect and map air pollution on city streets. The map presents the most toxic (polluted) hot spots in the city, suggesting commuters to find healthier alternative routes.
The joint venture project was launched in 2015, and since the cars have driven over 14,000 miles (22,000 km) around the US. This is the first time a prototype map of pollution levels in Oakland, California has been released online.
The map displays air pollution levels in red, orange and yellow colors, which are generally used by Street View to indicate traffic levels. On the map, red color represents greatest level of pollution while yellow color suggests least air pollution. Orange represents a moderate level of pollution.
The team behind the Street View pollution monitoring cars believes their air pollution measurement system has the prowess to be established throughout the world. It could provide air quality information, which could help commuters know of streets with worst air quality well before they venture out on the road.