Heartbreaking: Leopard strays into Indian village, brutally beaten to death, lynched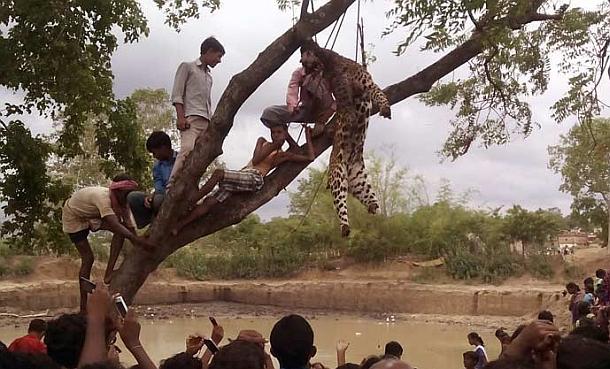 Villagers in Tetuara village of Purulia district in West Bengal beat a leopard to death after it strayed into the village. There has never been any leopard attack or sighting near the village. In panic the villagers ran helter-skelter. People chased the leopard and locked it inside a toilet.
After the arrival of policemen and forest department, the door was opened and, as expected, panicked animal tried to defend itself, which is being called an attack. When villages begun to assault it, in retaliation, the leopard injured a couple of villagers while some others received minor injuries.
Afterwards, around 2000-3000 villagers cornered the leopard, stoned it, beat it with sticks until it was dead. There after they proceeded to their victory rally where the claws and tail were chopped and carcass was hanged from a tree.
Watch A footage from regional channel:
Once again, Indian crowd displayed extremity of cruelty against animals that did not deserve to die such brutal and painful death.
The forest department and the police failed to tranquilize the animal, rather they opened the door in unsafe way. A cage would have been placed infront of the door or perhaps a few men with a net would have captured it and safely removed from the village.
A Villager Gayaram Kumar said.
"It probably strayed into the village from the Dalma forest in Jharkhand which is about 25 km away."
On the other hand, range officer Samir Ghosh pleaded :
"The mob was 2000-3000 strong and the police couldn't control it, especially after the leopard injured the villagers. But we will file an FIR about the incident. We tried our best to save the animal. The police also tried. But we were just about 15 people on the spot and couldn't help the situation."
Cases have been filed against culprits, but the incident has shocked animal right activists and animal lovers.
The Indian government must take steps to aware village people about how to deal with such situations in such a way that no harm occur to people and to the animal. They must be educated about the man and animal conflict. The people must know that these animals are being deprived of their home. That's why they stray into villages.
Human kind must not hate animals for they are a threat. These animals don't kill for fun, they kill for need. It's really a heartbreaking news.