Heat kills 2,500 people in India, more freaky weather pattern in store due to climate change: Scientists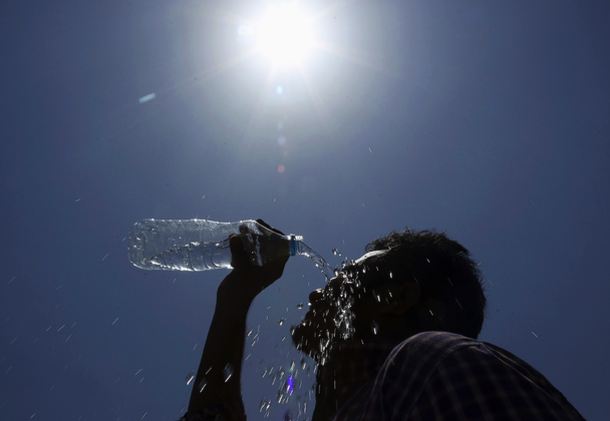 In 2014 and earlier, Indian and International environmental organizations and scientists had warned India against its vulnerability to climate change and its deadly side-effects. In 2015, so far, 2,500 people have died in India due to intense heat-wave.
The average temperature of Andhra Pradesh and Telangana has rose up to 3 to 7 degree Celsius this year. The temperature in these two states ranged between 45C to 47C. Two-third of deaths total deaths occurred in Andhra Pradesh.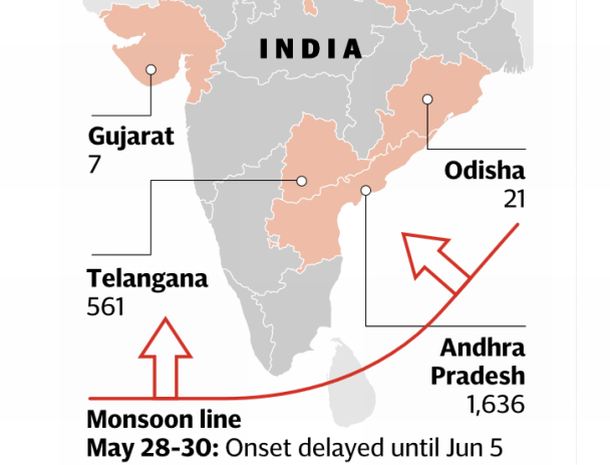 Most of the people, who died in heat belong to labor class families. The poverty force them to come out of houses even in scorching heat. These laborers work at very cheap labor price of Rs. 150 or less.
Earlier this year, unseasonal rains and irregular weather pattern had cost India a huge loss of crops. The monsoon pattern is uncertain and India is heading towards the worst drought ever, as predicted by environmentalists.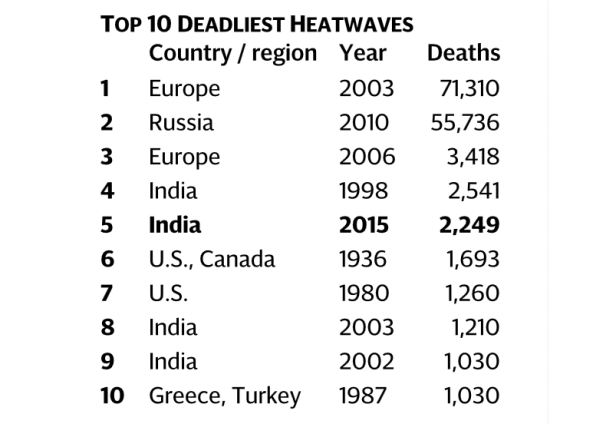 Earth Sciences Minister Harsh Vardhan blamed climate change for these deaths. In a statement he said:
Let us not fool ourselves that there is no connection between the unusual number of deaths from the ongoing heat wave and the certainty of another failed monsoon. It's not just an unusually hot summer, it is climate change.
In 2014, a report by the Intergovernmental Panel on Climate Change (IPCC) led by Nobel laureate Rajendra Kumar Pachauri had warned India regarding more freaky weather patterns in future. This is because India is the third largest emitter of greenhouse gasses after China and U.S.A. While, these two nations have taken the matter seriously, Indian government is not ready to compromise with economic growth due to growing carbon footprint.
In 2014, G Bala, a top climate change expert at the Indian Institute of Science's Divecha Centre for Climate Change in Bangalore, had predicted:
The key word is these extreme events will increase under climate change and we near to gear up quickly to counter it before it's too late though micro-level climate vulnerability assessment and drastic cut on fossil fuel emission. Knowledge is very important and information about climate change must be provided to politicians and policy makers. But there is simply no information. Climate action plans for states lack quality and there is no solid quality which is based on science.
In 2013, a study, The Global Warning- Extreme Weather Link, by Madhav L. Khandekar said:
Winter severity has also increased in northern India in recent
years, where several hundred deaths (mostly of elderly people living in houses with no heat or insulation) have been reported in the last five years.
In the same year, an article regarding the IPPC report on DailyMail clearly pointed that agriculture will be worse hit by change. It said:
The changing climate was also projected to reduce monsoon sorghum grain yield by 2 to 14 per cent by 2020, with worsening yields by 2050 and 2080. By 2030, the country's estimated agricultural loss of over $7 billion will "severely affect the income of 10 percent of the population.
The report had also pointed that along India's east coast, districts with poor infrastructure and demographic development would be "regions of maximum vulnerability".
According to the report:
Extreme events are expected to be more catastrophic in nature for the people living in these districts. Moreover, the lower the district is in terms of the infrastructure index and its growth, the more vulnerable it is to the potential damage from extreme events and hence people living in these regions are prone to be highly vulnerable.
However, Indian government is still ignoring these warnings. As response to deaths due to heat-wave, according to an article on Reuters:
Prime Minister Narendra Modi has said he would not bow to foreign pressure and instead focus on increasing the country's use of renewable energy. His ministerial colleagues have said that because India's per-capita energy consumption is lower than Western countries, its economy should not be unfairly shackled by commitments to curb carbon when it needs to grow its economy to cut poverty.
Well, it looks like Indian policy makers need awareness regarding the fatal effects of ignoring rise in greenhouse gasses. Most likely, India is going to repent it. For rest of the world, it's a lesson on how climate change will turn against life on earth.
Info-graphics: Telegraph