In a horrifying incident 'stray dogs' eat up accident victim in India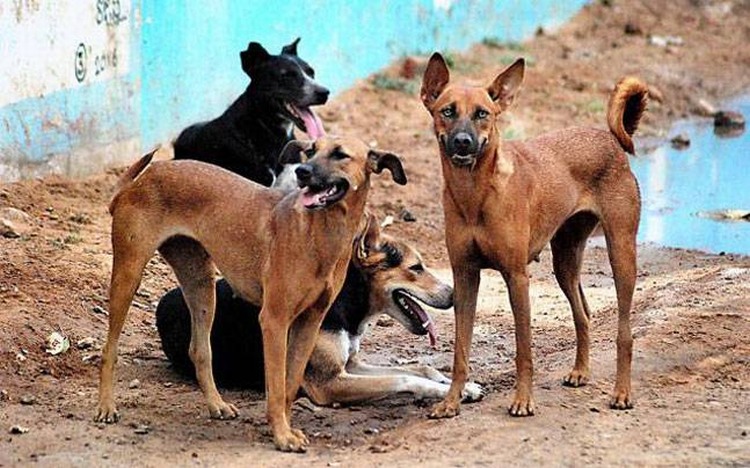 In another horrifying incident, a 45-year-old schoolteacher in a Sangrur village, Punjab met with an accident late Friday. Nazar Singh's bike slammed into a tree near his village. Unfortunately, a pack of stray dogs (that mostly feed on animal carcass dumped in the area), attacked him. The mutilated body was found with a part of face and neck eaten by stray dogs. However, police could not confirm if Singh died due to injuries caused by accident or due to stray dog attack.
Singh was employed at the government girl's school at Dhuri and was living with his family in Mana village. Singh was only 1.5 kilometers from his house when it happened. His widow Kiranpal Kaur said,
When my husband didn't return home on Friday night, we made some calls to his friends, who said that he had already left for home. Villagers started searching for him and found his badly disfigured body on the outskirts of our village past midnight. It seems that he died because of the accident and dogs ate up his face after his death.
The village area is already facing stray dog menace as carcasses are dumped near the village. The stray dog population is growing and villagers are bearing the brunt of defunct dog sterilization programs.
According to the village sarpanch Rajinder Singh,
We have raised issue of carcasses being dumping near the village with government authorities often. Our village is on a link road. There have been several incidents of dogs biting people but authorities have never paid heed to our demand.
Not just this village, but stray dog population is posing risk to citizens of cities in Punjab like Bathinda. In 2009, there were 5,237 dogs within the Municipal Corporation, Bathinda. On an average, two dog bites are reported from the area every day, and in last one year, 730 cases of stray dog bite were registered. The sterilization program was started by the MC but was closed after sterilizing 10-12 dogs.
Earlier, on August 4, 2015, a 7-year-old kid was mauled to death by the angry dog Jamia Nagar slums in South Delhi. The stray dog population around slums is mostly high due to excess littering.
Similarly, stray dog population has become a challenge for the state of Kerala. Recently, a man in Kerala made news after he accepted culling over 130 dogs by poisoning them after his hemophiliac sun was bitten by a stray dog. The condition is so bad that people are forced to indulge in mass culling of stray dogs by poisoning or other methods. The man-animal conflict is on rise as urbanization is taking over India.