World Wildlife Day 2020 Urges Humanity for 'Sustaining All Life on Earth'
The idea of co-existence between various species of the planet is nothing new. All life – flora and fauna, terrestrial and aquatic – depend on each other for survival and sustenance. But we have always tried to manipulate nature according to our desires because apparently "we are the self-proclaimed superior species of all". Well, that is the belief of many of us.
Without a second thought of the repercussions, we do our selfish deeds, which has put hundreds of thousands of species at the brink of extinction and has jeopardizes the entire biosphere. But, that is quite alright because we do celebrate World Wildlife Day every year on March 3.
Celebrating Wildlife
In 2013, the United Nations General Assembly decided to commemorate the day of adoption of the Convention on International Trade in Endangered Species of Wild Flora and Fauna (CITES) in 1973, as World Wildlife Day to celebrate and raise awareness of the world's wild flora and fauna.
However, we have almost forgotten to conserve the wildlife species in the name of progress and development. We exploit the planet and its resources to meet our own selfish motives. We harm the other links of this chain that has shaped and sustained life for millions of years on earth.
World Wildlife Day 2020
In his message for World Wildlife Day 2020, UN Secretary-General António Guterres urged everyone to remember their duty to preserve and sustainably use the vast variety of life on the planet.
Humanity is weaved into the rich tapestry of life that makes up our world's biological diversity. All human civilizations have been, and continue to be, built on the use of wild and cultivated species of flora and fauna, from the food we eat, to the air we breathe. It seems that humanity has forgotten just how much we need nature for our survival and well-being…By overexploiting wildlife habitats and ecosystems, humanity is endangering both itself and the survival of countless species of wild plants and animals.
Sadly, it is true. As the world population and its requirements escalate, people insist on exploiting natural resources, including wildlife habitats without any regard for sustainability.
Indian sand artist, Sudarsan Pattnaik has once again tried to spread his message through his sand art on World Wildlife Day 2020.
Let us promise to make our Earth a Better Place for the Wild life, on #WorldWildlifeDay 2020 "Sustaining all Life on Earth". My SandArt with message #SaveOurWildLife at puri beach. pic.twitter.com/VgPS7HQP5S

— Sudarsan Pattnaik (@sudarsansand) March 3, 2020
Various other organizations also took to social media to deliver the message to preserve the wildlife.
On this #WorldWildlifeDay, let us strive for a more caring, thoughtful and sustainable relationship with nature.

Location: Mattupetty pic.twitter.com/CnJWx4i8DG

— Kerala Tourism (@KeralaTourism) March 3, 2020
Today is all about wildlife! It reminds us that we need to step up for wildlife, especially for orangutans as they are integral to the health of the tropical forest ecosystems they occupy. Learn in this video why orangutans matter!#WorldWildlifeDay #SaveTheOrangutan pic.twitter.com/2u7cXr2OmM

— BOS FOUNDATION (@bornean_OU) March 3, 2020
Sustaining all life on Earth
The theme for World Wildlife Day 2020 is "Sustaining all life on Earth", which encompasses all flora and fauna species as a component of biodiversity while considering the livelihood of people living in the close proximity of nature as well.
Known as "biodiversity super year," several major global events will be organized, spotlighting biodiversity, as a unique opportunity to deliver progress for the conservation and sustainability of wildlife.
The global community is trying to raise awareness about the plight of nature, wildlife and what this means for human well-being and the planet. According to scientists, nearly one million species are facing the threat of extinction, which would be catastrophic for the planet.
Importance of Conserving Wildlife
Many avian, terrestrial, and marine species are threatened by human activities. But, we mostly want to save wildlife to save the planet, in order to save ourselves from the impending doom if the wildlife is wiped off of the face of the earth.
Whatever we do is for our sole benefit. We make tall promises to save wildlife and yet when it comes to our needs, we entirely forget about the planet and other species that we share it with.
All anthropogenic activities have only harmed the planet and other living organisms in one way or the other. Encroachment deep into forests, deforestation, plastic pollution, air pollution, water pollution all have created a dent in the smooth cycle of the ecosystem.
It is crucial for us to realize that we must not conserve the wildlife for our own benefit, but to repair the damage we have inflicted upon this beautiful planet and its beautiful biodiversity.
Mesmerizing Wildlife
Here are a few wildlife photographs collected from various photography competitions from around the world. These amazing captures will make you realize that wildlife species are not much different from us. They play, eat, and laugh just as we do.
"Caught in the Net." This Caretta Caretta turtle depicts the depths of exploitation that we have inflicted on the planet.
"Let me sleep for a little while longer." This morning shot of long-tailed duck reminds of a sleepy kid who insists on sleeping a while longer.
"Posing with my food." Brightly-colored kingfisher bird reminiscent of people clicking pictures with their food.
"Come on you all, we can see the sunrise from atop. Hurry." A bunch of penguins travelling to the top of an iceberg.
"Hold your pose! Our portrait must be accurate." Two birds riding a zebra's back.
"Ready for a piggyback ride." A polar bear cub is trying to get on its mother's back for a ride.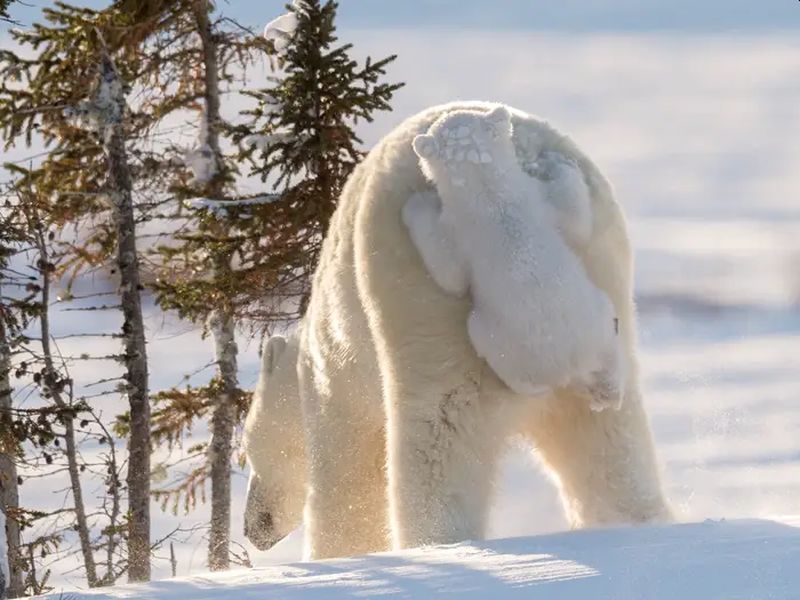 Image: Daisy Gilardini
"Haha…Oh! My stomach hurts." This seal seems to be having a good laugh after cracking a joke.
"Hey! Look mom, it's a huge bird." Captured at a perfect moment, two giraffes looking at that unique "bird".
Also Read: Beautiful Photographs From 'The Comedy Wildlife Photography Awards' 
"Aw! I know. I am a cute little thing." This little dormouse appears to be laughing at a yarrow flower.
"So there." It appears to be a battle of wits between moose, where one is sticking out its tongue to win the argument.
"Hmm… What is this thing? Let me see." A polar bear checking out a camera.
"Whoa! Wait. I can explain." This expressive squirrel looks absolutely adorable.
"Oh My God! What did I just see?" This flexible squirrel was probably spying while doing a split on the two flower stems.
"Circle of Life." Their friend 'circle' seems a bit large.
These freshwater plants look absolutely mesmerizing.
Looks like a painting, doesn't it?
Titled "There's nothing to laugh about", this heart-wrenching picture reveals the fire-ravaged land of Australia after the 2019 bushfires.
Threat to Wildlife Species
We may think that we are making progress in aspects of preserving the wildlife species, but our negligence and selfishness endangers many more by the day. Recently, during the 13th Conference of the Parties to the Convention on the Conservation of Migratory Species of Wild Animals, 10 new species were added in the global endangered list.
Various unique wildlife species are likely to be extinct within a couple of years if they are not efficiently preserved. Leopard, many rhinoceros species, multiple orangutan species, various gorilla species, turtles, and tiger including many others.
Young environmental activists such as Greta Thunberg have raised their voice and faced harsh criticism, yet they unrelentingly are working toward saving the planet by cutting their carbon emissions to at least halt the climate change. 
The planet does not need saving. It's 'us' who need saving and other fellow species. Therefore, we must conserve the wildlife species as our survival largely depends on their existence.