Bestiality: Sickening Cases of Animal Sexual Abuse in India
With incidents of humans sexually assaulting or raping animals on rise in the country, has India failed to give justice to sexually assaulted animals?
In a country where women are considered goddesses and several animal species are considered holy, sexual assault against these living beings is sure as hell an eye-opener. While rape is the fourth most common crime against women in India, cases of animal sexual abuse are cropping up at an unprecedented rate. These acts of inhumanity not only make one questions human morals, but the potency of the legal system to protect all life as well.
Even though there are several laws to safeguard animals from abuse, there isn't any mention of bestiality, which is sexual intercourse between a person and an animal. Animal sexual abuse is also referred to as zoophilia, bestiality, zooerasty, or sodomy. Here we have listed down a handful of soul-shocking, sickening cases of reported animal sexual abuse in India.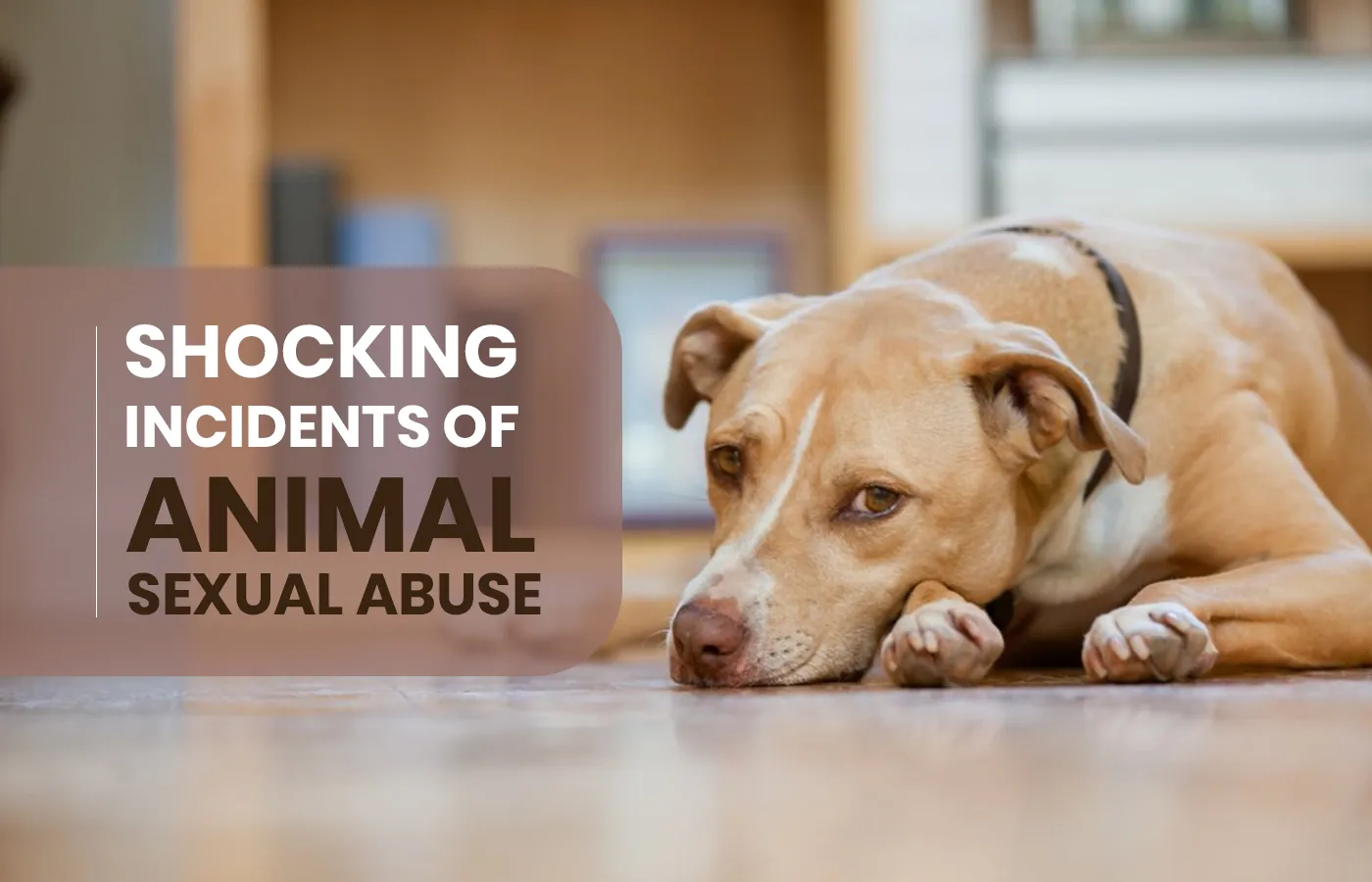 Calf Raped in Delhi
In 2015, a bizarre incident took place in Delhi, where an 18-year-old boy committed bestiality on a calf. The teenager lived with his family near a dairy farm area in Najafgarh in South West Delhi. Upon learning about the episode of bestiality by their son, the parents admitted him to the All India Institute of Medical Sciences where he was being treated by the hospital's department of Psychiatry and Forensic Medicine.
Killed and Raped Female Dog in Hyderabad
Another shocking incident, was when a 22-year-old man was arrested for killing and raping a female dog in Hyderabad in 2016.  Reportedly, the dog was murdered and raped afterward. The owners of the dog found the accused engaged in unnatural sexual intercourse with their pet. The accused tried to flee the scene of the crime but was caught by the locals and handed over to the police.
Pregnant Goat Gang Raped in Haryana
In 2018, police booked eight men in a village in Haryana's Mewat district for raping a pregnant goat. The seven-year-old goat suffered fatal wounds from the appalling assault and died a day later. The owner of the goat caught three of the accused in the act, who were beaten by the villagers once the act became known.
Female Stray Dog Raped in Kolkata
In another stomach-churning 2018 episode, a man was caught red-handed raping a street dog inside his residence in Kolkata. A couple of men saw the drunk accused luring the canine into his house and followed him after sensing something was wrong. They caught the man raping the dog whose mouth was tied with a rope. The man was arrested, while the animal was sent to a veterinary hospital.
Stray Dog Sexually Assaulted in Odisha
In 2020, a 68-year-old man was arrested for sexually assaulting a stray dog in Bhubaneswar. The man worked as a security guard at an apartment near Infocity, where the cruel incident took place. The animal was examined at Saheed Nagar Veterinary Hospital and was handed over to an animal shelter owner.
Also Read: Barbaric and Inhumane Incidents of Animal Cruelty in India
Man Raped over 30 Stray Dogs in Mumbai
In 2021, a 67-year-old vegetable trader was arrested in Mumbai's Juhu area for sexually abusing a dog. An NGO volunteer caught the senior citizen raping a stray dog and also submitted a video of the shocking incident to the police. Reportedly, the police suspected that the man had raped over 30 dogs over a long period of time. Moreover, the accused claimed that since he fed the animals and animals "did not object," his act wasn't a crime.
Street Dog Sexually Abused in Mumbai
In 2021, a 20-year-old youth was caught on a CCTV camera while he was sexually abusing a female dog in Mumbai's Santacruz neighbourhood. The accused was a bread vendor who raped female dogs around midnight. After the video of his bestiality act went viral, he fled the city and went back to his hometown in Uttar Pradesh.
Gang Raped Monitor Lizard in Maharashtra
The most recent case of animal sexual abuse in India took place on March 29, 2022, at the Gothane village in Ratnagiri district, in the Sahyadri Tiger Reserve, Maharashtra. The forest department's camera traps captured four men gang-raping a Bengal monitor lizard, killing and eating it afterward. The men were arrested for this abhorring act!