Bangaluru dog fought 3 robbers armed with machete and swords to save master's life and valuables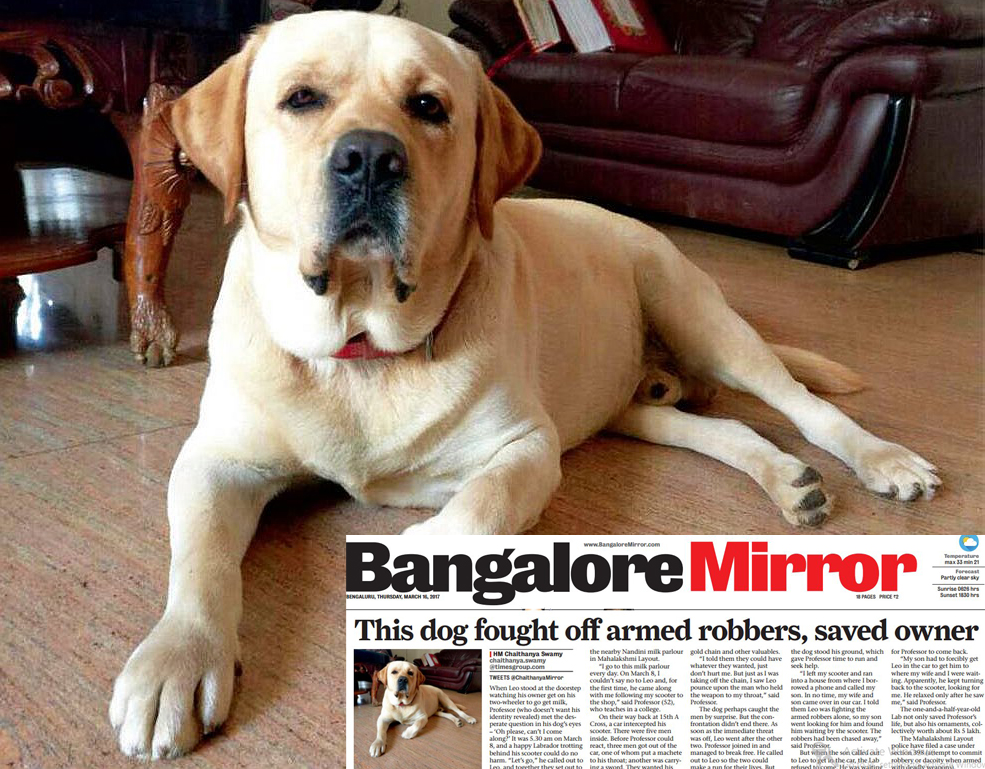 On March 8, 2017, a resident of Bengaluru, filed a case in the Mahalakshmi Layout police station, Bangaluru under section 398 after some armed men attempted to rob him. Perhaps, it was the most horrific moment for the college Professor. However, he is more likely to remember it as the day when he witnessed man's best friend keeping up with image as the most loyal animal.
A Labrador named Leo, rescued his owner (name not disclosed) from five men armed with machetes and swords.Not just this one-and-half-years old dog saved his owner from being robbed but chased away all men and stood his ground until satisfied that his master was safe.
According to the owner, the dog saved his life and ornaments worth Rs. 5 lakh. There was a great chance that those men could have killed the dog or injured him with sharp-edged weapons. But the brave dog was too fast and furious to let robbers retaliate.
I go to this milk parlour every day. On March 8, I couldn't say no to Leo and, for the first time, he came along with me following my scooter to the shop.
The professor told Bangalore Mirror.
In the early morning of March 8, Leo trotted behind professor's scooter while heading to the nearby Nadini milk parlour in Mahalakshmi Layout. When they were returning back, a car intercepted professor's scooter. There were five men inside the car and three of them surrounded the professor. One of them put the machete to his throat while others carried swords. They wanted to rob him of his gold-chain and all valuables he had.
Professor did what most common citizens would do; he didn't show any resistance.
I told them they could have whatever they wanted, just don't hurt me. But just as I was taking off the chain, I saw Leo pounce upon the man who held the weapon to my throat,
Before any of the men could understand what happened, Leo took to them by surprise. Not just Leo scare off the first threat, but also came back for the other two. The Professor was free and tried to call out to Leo to run away. However, Leo was not satisfied and bought sufficient time for professor to run away and get help. Professor said,
I left my scooter and ran into a house from where I borrowed a phone and called my son. In no time, my wife and son came over in our car. I told them Leo was fighting the armed robbers alone, so my son went looked for him and found him waiting by the scooter. The robbers had been chased away
Leo saw Professor's son calling out for him to get in the car, but the dog didn't move. Leo was waiting to for his master to return to the scooter. The boy forcibly pushed the dog into the car but still Leo's eyes were on scooter.
My son had to forcibly get Leo in the car to get him to where my wife and I were waiting. Apparently, he kept turning back to the scooter, looking for me. He relaxed only after he saw me.
Professor told the Bangalore Mirror.