Time to Ditch Plastic Period Products, Choose Sustainability for Your Health
Eco-friendly products are the way to go while maintaining female menstrual hygiene and reducing the contribution to the disastrous ecological effects of the use-and-throw economy
Let's face it, periods are an inevitable part of a woman's life till she hits her 50s. Uneasy and painful, periods also bring a monthly expense on feminine hygiene products such as tampons or sanitary pads. Every menstruating woman is familiar with plastic-based sanitary care products, but may not be much familiar with the environmental costs of these very products.
Aside from impacting the global environment, mainstream period products can also pose serious health risks as they are often covered with potentially harmful plastics and dipped in bleach.
According to Tania Adib, Consultant Gynecologist at The Lister Hospital (part of HCA Healthcare UK);
The chemicals can be absorbed through the highly permeable vagina walls. These can then travel through the body, and endocrine disrupting chemicals have been linked to heart disease, breast cancer and endometriosis.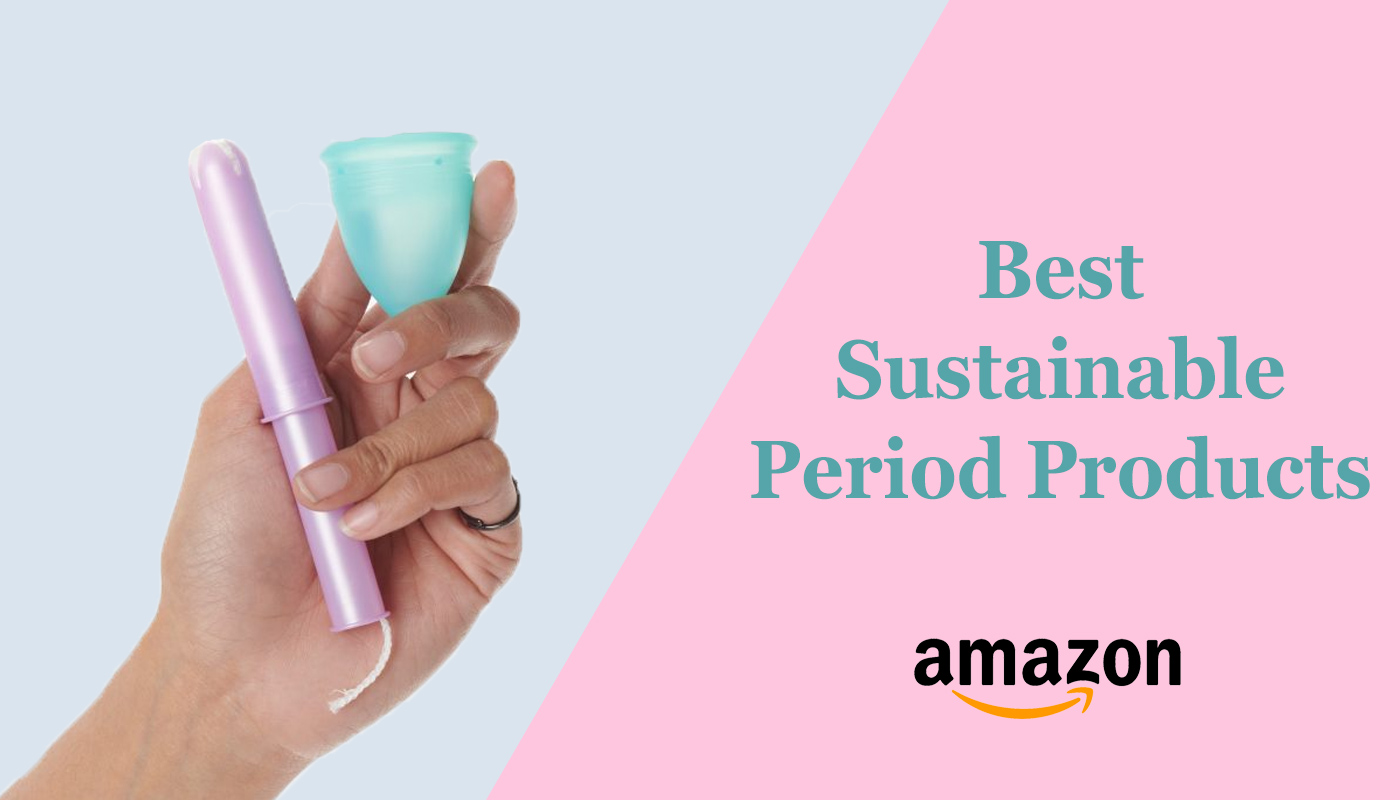 The convenience of disposable plastic products, napkins, and tampons has raised a global consciousness regarding the health of women and the environment. A 2007 study said that an urban woman will use between 5,000 and 10,000 plastic-based disposable feminine hygiene products in her lifetime. This plastic waste contributes further to a much bigger problem such as carbon emissions, triggering climate change. However, over the past couple of years, many brands have employed eco-conscious and health-friendly materials to make the best sustainable period products.
Also Read: LastPad to Reduce Wastefulness of Single-Use Hygiene Products
From reusable menstrual cups to eco-friendly tampons, here are the best sustainable period products available on Amazon that you can choose for your health and a lower impact on the environment. 
Rael Organic Cotton Reusable Pads
Rael reusable organic cotton pads are available in four sizes – petite, regular, large and overnight. They feature wings that can be fastened with a metal snap. Rael reusable pads are free from PFA's and other harmful chemicals and can be used up to 120 times. Each pad is crafted with 5 moisture-soaking layers of organic cotton and offers breathable comfort and reliable leak protection during the visits of Aunt Flo.
Buy: $37
Veeda 100 percent Natural Cotton Applicator-Free Tampons
Perfect for medium to heavy flow, Veeda's 100 percent Natural Cotton Applicator-free Tampons are made with ultra-absorbent all-natural cotton for unswerving leak-proof protection. These compact items are applicator-free and discreet for travel. The product is completely free of chemicals, synthetics, dyes or any scents. These hypoallergenic products are also ideal for the compost bin.
Buy: $7.30
DivaCup
The DivaCup comes in three models – Model 0, Model 1 and Model 2, all catering to different demographic of menstruating people. Model 1 is designed for women under the age of 30 who have never given birth, while Model 2 is designed for women over 30 who have borne children. Made of 100 percent medical grade silicone with no chemicals, plastic or dyes and offer eco-friendly protection. DivaCup is recommended by the Society for Obstetricians and Gynecologists of Canada.
Buy: $33
Cora Menstrual Cup
Designed by women for women, the Cora cup features an intuitive finger indent and soft silicone, allowing an easy fold and insertion like a tampon. It has a slip-free textured base that makes it easier to remove. The cup is washable, reusable and is ultra-soft. The Cora cup offers 12-hour leak-free wear. It is a sustainable, zero-waste feminine care alternative to tampons and pads.
Buy: $28
Floating Lotus Reusable Sanitary Pads
Designed by a woman-owned business, the mixed pack of medium and large Floating Lotus reusable sanitary pads is perfect for medium to heavy flow. Made of charcoal bamboo, these pads are soft, natural, breathable and odor-resistant. The core layers made from microfiber are ultra-absorbent to give you leak-free, comfortable and dry period days. These are vegan, cruelty-free and last up to 5 years.
Buy: $35
Saalt Soft Cup
Made of 100 percent medical-grade silicone, Saalt Soft Cup provides 12 hours of protection and can be worn comfortably overnight. It can hold a capacity equal to three tampons, while the regular-sized cup can hold up to four. One Saalt cup is extremely soft and flexible and can last up to a decade. The manufacturing process is chemical-free, making the cup naturally hypoallergenic, non-toxic and BPA and latex-free.
Buy: $29
Rael Menstrual Cup
The eco-friendly Rael Menstrual Cup is soft and flexible and provides reliable leak protection for up to 12 hours of flow. The cup can last up to 10 years and comes in 3 sizes for different stages of womanhood. It's made from 100 percent medical-grade silicone. It features a curved rim for smooth insertion and a stem with an indented grip for spill-free, clean removal, making it one of the best menstrual cups out there.
Buy: $28
FLO Organic Tampons
On a mission to make menstruating as healthy and sustainable as possible, FLO Organic Tampons are made from biodegradable, plant-based and organic materials. The tampons are silky-smooth, recyclable sugarcane and come with a compact applicator with width-wise expansion and leak-superior protection. These organic tampons are soft and made with hypoallergenic and zero-irritating fibers.
Buy: $10
Intimina Ziggy Cup 2
Intimina Ziggy Cup 2 is made of reinforced, flexible, 100 percent medical-grade silicone. It comes with a ribbed tab for slip-free removal. The cup is a high-capacity with a flexible, petal-thin body and leak-proof double rim. This menstrual disc comes in two sizes, offering a comfortable fit for all body types. It can be worn for up to 8 hours and can be used for up to 2 years. Moreover, it can be worn during sexual intercourse.
Buy: $45
Natracare Regular Applicator Tampons
Completely biodegradable, Natracare regular applicator tampons with an easy-glide cardboard applicator are made from natural materials without any usage of scents, rayon or dyes. Absorbent cotton tampons are safe to use for light or medium flow. The applicator has a rounded tip for easy insertion of the tampons. These products are biodegradable and compostable, and are widely available, worldwide.
Buy: $9