Cuteness trending on Twitter with hastag #cuteoff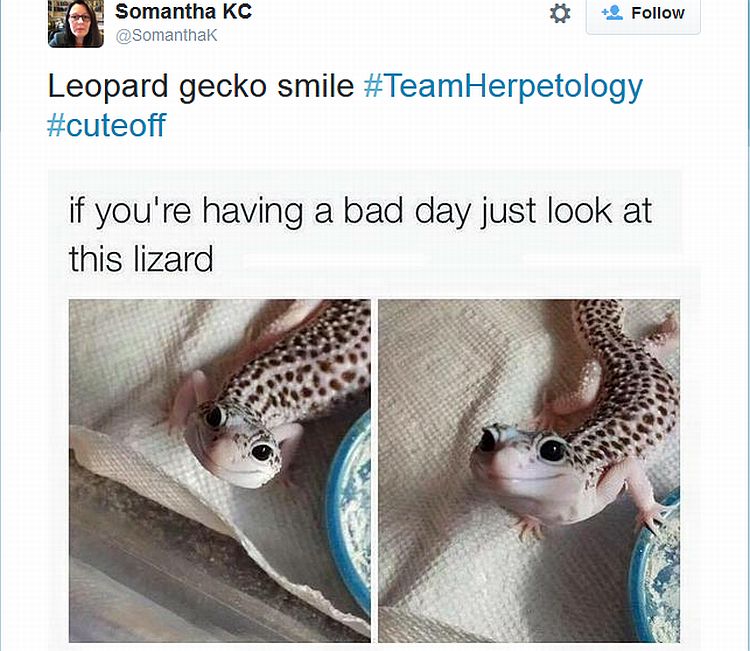 Nature and animal lovers must be following hastag(#)cuteoff on Twitter. If not, then you must. A couple of months ago, someone just posted some critters with #cuttoff that was followed by masses later on. It was some scientist group that started it to have some fun, and now non-scientists are also posting their #cutoff shots. It could be anything from a cute monkey baby to a mite.
After all, every creation of nature is unique. A mite might be disgusting site for many, but there are people who admire this litter parasite for it is unique.
Soon, other hastags like #teamherpetology and #teamfungi begun to accompany #cuteoff.
Again, it's proved that humans are hardwired to prefer cute faces. If you ever notice, children always love little puppies or kittens as compared to their adult parents. 'Baby schema' is what psychologist refers to as the phenomenon responsible for this aspect of human behavior. It's set of some features such as a round face, big eyes, small nose and mouth etc. According to researchers, the 'baby schema' is responsible for the stimulation of protective, care-giving behavior and reduced aggression in adults.
You can relate it to the reason why psychiatrists suggest adopting pets to people suffering with depression.
Oooo, I saw fungus on the #CuteOff – another one for #TeamFungi pic.twitter.com/QqfR2AHiPy

— Lisa Preece (@itsloopylisa) September 1, 2015
I interrupt your important grant writing session to win the #CuteOff. #TeamHerpetology pic.twitter.com/oonXLDEjC8

— Katy Greenwald (@amphibs) September 1, 2015
baby elephant is so pleased with his trunk #cuteoff pic.twitter.com/zdqRtVePus

— Anne Hilborn (@AnneWHilborn) August 31, 2015
Someone (@AnneWHilborn) mentioned a #CuteOff? Good luck facing off against infant sooty mangabeys! pic.twitter.com/DpPRiiCa52

— Erin Kane (@Diana_monkey) August 31, 2015
#CuteOff certainly needs some piscine representatives pic.twitter.com/f825Q23Ey6

— Fluvial Fishes Lab (@donaldorth) August 31, 2015
Baby loggerhead #seaturtles from the NMFS Galveston Office! #CuteOff #TeamHerpetology @NOAAFisheries (Pic from 2014) pic.twitter.com/Nk2I80XNEL

— Charlayna Cammarata (@CharlaynaC) September 2, 2015
@AnneWHilborn Did somebody say #CuteOff? Just give up now. pic.twitter.com/H5tqJ0tloF

— The HSI (@HerpSocIreland) August 31, 2015
Bugs are adorable, especially when they play "let's be reindeer" #CuteOff pic.twitter.com/jfE6UZsIJg

— Bea's Bugs (@arthrobea) September 1, 2015
Because what's cuter than four piping plover chicks? (hint: the answer is nothing) #CuteOff pic.twitter.com/cs8acQprNK

— Kelsi Hunt (@hunt0382) August 31, 2015
Did someone say there was a #CuteOff? This #frog would attend, but he's too busy being cute. pic.twitter.com/fh91ess9YY

— Jonathan Kolby (@MyFrogCroaked) August 31, 2015
Awwwww it really doesn't get cuter than a handful of perfect little shiny pill millipedes… #TeamEntomology #CuteOff pic.twitter.com/nStsCwwfDv

— Sally-Ann Spence (@minibeastmayhem) September 2, 2015
Leopard gecko smile #TeamHerpetology #cuteoff pic.twitter.com/XcyIVMJZKF

— Somantha KC (@SomanthaK) September 1, 2015
Big eyes? Check. Big head? Check. Damp, green skin? Check. OK, you must be cute. #cuteoff @markmandica pic.twitter.com/EwkZM8hcIf

— Adam P. Summers (@Fishguy_FHL) August 31, 2015
…..Also gotta have a Giant Velvet Mite in the #CuteOff (Trombidium grandissimum) pic.twitter.com/FH6oZWddE5

— Carim Nahaboo (@CNahaboo) September 2, 2015
A #CuteOff, you say? Here is an eastern red-backed salamander from a herp survey. *drops tiny mic, scuttles off* pic.twitter.com/cqVu0X81vG

— Bird and Moon (@RosemaryMosco) September 1, 2015
You think that is cute? #CuteOff (from http://t.co/c3CCVCMOsP) #beeflies pic.twitter.com/kU0STCFki0

— Erica McAlister (@flygirlNHM) September 1, 2015
A #CuteOff, you say? Here is an eastern red-backed salamander from a herp survey. *drops tiny mic, scuttles off* pic.twitter.com/cqVu0X81vG

— Bird and Moon (@RosemaryMosco) September 1, 2015
@AnneWHilborn Did somebody say #CuteOff? Just give up now. pic.twitter.com/H5tqJ0tloF

— The HSI (@HerpSocIreland) August 31, 2015
Whatever you call them–tardigrades, water bears, moss piglets–they sure are cute! #CuteOff http://t.co/anPPQVdy06 pic.twitter.com/4zWrr4rvip

— AMNH (@AMNH) September 1, 2015
King of the Daisies! #JumpingSpider #CuteOff #becurious pic.twitter.com/4BGslKmQ8N

— Christy Pitto (@CrawliesWithCri) September 1, 2015
I gotta contribute a nudibranch that looks like a fluffy bunny (Jorunna parva) to the #CuteOff. Go fluffy bunny slug! pic.twitter.com/7DO9h8CL85

— Milana Featherbottom (@sidetracht) September 1, 2015
It's a #CuteOff folks! Look at these #ChesapeakeBay cownose rays! Can we get a SQUEE up in here?! pic.twitter.com/QJONfW63F7

— SmithsonianEnv (@SmithsonianEnv) September 1, 2015
#TeamIchthyology submits kissing gourami into the #cuteoff. People love this behavior but they are disputing! pic.twitter.com/eIrmVqgmLh

— Liz Marchio (@LizMarchio) September 1, 2015
Lowland streaked tenrec: "Think I'm bluffing? Try me. Just try me!" #CuteOff pic.twitter.com/eNhGs4Z4t9

— Asia Murphy (@am_anatiala) September 1, 2015
I'm pretty sure this smiling #caecilian (Icthyophis sp.) is a #cuteoff champion! #amphibians @amphibiansorg pic.twitter.com/utXLMeQdtn

— Dr Jodi Rowley (@jodirowley) August 31, 2015
Did they announce the #CuteOff winner yet? Don't think my #frog can stay awake till the end #TeamHerpetology #coffee pic.twitter.com/YSWeF4q49F

— Jonathan Kolby (@MyFrogCroaked) September 1, 2015
Dialy