Delhi introduces first electric bus to its fleet of DTC buses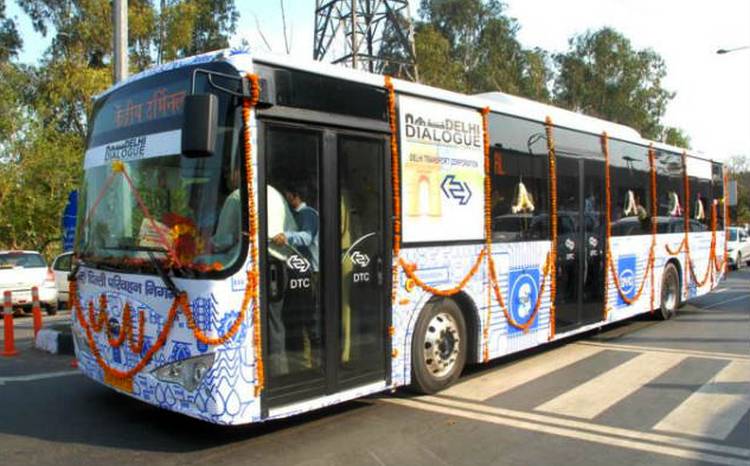 Taking cognizance of rate at which air pollution is rising in Delhi, the state government is taking some active measures. After successful completion of Odd-Even formula's trial run, the government is introducing eco-friendly mode of public transport in form of Electric Buses.
The first electric bus in the State is scheduled to ply between Kendriya Terminal and Delhi Secretariat on pilot basis for the next six months.
This electric bus is fully air conditioned and will run on minimum fare of Rs 10. It is the same charged by DTC (Delhi Transport Corporation) on its low floor air conditioned buses.
According to State Transport Minister Gopal Rai, "it's for the first time an electric bus has been introduced in public transport. The move is aimed at decreasing the ever increasing level of air pollution in Delhi." Gopal Rai informed the bus with 31 seats would make 22 trips to and fro, between 6.30 am to 9.20 pm every day.
In January this year, Himachal Pradesh announced it would be the first State in the country to introduce inter-state zero-emission electric buses. A sum of Rs 3 crore has been sanctioned by the Central government for the same, which would be a State and Center run project.
Gopal Rai informs the electric bus introduced in Delhi costs Rs 3 crore and its currently being imported. According to the Transport Minister, the cost of the bus could be brought down to the tune of Rs 70-75 lakh, if the buses are manufactured in India.
A DTC's low floor AC bus costs about 70 lakh.
The electric bus is attached to Millennium Bus Depot. The charging point of the bus is installed here. According to reports, the bus takes four hours to charge completely, and can run for  280 km on a single charge.
After the trial period of six months, if the results are satisfactory tenders to induct more electric buses into DTC fleet will be floated.
Image / Source: MoneyControl