Indian duo develops garbage bin that becomes Wi-Fi hotspot after it receives trash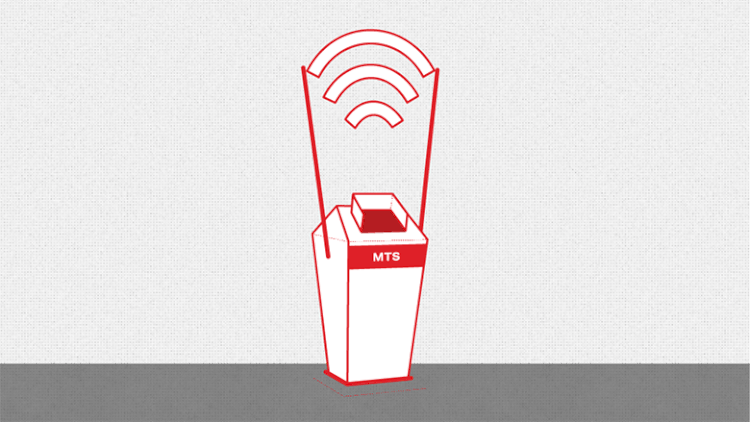 Poor internet and garbage all around the streets and corners are two problems India faces (amid a host of other major ones, let's not go there). As a 'catalyst for people in India to change their behaviour and stop littering,' two Mumbai-based engineers have devised a plastic bin, which doubles as a Wi-Fi hotspot when it receives garbage.
Brainchild of a startup ThinkScream founded by Pratik Agarwal and Raj Desai the innovative garbage bin is designed to encourage festivegoers to use a dust bin and enjoy free Wi-Fi instead of littering on the ground.
The engineer duo's trash bin rewards people with 15 minutes of free Wi-Fi each time someone throws some trash into the bin.
The plastic bin costs $1,470 (approximately Rs 1,00,000). The bin is almost five feet high and is attached with a LED screen. When something is dumped into the bin, the LCD flashes, and provides an unique code which allows access to 15 minutes of free Wi-Fi. The wireless internet works in 50 meter radius of the garbage bin.
ThinkScream, we learn, first debuted six of these smart plastic bins in partnership with a local telecom company at a music festival in Mumbai in 2014. Ever since the event ThinkScream is receiving numerous queries from companies willing to advertise on their smart bins, Raj Desai informs.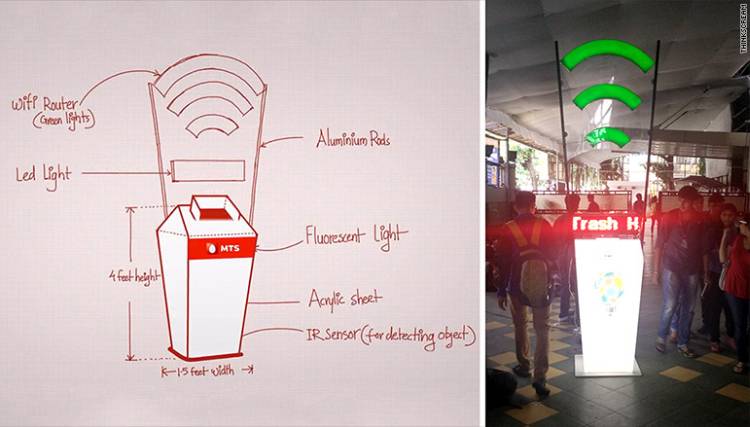 This unique idea is not ThinkScream's first innovative way to offer free Wi-Fi to consumers. Previously, the company's flagship product has been used in movie theaters in Mumbai. It was used in over 60 theaters allowing people to use Wi-Fi to place order for food and have it delivered to their seats. The device has also been used at music festivals in the city allowing audience easy Wi-Fi access.
Free Wi-Fi in exchange for trash is a brilliant idea for urban and semi-urban India (where people have become internet crazy of late). But what about the rural areas is the ThinkScream plastic dustbin equally useful?  Desai said the company has devised an alternative for rural India. The dustbin for rural areas will use interactive celebrity images instead of Wi-Fi. Say a LED screen showing sad face of Sachin Tendulkar, which smiles when someone puts trash in the bin.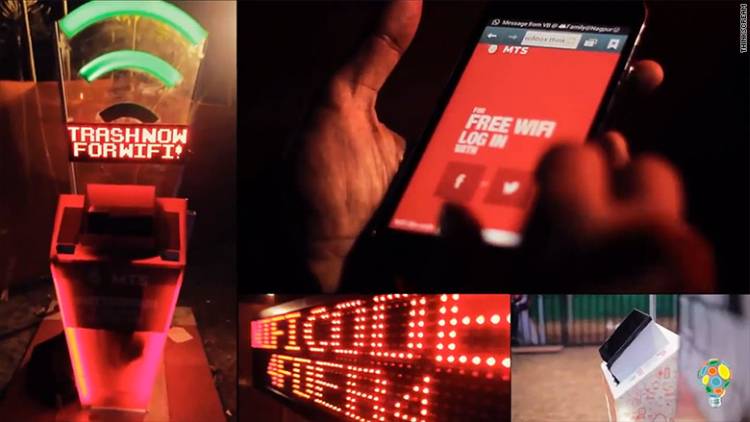 The idea sounds workable! ThinkScream should be finding ways to mass produce their Wi-Fi emitting dustbins.