Delhi Metro goes solar as SunEdison installs 2 MW solar system at stations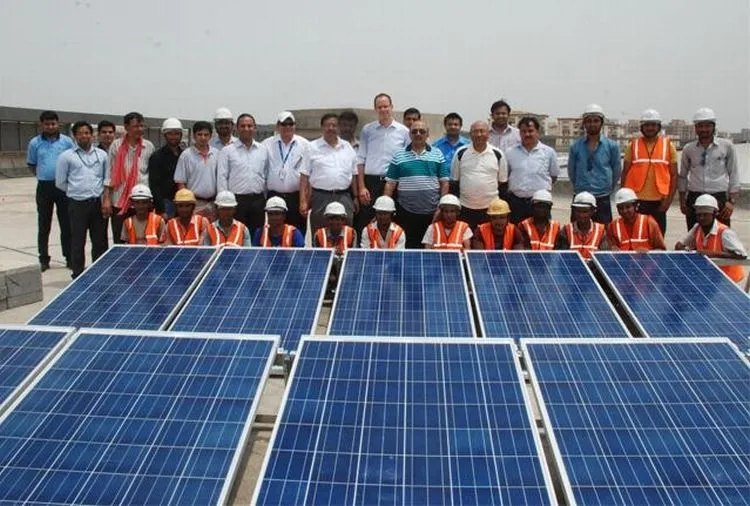 A couple of months ago, Delhi Metro Rail Corporation (DRMC) had planned to switch to renewable energy for its various stations.
Now, after two months, SunEdison, a renowned US-based renewable energy development company, announced the successful installation and operation of eight solar systems for DRMC.
With this achievement, the Badrpur-Faridabad metro line has become India's first metro line in the DMRC network to adopt solar systems in its building design. The solar systems are installed on the roofs of the stations and depots. From these either systems, DRMC expects to generate 1.9 megawatts of clean, reliable, and cost effective solar energy.
Annually, the solar systems are expected to generate 2.5 gigawatt-hours of electricity. It'll cut 1,700 metric tons of carbon dioxide. In another words, this much cutting in emissions is equivalent to taking 363 cars off the road or avoiding 800 metric tons of coal from burning.
Sun Edison is also working on solar power stations for the Yamuna bank stations and Yamuna Bank Yard.
The solar arrays will deliver clean energy to power lighting and other auxiliary requirements at station and depot buildings.
With this installation, DMRC will not only cut carbon footprints, but also save on electricity bills . Moreover, the solar systems are likely to deliver enough amount of energy for next 25-30 years with little-to-know maintenance.
DMRC has also signed power purchase agreements for a further 7 MW of rooftop capacity across its vast network of lines. In total, DMRC expect to include 50 MW of solar capacity to its stations and other buildings.
SunEdison's president of Asia-Pacific and Sub-Saharan Africa Pashupathy Gopalan explains, "Millions of people rely on the Delhi Metro each day, and by installing SunEdison's solar system in eight of the metro lines, we are excited that these commuters will be able to benefit from a clean and reliable source of electricity. These systems took only two months to build and will generate electricity for the metro line for 25 to 30 years with little maintenance cost."
DMRC is also recognized by the Indian Ministry of New & Renewable energy (MNRE) and United Nations Framework Convention on Climate Change (UNFCCC) for its efforts to go green. The project is registered as the world's first transport sector project under its Programs of Activates.