Frog Wedding, even human sacrifice – Indian farmers doing everything to deal with deficient rains and water-shortage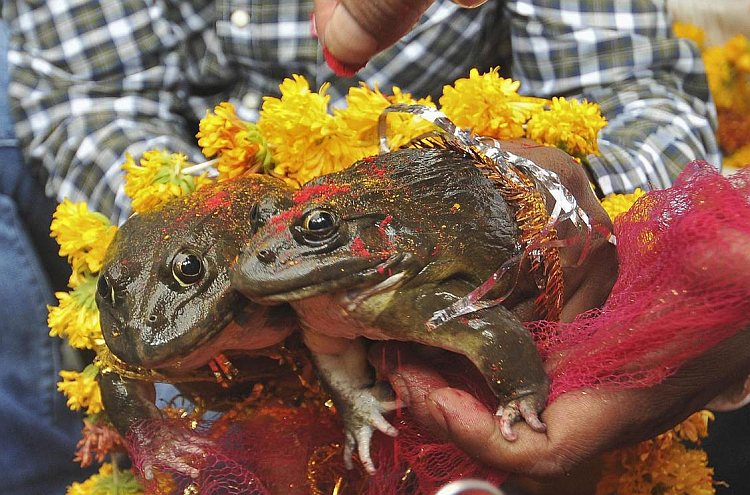 In Kohinoor, an Indian village in the state of Karnataka, farmers performed and celebrated wedding of two frogs. It's not a fun activity. Actually, this village is the worst hit by the delayed rainfall and is facing sever water shortage. The farmers do not have proper ground water sources. The heat is killing the crops. People believe marrying two frogs will bring plenty of rain during dry times.
A nearby village Bidar is also scared for their crops as there is no rain when the seeds need it. Agriculture is the only mean of livelihood of the poor farmers in these regions of India. To please the god of rain, Maleraya, Bidar farmers offered prayers, performed padyatras, mass feedings and a frog wedding.
Male and female frogs were bathed separately and were dressed in new cloths and a couple of ornaments like it happen in traditional Indian marriages. Frogs were also carried to the Beerappa temple in the village. Later, after hours of ceremonies and ritual processes, frogs were married in a temple.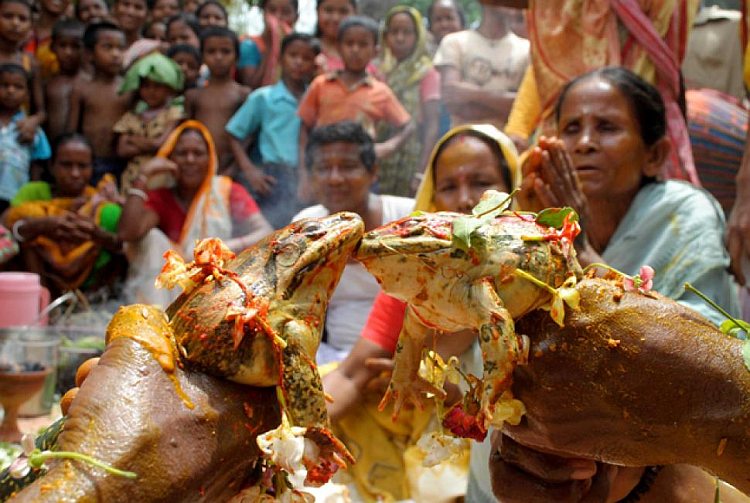 In another taluk, Kalyan, farmers gathered from seven villages for the padyatra (walk to temples or holy destinations). The villagers paid visit to 11 temples dedicated to Lord Hanuman (Monkey God). Over 100 people wandered for six days visiting various temples.
One of the farmers from Ladvani Village said, "Seeds sown in the soil are drying up. If we don't rain in one week, we are bound to lose the crop."
The villagers believe that monsoon is the mating season for the frogs, so marrying frogs will please the Rain God. The frogs are associated with monsoon as they mostly appear during rains.
The ritual isn't a new addition. In many parts of India, villagers perform strange rituals and even go upto the extent of human sacrifice during sever water shortage or deficient rains.
In other states like Tripura and Assam, villagers perform frog weddings too in a hope of rain and healthy harvest.
Recently, a group of occultists had beheaded a 55-year-old man in tribal region of Jharkhand as a part of alleged ritual that ask for human sacrifice in order to please the god of rain. Pleasing the god will bring timely and sufficient rain leading to better harvest.
Then, there is another ritual in which pair of donkeys is married in an organized wedding ceremony.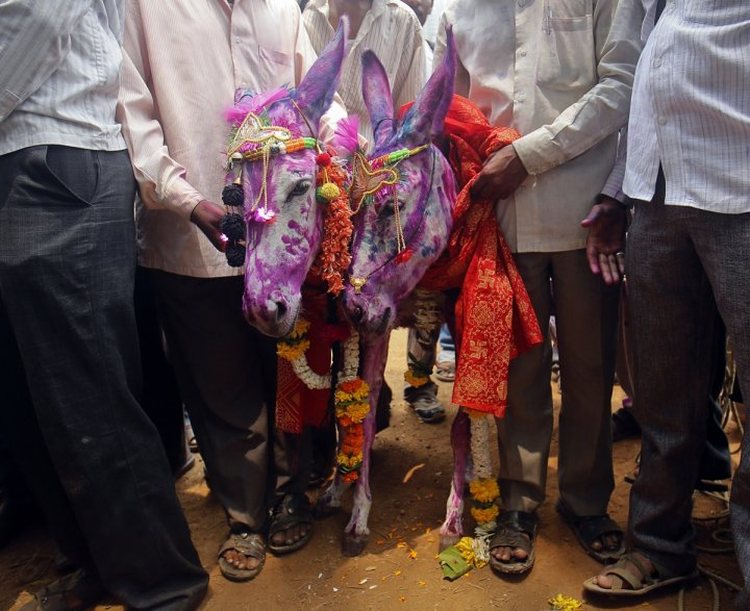 Surprisingly, India has 5,102 dams after China and the United, however, majority of the Indian agrarian community is still dependent on rains.
Majority of Indian population lives in rural areas. Many remote areas, especially the tribal area are inflicted with poverty and illiteracy. There is no chance that any awareness could be expected from villager and agriculturists in these areas regarding changing patterns of rain due to climate change when even the Government isn't able to understand it.
In many regions, the shortage of water is man-made. Increasing number of hydropower project or re-routing of water sources to industries has snatched the share of villagers. Also, the irrigation and ground water schemes are pending due to file system and prevailing corruption. As a result of it, the farmers suffer most when it doesn't rain.
Earlier, in the first quarter of 2015, unseasonal rains had destroyed Indian harvest worth thousands of crores. Many farmers committed suicide due to inefficient compensation policy for crop destruction.
The bad news is that climate change is likely to increase as air pollution, deforestation, and population are on rise. In 2015, the capital of India, Delhi, was ranked world's most polluted city in the world, and 13 out of 20 cities identified as most polluted in the world belonged to India.
Emission from fossil fuel and coal are on rise as India has increased the import of coal in a bid to encourage industrialization of India for economic development. Poverty and unawareness is making side-effects of climate change even worse for poor agrarian community of India. These farmers are forced to take on the path of superstition.