Heroic police officer jumps into frozen lake to save a drowning dog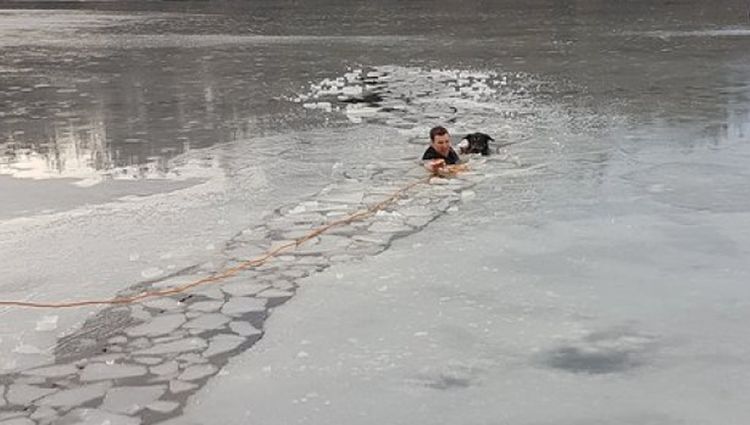 Some people go to any lengths to execute their duties. Case in point, a budding internet celebrity of the day – Vancouver police officer Peter Colenutt, who jumped into the frozen waters of Stanley Park's Lost Lagoon (manmade lake) to rescue a dog that had fallen through the ice.
The incident happened when the dog chasing a ball out on the frozen lake fell through the thin ice. A local resident saw this and called in the police.
When Colenutt and team arrived at the scene, they saw the dog struggling to stay above water.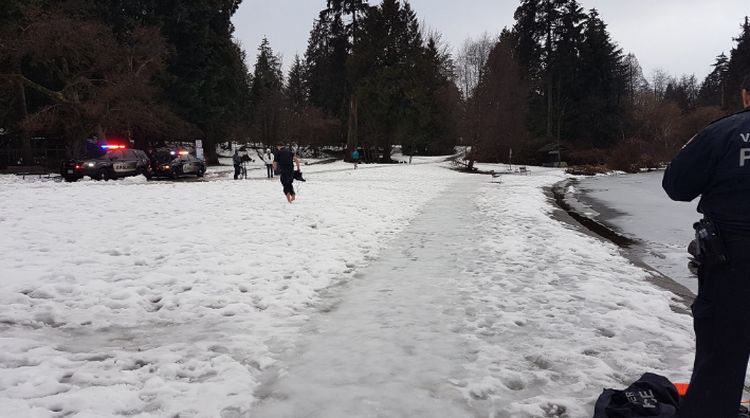 Without wasting any time, brave Colenutt removed portions of his uniform, fastened himself to one end of the rescue rope and swiftly made his way toward the dog. Nervous police team held firmly on the other end of the rope, praying for Colenutt and the pooch to make it out safe.
After some struggle, the heroic officer was able to make it to the shore with Paul (the dog), all cold but safe.
Thanks for sharing these photos, Paul! The dog and our officer were both pretty chilly, but thankfully okay. https://t.co/iwJFHBFNUQ

— Vancouver Police (@VancouverPD) February 11, 2017
Bystanders capture a few pictures of the miraculous rescue and later posted the same on Twitter. The police offer is being commended wholeheartedly by people on social media.
An officer AND a gentleman! This Vancouver cop dove into Lost Lagoon to save a dog that fell through the thin ice. (dog & hero ok!) pic.twitter.com/4R9HEOa6p8

— CTV Darcy (@darcynews) February 12, 2017
@VancouverPD Such an act of kindness!!
These weather conditions & temp of water is a risk for anyone!
Thank U Peter…over & above ?

— Shay Moyer (@ShayMoyer) February 11, 2017
@VancouverPD not all heros wear capes!!!

— Ben Simons (@BenSimons28) February 11, 2017