Highly Toxic Pesticides in Indian Fruits, Vegetable and Organic Food: Report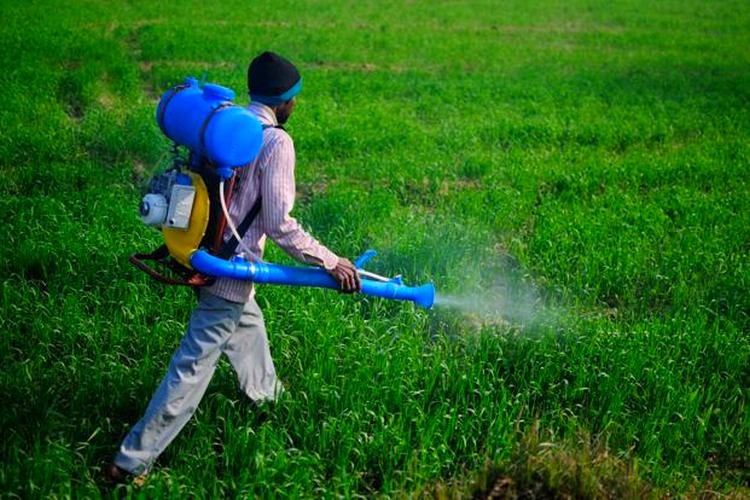 Ministry of Agriculture conducted a study to trace pesticides and contaminants in samples collected from various outlets across India. The samples included vegetables, fruits, spices, red chili power, curry leaves, rice, wheat, pulses, tea and milk. Samples were also collected from farms and organic outlets and tested in 25 participant laboratories for pesticides such as organo-chlorine, organo-phosphorous, synthetic pyrethroids, carbamates and herbicides.
Test results revealed that 18.7 percent of total 20,618 samples contained pesticide residues and 2.6 percent were above Maximum Residue Limits (MRL) prescribed by the Food Safety and Standards Authority of India (FSSAI). About 12.5 percent of samples had high level of non-approved pesticide, which raises question over awareness among India's agrarian community.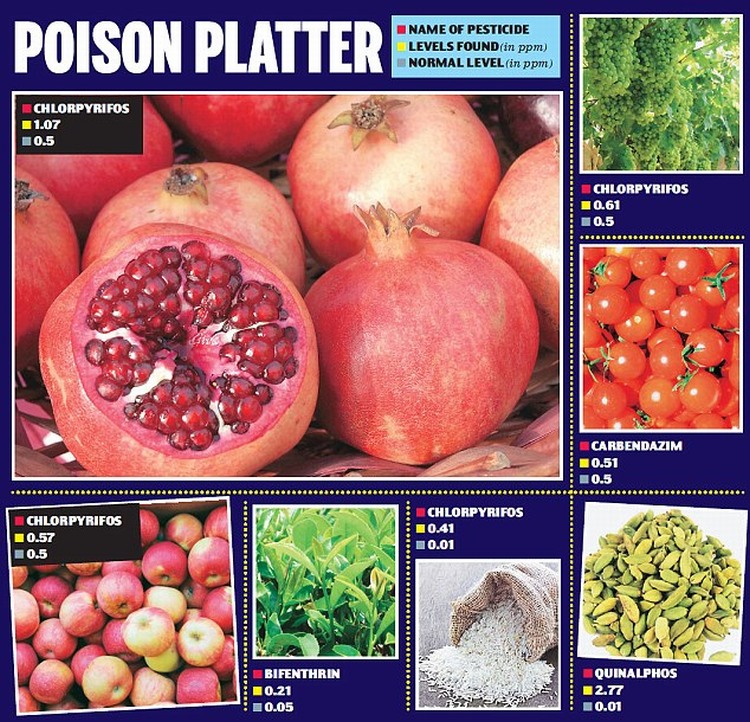 Out of 8,342 vegetable samples, which included brinjal, okra, tomato, cabbage, cauliflower, green chilli, capsicum, cucumber, green peas, bitter gourd and coriander leaves, 2.7 percent had pesticide residues above MRL. Surprisingly, 3.7 percent farm-gate samples and 2 percent organic outlet samples had pesticides residues exceeding the MRL.
In fruits, 2,239 samples were tested, out of which 8.8 percent were laced with measurable residues, while 1.8 percent had residues above the MRL.
According to the report,
Residues in samples of grapes, pomegranate and apple were commonly found above MRL. There was presence of chlorpyrifos, imidacloprid, cyhalothrin-l, buprofezin, metalaxyl and difenoconazole. As many as 225 fruit samples were detected with the residues of non-approved pesticides such as cephate, acetamiprid, carbosulfan, cypermethrin, profenofos, quinalphos and metalaxyl.
After the report, Ministry is gearing up for awareness campaigns to combat pesticide usage. Dr KK Sharma, Project Coordinating Cell, Indian Agricultural Research Institute (IARI), Ministry of Agriculture & Farmers Welfare, explains,
We propagate judicious use of pesticides. It is very important to raise the education level of farmers so that they understand the hazards of excessive usage of pesticides on environment and humans. In organic produce, there should be no pesticides because these products are sold under the label of organic food. The pesticide residue levels are still in control in India as compared to some other countries. But there is a need for monitoring the use of pesticides and increasing awareness among farmers.
Image Credit: Daily Mail