Indian villages go offbeat to stop open defecation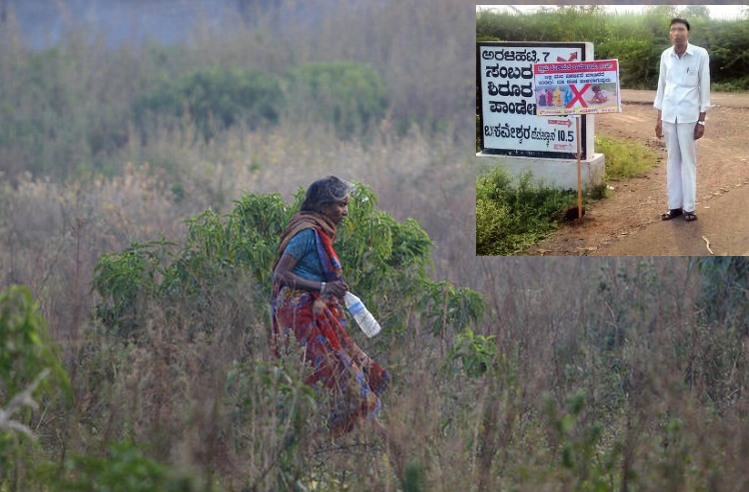 In a country where 590 million people still defecate in open it's not possible to bring awareness without community participation.
Jambagi village in Karnataka's Belagavi district has become a symbol of active community participation and efforts to eradicate open defecation. The village panachayat had become popular for the stink rising from human defaces that surrounded it as only 125 out of the total 368 families have their own toilets and rest of the families used to take to fields or roadsides on nature's call. Visitor always complained about the stench on village roads.
Under panchayat development officer, Suresh Munji, the embarrassed village council passed a resolution on October 2, 2015 to deal with this grieve issue.
 We began to feel embarrassed when the issue caught the attention of many at the district level. That is when we realised we needed a mechanism in place to put an end to this nuisance. Panchayat members and other elected representatives tried to convince people against defecating in the open. But people resisted. Hence on the Gandhi Jayanthi we passed a resolution,
sand Munji.
Under this resolution a penalty of Rs. 1,000 was decided for those who are found defecating in open. Going one step ahead, the panchayat also announced a reward of Rs. 500 for those who will report any villager defecating in open. A four member team also started to go on rounds twice a day including early morning to monitor open defecation.
Open defecation was turning out to be a nuisance as the approach roads to the village would stink. We no longer live in the primitive era where the concept of attached-toilets was unheard of. Now kids go to school and cleanliness is much appreciated. We counselled people against defecating on the roadside. Many were yet to come to terms with it. So we decided to impose penalty to make others fall in line,
The village started catching people relieving themselves on roadsides or in fields. For the first 15 days, the violators were let go with a stern warning, but that didn't work well. So, the village started imposing decided penalties on villagers who resisted the sanitation drive.
The efforts of the village panachayat soon started bearing fruits. Now, 45 new toilets are under construction and for people who can't access toilet, panchayat is building shared toilets.
However, some villagers still manage to escape to isolated regions or fields and continue to defecate in open.
Many have started defecating in fields now. But we won't give up. The fine will act as deterrent and make them fall in line. Posters informing about the fine have been put up everywhere. We have been doing rounds early in the morning and late evening to convince people against defecating in the open,
said Munji.
The panchayat members are determined to force all houses in the village to construct toilets and keep an eye on violators to achieve 100 percent success.
Jambagi village isn't the only one to have taken such initiative. Last year, Bekkinakeri village in Belagvi had achieved tremendous results through unique campaign – saying 'good morning' to villagers heading toward fields on nature's call. A team of elders, anaganwadi teachers and asha workers volunteered for the cause. Every morning from 5:30 am to 8:00 am the members will say 'good morning' to people and provide counseling regarding the benefits of having a toilet and health hazards of open defecation. The team even paid door-to-door visits to convince villagers to take benefit from the subsidy offered by government for building a toilet. Now, 90 percent of families have their own toilet.
The panchayat also has its own waste management plan to clear garbage heaps pilling up in panchayat area.
Similarly, last year, Koppal zilla panchayat did a marvelous job through their 'whistle' campaign. Considering underachievement of the village in the field of sanitation, the zilla panchayat president Janardhan himself begin to visit open fields every morning and blow whistle to prevent people from defecating in open. He toured all 134 panchayats in the district. The results were inspiring. In less than nine months, 54,000 toilets were constructed against a target of 13,000 toilets. There are 1, 30,000 toilets across 134 panchayats.
It seems finally rural India is ready to come out of stone-age.