Amidst Devastating Delhi Riots Innocent Animals Became Victim of Violence
The cruelty of mankind knows no boundaries, which is clearly evident from the recent Delhi riots. Protests began across India in December 2019 after the controversial Citizenship Amendment Act (CAA) was applied in the country, which allows rapid naturalisation for immigrants from Pakistan, Bangladesh and Afghanistan belonging to six religions – Hinduism, Sikhism, Christianity, Zoroastrianism, Jainism and Buddhism.
The Act has been seen as discriminatory to Muslims and threatens their existence in the country when combined with the anticipated National Register of Citizens (NRC). Many people started protesting against the Act including protesters from all the religions, but the peaceful protests soon turned into riots.
Amidst the brutal protests, killings, and vandalism, the national capital of India burned for almost a week, with over 50 people dead. The hate, the misguided sense of righteousness and a blind agenda against each other ravaged the capital city.
But, not only humans bore the brunt of this violence, the innocent animals suffered from the loss too. As the riots subsided, a picture of a stray dog sitting on the premises of a burnt petrol pump went viral on social media.
View this post on Instagram
Employees of the petrol pump used to feed and care for this stray and now the only place the dog knew as its home was burned down to ashes. The traumatized dog was covered in ash and dust after the incident. It refused to eat, drink or even look up from its spot. The scared dog kept looking at the burnt petrol pump and would flinch, whenever someone came near him.
A @DelhiPolice constable trying to feed a traumatized dog sitting in burnt Indian oil petrol pump in Bhajan pura, scared of the human beings #delhiviolence #violence #delhiriots #DelhiRiots2020 pic.twitter.com/tM7OiMVbbl

— VISHWA JAIN SANGATHAN (@vishwajains) March 2, 2020
However, an animal lover, Bobby Ramgharia from the eastern Delhi rescued the scared stray from the arson affected petrol pump in Bhajanpura area.
Bobby has been working towards the welfare of stray animals who have become the victims of the insanity of man. He took him and one other stray with an injured paw to his home. He took care of both of them, fed them, and nursed them back to health.
This poor animal lost its home and for what? So that rioters could prove a point?
In another case of brutality against the helpless animals, a man threw acid on a dog who got injuries on its face and back. Police registered an FIR for mischief by killing or maiming animals (429 IPC) and Prevention of Cruelty to Animals to probe a case of acid attack on a dog in Paharganj.
Several people have complained about such incidents in the area. A woman from Mantola lodged a complaint against a man who poured acid on a street dog. In another incident, a man allegedly threatened to maim all street dogs if they barked at him.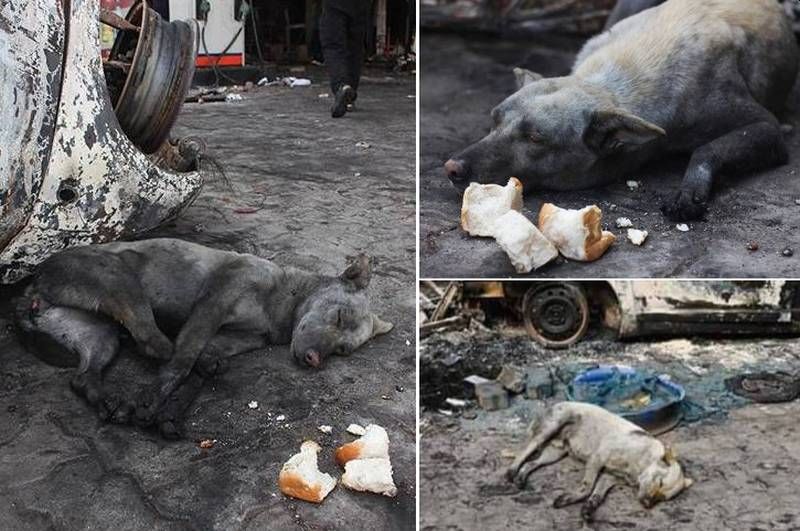 It is very hard to apprehend such scenarios of inhumane acts. But maybe humanity is not yet lost as many people helped each other to get to safety during the violence, which many are comparing to the 1984 killings and 2002 Gujarat riots.