Kevin Clemens attempts at world land speed records on his electric motorcycles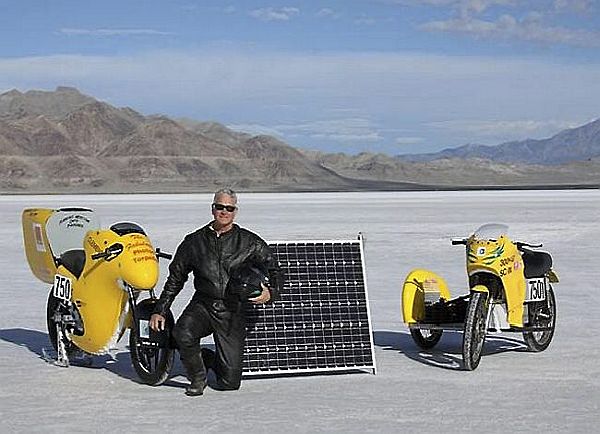 During last year's 9th Annual BUB Motorcycle Speed Trials at Bonneville Salt Flats, Auto Journalist Kevin Clemens made National and World Land Speed Records on an electric motorcycle.
This year too, he entered the 10th Annual BUB Motorcycle Speed Trials which took place from 24to 29 August and attempted to set some new records. The two electric motorcycles used were built by Kevin at the Velocity Workshop in Lake Elmo, Minnesota and are powered by a couple of 190-watt RAIS solar photovoltaic modules.
One of the electric bikes which he rode at this year's event and which helped him set four records last year is based on a modified 2004 Kawasaki Ninja EX250 frame and is powered by high-tech lithium polymer batteries. However this year the electric motorcycle failed to set any new record.
The second motorcycle is a sidecar bike which is based on a 1972 Honda Scrambler frame. On this sidecar electric motorcycle Kevin broke the existing record of 50.407 mph in the 300-kilogram sidecar category by averaging 54.651 mph in two passes. However the record is yet to be approved by the AMA.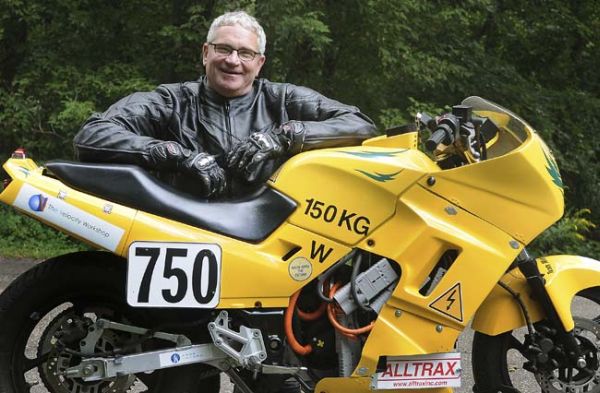 According to Clemens who also holds degrees in engineering and environmental education, participating at the Bonneville Salt Flats is not for just setting land speed records but also to educate people about electrified transportation.
Via: Solarnovus/Twincities