Sacramento couple builds a 300-pound Rhinoceros out of 12000 wine corks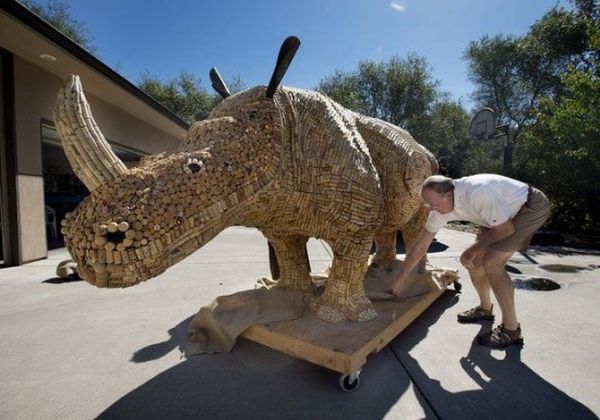 It all started about three years ago when Jim Lambert was asked to take up a hobby by his wife Mary, the first thought that popped into his head was of his wine corks collection that he has been stocking from the past 20 years. He wanted to build a giraffe out of the wine corks first but then turned to building a rhinoceros.
As soon as their long old friends Bob Nelson and his wife Di heard about this off-the-wall idea, they just jumped into the project. So Bob's garage became the workplace, where an online photo of a rhinoceros was used as a guide for proportions and size. After crafting the structural frame from plywood, Nelson carved out plastic foam pieces to give a suitable shape to the rhinoceros.
All that left was to apply thousands of wine corks to the structure. Both couples along with friends and family members (Eighty-three to be precise) enjoyed this pass time of adding wine corks over the time to complete the structure.
Named "Rhinocirrhosis", after the liver disease usually caused by heavy alcohol drinking the 12 feet long, 5 feet 6 inches tall and 300-pound sculpture will be competing at an international art contest in Grand Rapids, Michigan for a top prize of $200,000. Lambert wants to sell 'Rhinocirrhosis', so he can make charity to some of the foundations which includes the International Rhino Foundation to draw attention to the endangered species.
Via: Odditycentral