Little girl in India lived and grew up with monkeys in wild, behaves like animals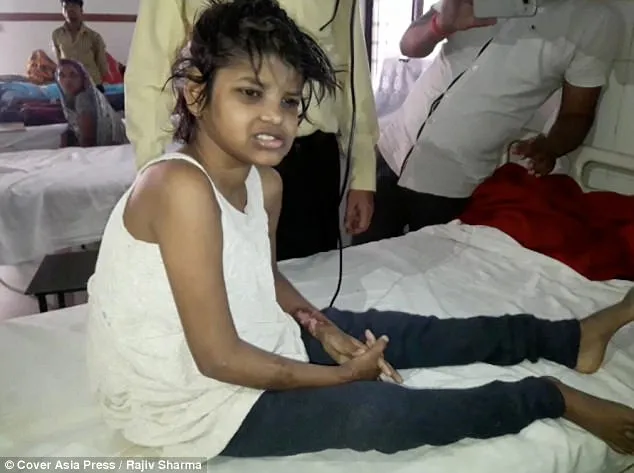 A little girl in India is being called the real–life Mowgli, famous character from Rudyard Kiplin's Jungle Book. She grew up in the wild with a group of monkeys, claims reports. She adapted to behavior like monkeys or animals. She was first seen in Katarniaghat forest in Bahraich, Uttar Pradesh. She was naked and was comfortable with the troop of monkeys or he family, which appears to be the appropriate word to describe their relation. She walks on all four and makes screeching sounds, the only language she knows. She doesn't use her hands to eat, and instead eat directly from ground with her mouth. She answers nature's call anywhere like animals. Several scars and sores over her tanned skin tell that she had been living in wild, and was exposed to raw elements of nature. When she was rescued, police had to face extreme resistance from the monkeys and the girl. They screeched at humans and the girl was horrified as she was being taken away in a jeep. However, after a struggle, she was brought to the district hospital.
The story of this 8-years-old will definitely sounds unbelievable. A kid would not survive much in wild and animals can't parent a human. A little girl will either starve to death or will be eaten by predators. However, above mentioned facts first appeared in a news report on national English Daily Times of India and went viral on web.
Two months ago, she was spotted by a cop in Motipur range of Katarniaghat Wildlife Sanctuary. Sub-inspector Suresh Yadav was on patrol, which is routine job for cops. Now, after two months, she is wearing cloths, has become little comfortable with hospital staff. But her behavior remains similar to animals. The doctor (in the video) said that it was a real struggle to deal with her when she was brought here initially. She behaved like animals, defecated and urinated anywhere. Doctor said that she gets violent at times.
She was highly aggressive and shunned human contact. She was initially kept in confinement as she often tried to flee the hospital. She was horribly week and malnourished, said the doctors.
In two months, she has learnt to walk on her legs, but she still use hands and legs to crawl around. So far, she has been able to understand some hand gestures only. She uses her hand to spill food and eat directly with mouth.
However, the doctors and behavioral experts suggest that she might have had human contact before she was abandoned or separated from them.
The fact that she is responding to humans shows that she has some memory of living with them,
Dr Arun Lal, the district chief medical officer.
The mainstream media and blogsphere is excited about the real-life Mowgli because the story sounds unbelievable. But if this story is true then it would be horrible to imagine the suffering of the child that remains unnoticed.
Another mystery that would  bother human civilization is a question: can monkeys brought up a kid in forest?