North Indian flood – A manmade calamity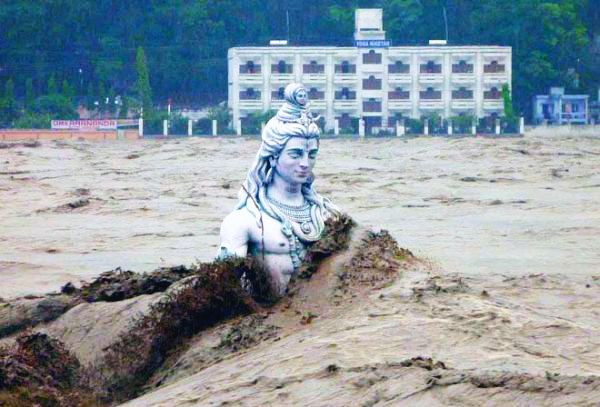 Uttarakhand, the Himalayan paradise known for its snow capped mountains, valley of flowers, fresh air, pure waters, heavenly silence and scenic beauty was hit by one of the most furious floods in the region thus far. The "Land of Gods," turned into "City of the Dead" within seconds as unassuming pilgrims and locals had no time to access the situation. A deadly cloudburst wreaked havoc in Uttarakhand, leaving more than 1000 people dead, 3000 missing while thousands other stranded. Rescue operation were carried out by the Indian army, ITBP, air force and more than 1,07670 people have been rescued.

Heavy rainfall triggered devastating floods and landslides that washed away houses, hotels, bridges and roads, killing and trapping pilgrims in various places in the Uttrakhand region. The areas that have seen major destructions are Kedarnath, Gangotri, Yamunotri and Badrinath. While the state faces a dreadful disaster, our political leaders are busy playing the blame game and taking advantage of this dismal situation to hone of their laurels regarding rescue operations and relief initiatives for the region. But the big question that still remains is who is responsible for this disaster? Was it a natural calamity or a manmade disaster waiting to be triggered? Read on for four vital reasons why north Indian flood is a manmade disaster.
Deforestation
It would not be wrong if we say that deforestation has acted as catalyst in the enormous devastation seen lately in Uttarakhand. There has been deforestation on a very large scale in areas right from Rishikesh to the higher areas of the valley. Massive urbanization, tourism and dams have lead to axing of millions of trees, resulting in weak ecosystem. This unsustainable extraction of forest resource has resulted in unwanted and hazardous landslides and floods.
Forests are being cleared in the name of urbanization. The construction of roads, railways, houses etc., has no doubt made lives of the locals easier, but at the cost of precious forests and pasture of trees. The ever increasing tourism in Uttarakhand has lead to constructions of hotels and resorts, for which trees are being axed. The major reason behind deforestation is the enormous construction of dams and hydro power projects all over the state. There are nearly 300 dams and power plants that are either built or under construction for which millions of soil holding tree are being cleared, leaving the region vulnerable to floods and landslides.
Illegal construction
Illegal construction is a big issue in Uttarakhand. With thousands of pilgrims and tourists hailing to the state to visit the holy shrines, locals are illegally capturing land close to the riverbeds to build hotels, guest houses and travel lodges. Eco-Sensitive Zone notification prohibits construction in riverbeds, but greed for money has lead to the construction of ugly cemented luxury hotels in the fragile eco-system. If the government wouldn't have turned a blind eye to the illegal construction, the sight of buildings crumbling into raging flood waters wouldn't have been put forth. However Uttrakhand CM denied any such instances of illegal construction during the tenure of their government, thereby stretching the blame game even further.
Hydro electric projects
Massive construction projects, especially large dams and hydro power projects have acted as catalyst in life taking floods in Uttarakhand. This Himalayan heaven was never so fragile, but constant deforestation, blasting for tunnels and dumping of dam debris into rivers have caused landslides and floods. Hundreds of villages along the banks of the Alaknanda, Bhagirathi, Mandakini and Ganga have been affected with the landslides and floods. There are as many as 300 hydroelectric projects and dams that are either built or under construction, for which rivers have been diverted through tunnels. Parts of Gadwall are like graveyard of rivers, where Ganga used to once flow, killing many water body species in this divine heaven on Earth. And our so-called responsible politicians are turning a blind eye towards the dams and hydro plants; justifying by calling them as sources of clean and planet friendly energy. We agree that they provide us with green energy, but at the cost of thousands of animals and water species, millions of carbon absorbing and soil holding trees, and thousands of people who have lost their lives in the devastation floods and will in the coming years.
Uncontrolled tourism
There is virtually non-existent tapping on the number of tourists coming to visit these holy shrines, which in a way leads to unorganized tourism infrastructure. Adding fire to fuel are the self-motive of politicians and local businessmen who in a way try to lure in more tourists into the valley to reap more benefits. Talking about the limit on the amount of people who can be sent into the valley at one given point of time, well, the figure is very dismal as there is no provision of registration from the authorities leading to total chaos. All this prompts more and more people to set foot in the valley leading to other problems like stampedes which was very much apparent during this humungous flood.
The aforementioned reasons compel us to believe that we have become irresponsible citizens giving least respect to the nature. Nature will take time and will respond – and nature's fury will be really too much to handle. It's time we drive ourselves towards a more conscience attitude towards the earth.