Nothing for India's local manufacturers in $100 billion solar boom, fortune for foreign giants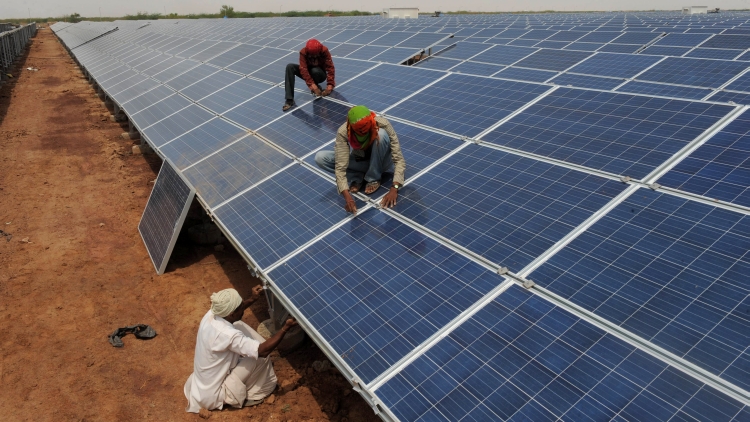 India plans to build huge renewable energy infrastructure by the end of next decade. Prime Minister Narendra Modi has announced a target of 100 GW solar energy-generation by 2022.
It's should be a good news for solar panel and battery manufacturers, or any other manufacture looking to enter renewable energy market in India.
However, the policies adopted to deliver the $100 billion push into solar energy are fated to throw Indian manufactures and suppliers on backseats as International giants like SoftBank that recently announced investment of $20 billion in Indian solar energy sector and Chinese firms such as Trina Solar enjoy advantage over trivial Indian manufacturing industry.
Indian manufacturer are nowhere to be considered when Trina has already unveiled its plans to invest $500 million in solar project. Similarly, other foreign firms have also found an excellent opportunity to capture Indian market. U.S. based SunEdison is another name that'll be pouring $4 billion in a single manufacturing facility.
Solar panels manufactured in China are cheaper and way far advance in technologies than those manufactured in India. Indian manufactures stands no chance against these foreign firms.
In nations like China and Germany, governments puts huge efforts in protecting and encouraging local manufactures using various policies. India has taken some decisions that are opposite to what these nations did. Recently, India had dropped the anti-dumping duty on panel import.
The small scale local manufacturers are highly uncompetitive and are not protected by their own government. In foreign nations, government provides subsidy on manufacturing of solar panels and allow renting at very low costs. The consumers are also encouraged to adopt renewable energy through incentives.
Referring to this critical drawback in India's policy for supply of required solar energy related technologies, Jasmeet Khurana at solar Consultancy Bridge To India comments, "The smaller manufacturers of India, especially the cell manufacturers, will be adversely hit because they are unable to compete both on technology and even on price structures."
Apparently, Indian government ignored its local manufactures in a haste to create quick jobs and increase power generation to deal with prevalent blackouts and lack of access to electricity in remote areas.
Similarly the local cell makers will be beaten by global giants. In India, the cost of solar panels manufactured by local firms like Indosolar and Moser Baer is eight to ten percent higher than foreign producers.
The local manufacturers have stopped manufacturing and are trying to associate with foreign firms. That seems to be the only way to survive in a flood of global investments.
While many critics are of the view that present government is playing populist political tricks. They claim that it's impractical to achieve such huge target in small period of time. Some other state that the amendments in Land Acquisition Act are against agriculturists.
The government will need a lot of land to install 100 GW of solar projects and Industries. Earlier, in India, the legal process and official requirements for land acquisition from farmers were very tough.
Therefore, present government has amended the act and many mandatory steps were removed from the act including the right to go to court against insufficient compensation. The agrarian community, the largest in India, is stunned at such ignorance from government.
Via : Reuters