Rail construction is now a key driving force in Europe's construction industry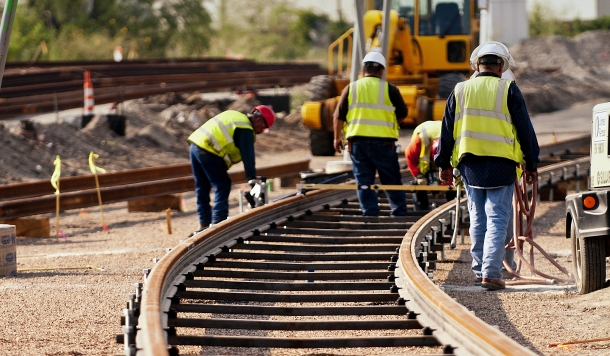 European construction giants are increasingly finding themselves working far away from their homesteads, going where development is more rampant and financing more secure than what's available in the post-crisis Eurozone. Nonetheless, rail projects back home in Europe are proving a reliable source of local revenue for many of these firms, as well as their competitors from outside the continent.
Network Rail, which oversees maintenance and development of the UK's railway infrastructure, just announced plans to spend a little under £38 billion on revamping the network. The five-year initiative will bring up to 700 more trains, electrifying 850 miles of track, upgrades of several stations, and a new rail link between Oxford and Milton Keynes, as well as replacement of points, tracks, fencing, and platforms.
Meanwhile, the 118-km Crossrail line linking London with its environs, which includes 42 km of tunnels, remains Europe's largest railway and infrastructure project at £14.8 billion. It will use a total of eight tunnel boring machines, each custom made, weighing in at 1,000 tonnes and measuring 7.1m in diameter, and they will crush through ground underneath London's streets, as well as up to a depth of 40 meters below the river. Six of the machines will be Earth Pressure Balance Machines; two more will Slurry TBMs, and together they will run 24 hours a day, 365 days a year to reduces the likelihood of settlement.Research from Randstad forecasted the addition of 150,000 construction workers by 2050 in the UK alone, a number which can be partially attributed to these huge projects.
Further out east, Lithuania, Latvia and Estonia have teamed up for the Rail Baltica effort, which will connect those countries' capitals with Warsaw, Poland and eventually Berlin. The first 115-km segment across the Polish-Lithuanian border is already under way and is expected to be complete late next year. In 2016, the $5.1 billion Baltica 2, linking Kaunas and Tallinn is expected to start: the rail with enable passenger traffic of up to 240 km per hour.
Further south, Spanish construction giants have been feeling the pinch, moving to large projects in Latin America to stay afloat. But even in this landscape, the Spanish government has still pledged $5 billion to revamping its high-speed rail network. The country hopes to connect all provincial capitals to Madrid with connections under 3 hours, and to Barcelona within 6 hours, by 2020.
Back in the center of the continent, Germany is undergoing a high-speed rail redevelopment that will cut the trip time between Munich and Berlin, for example, from 8 to 4 hours, with some third generation trains of the InterCity Express capable of traveling at 330km per hour in regular service.
In the Alps, extensive tunneling is underway to form rail links between France, Switzerland, Austria and Slovenia. The EU has approved funding for the Turin-Lyon high-speed railway already, and a new line is being constructed to link Austria and Italy via the Brenner Base Tunnel. Up north, approval of the Fehmarn Belt Fixed Link means rail journeys between Hamburg and Copenhagen of 3.5 hours or less by 2020.