Recycled cardboard made Berlin Boombox brings back the retro feel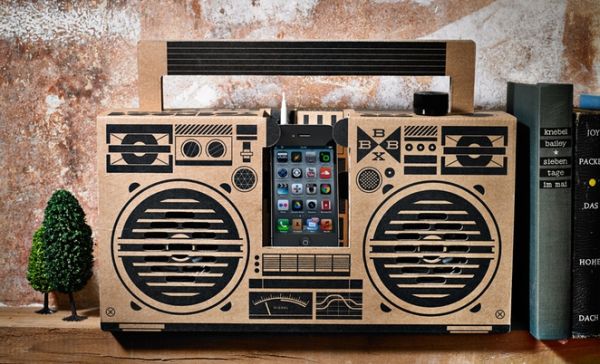 The era of listening music carrying a Boombox on your shoulder is long gone. However, if in today's world of compact gadgets and smart technology you want to relive the time of large afro hairstyle and huge portable speaker systems, the Berlin Boombox is for you. Designed to resemble the boomboxes of good old days, the retro styled Berlin Boombox allow the users to play music from any smartphone or a MP3 player. It comes in a kit which can easily be assembled by the user in just a few minutes. The kit contains flat-packed die-cut cardboard, two speakers and a tiny digital amplifier. What's cool about the product is that no glue or tools are needed for its construction.
Combining environment friendly design with an old-school look, the Berlin Boombox sports a rigid carrying handle and comes with various screen printed versions. The device is equipped with an integrated digital 2x5W amplifier, speakers and is powered by 3 AA batteries which can play up to 200 hours of music. Like a traditional boombox, it comes with a single aluminum control knob for volume and power. Available in plain brown 100% recycled cardboard and also in several other colors and styles, the Berlin Boombox comes with a price tag of $86.
Via: Treehugger