Artist Dan Corson creates colorful Sonic Bloom solar sculptures
An art installation in the form of 5 solar sculptures has come up in the Seattle Center's festival grounds near the base of Seattle's famous Space Needle. Designed by Artist Dan Corson, the solar powered sculptures are inspired by the flower of the Australian firewheel tree.
This playful and permanent installation is called Sonic Bloom and is commissioned by the Pacific Science Center and Seattle City Light's Green Up Program. The huge solar flowers are about 20 meters wide and stand up to 40 feet tall. Silicon Energy, a Washington based company has provided the four-watt solar panels which are mounted on the head of the flowers.
The solar panels harvest the sun's energy which is used by the LEDs at night to create amazing lighting show. However during the daytime, the energy is used to produce harmonic tones which are activated by people's movement around each sculpture. To see the difference between energy generation depending on day's time and orientation, the flowers are tilted at different angles and also in different directions.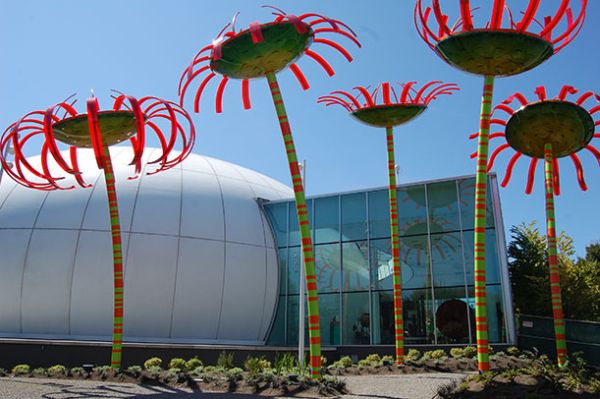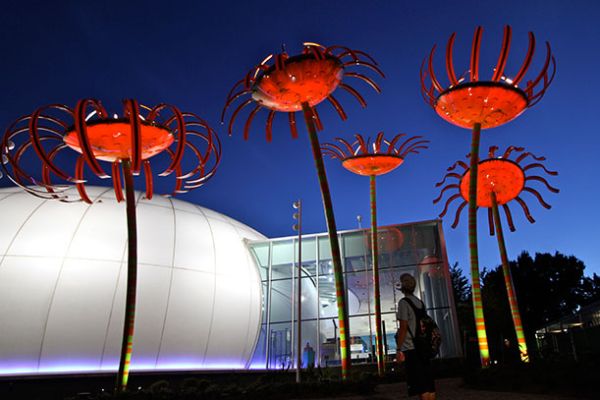 Real time electricity generation and electricity produced over a course of a month or year can be seen on the kiosk situated inside the center. As each year Pacific Science Center is visited by more than a million people, Sonic Bloom is an amazing art installation that will be teaching visitors about solar energy, its uses and its working.
Via: Smithsonian Magazine/PP