Cruelty Against Animals: Pigeons stuffed in rocket, blown apart to appease political leader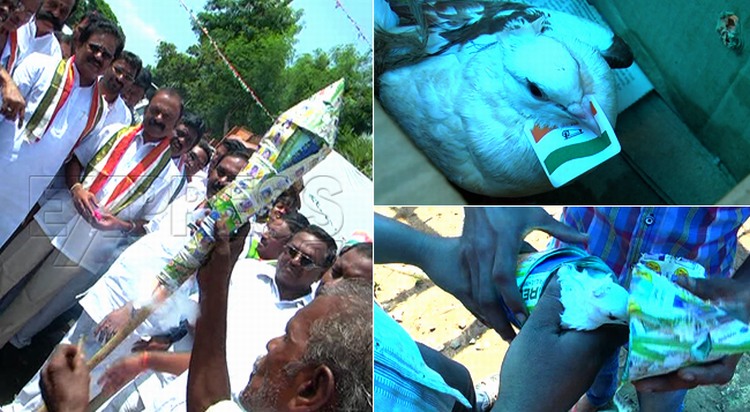 What do people in Andhra Pradesh, India do to welcome politicians to political events? They tie live birds to firecrackers and torn them apart. On Sunday, footage appeared on news channels showing some people stuffing a live pigeons into a rocket (fire crackers) and set it alight. Even a party flag was tied to the neck of the birds. It busted high in air. The pigeons were completely roasted in the intense heat and died a gruesome death, bursting into pieces.
It was done amid a crowd of Congress workers to welcome and appease state party chief N Raghuveera Reddy, and it, indeed, did amuse the entire crowd.
The incident took place in Kovvuru town in Andhra Pradesh, India. After watching this brutality against innocent birds, an NGO- People For Animals filed a complaint with the police and an FIR was lodged against state Congress unit citing cruelty against animals, for which Indian laws prescribe punishment.
When party workers and police were questioned in this regard, they explained it as a failed experiment in which the pigeons were expected to fly away after the rocket busted. The workers also added that it's a tradition to fly pigeon on such events.
After furious response from animal activists, police has ensured appropriate action. Surprisingly, it was done in front of senior leaders, who are expected to be aware enough to govern the state. It's heart-breaking sight to witness such stupidity in India or any part of the world for amusement or on the name of traditions.