Engineer creates a solar-powered hot dog cooker from household items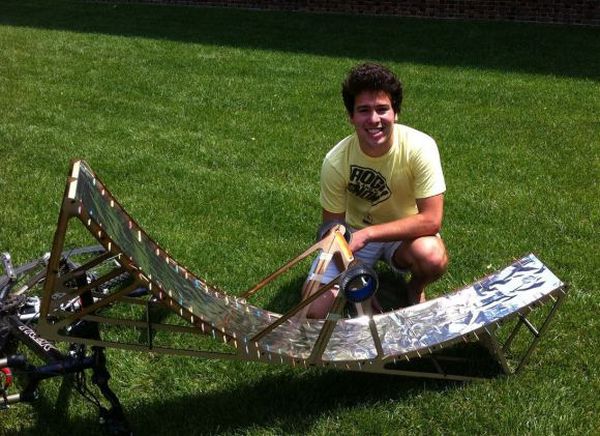 When engineer Adam Libert was given a University project to create a device that would make use of solar radiation, the obvious choice was a hot dog cooker. However, unlike conventional solar hot dog cookers which are constructed out of plywood and lumber, Adam decided to create something using less expensive materials that can be easily assembled, taken apart and flat packed as per needs.  He made the parabolic dish for his solar cooker from 1/8" thick laser-cut MDF boards and basic items such as tin foil, poster paper and toothpicks. The materials for the device costs less than $5 and it can be setup in minutes.
The solar-powered cooker is designed to focus one-fifth of a square meter of sunlight at the hot dog, which after potential losses, the heat output of the cooker comes to be around 10watts. Tin-foil reflector is not even close to a mirror but still close to predicted calculations, the cooker was able to heat the hot dog to 150º F in about 10 minutes of time. According to Adam Libert, the hot dog prepared on his constructed solar cooker also tastes much better than a regular hot dog.
Via: Hackaday