Finally, Himachal gets strict on old diesel vehicles including HRTC buses to cut emissions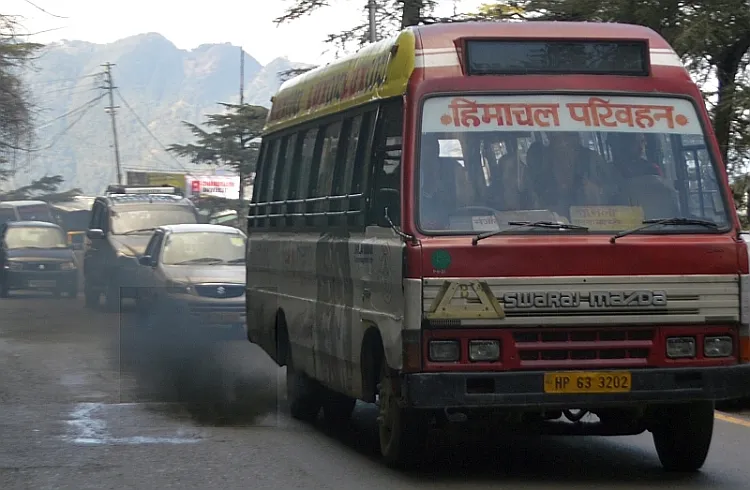 Finally, Himachal Pradesh Government was forced to consider discouraging diesel vehicles in the state to cut vehicular emissions. On Monday, the Transport Minister GS Bali made some important announcements regarding the registration and purchase of old diesel vehicles.
The degrading air quality of Shimla was ignored for years, but after Rohtang Pass faced complete ban on diesel vehicles and commercial activities due to high rate of vehicular emissions, the state found itself in a very uncomfortable state.
From January 1, 2016, HRTC would take off the road all its buses with over nine-year lifespan. That means, over 300 HRTC buses will be taken off the road and, as per the announcement, 300 new buses of Euro IV level will be introduced.
In the next step, from April 1, 2016, government will hike the registration fee for diesel vehicles with a 10-year lifespan. While, the registration fee for 10-year old diesel vehicles will be doubled, vehicles with a 15-year lifespan will have to pay higher "exemplary" registration fee. Small passenger vehicles, like maxi-cabs, with a 10-year lifespan will no more be registered.
The transport minister also announced abolition of registration fee on hybrid, electric, battery and CNG-powered vehicles. The government will also allow auto rickshaws to convert into e-rickshaws and 25 electric public transport buses would be launched very soon.
"The state is moving to turn the transport fleet eco-friendly and ban diesel vehicles in a phased manner for a better quality of life and saving the citizens and tourists from harmful effects of gases. The measures to phase out diesel vehicles will begin from today itself. I am ordering all regional transport officers and the vehicles registering authorities to stop registration of vehicles bought in the other states. Only commissioner (transport )will have the power to grant exemptions after proper verifications," said GS Bali.
The state government also announced establishment of five CNG stations at Una, Dalhousie, Shimla, Manali and Dharamsala and has requested centre to release funds to set up EV charging stations at 25 bus stands across Himachal. Cost of each electric bus is about Rs. 1 crore 65 lakhs. The government has recently tested a seven-seater electric maxi cab (Mahindra) on Solan-Shimla route. The government is in talks with foreign EV manufacturing companies as well.
Earlier, in November 2015, the state government has given its consent to the Union Ministry of Heavy Industries for purchase of 10 electric buses, to be imported from England by Leyland.
The decision taken by the state government came after the National Green Tribunal ordered the government to immediately consider policies to cut emissions, especially in the capital city Shimla. The NGT had also asked the administration to consider making the Shimla cart road one-way street to deal with pollution, traffic and noise pollution.
While, the announcements sound positive, in reality, it'll be a challenge for the government to replace diesel buses and public transport with electric or CNG buses as there is no infrastructure to support them. The implantation of such eco-friendly transportation plans will require commitment and dedication – characteristics completely missing from Indian political sphere. Rather, such fat deals, like that of electric buses, have always been excellent opportunities to swallow public money.
Presently, total number of registered vehicles in Himachal is 11.43 lakh and out of it, 2, 11,670 vehicles are diesel alone in the transport sector, while 9,23,682 are in the non-transport sector, including tractors. There are 2.77 lakh vehicles with a 10-year lifespan and 1.42 vehicles with a 15-year lifespan.
Image Credit: Himachal Watcher