Himachal plans solar-powered electric fences to protect farmlands against monkeys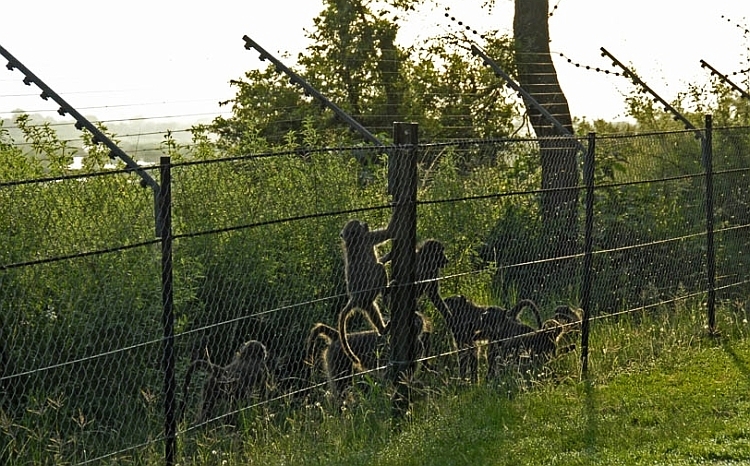 The scientists at Himachal Pradesh Horticulture & Forestry at Solan have claimed that electric barbed wire fencing has proved quite successful in keeping wild animals off farmlands. The varsity has tested the method on its fruit science department farm that was fenced with a 1,725 meter electric barbed wire. The fences were powered by solar energy.
Verifying the success achieved through this method, Vijay Singh Thakur, the vice chancellor of the varsity said,
"Ever since the experimental farm was fenced not a single monkey has been sighted in the area. Earlier four people were stationed there round the clock to protect the orchards from monkeys, porcupines and wild boars. The solar powered fence has helped the university to raise more than 2,000 plants of different stonefruits. The fence has proved to be highly effective in keeping marauding monkeys away besides being cost effective."
The invention isn't something new. For decades, developed nations have already been using electric fences to keep wild animals away from farming land. Solar-power was explored as the best source for energy in areas where grid supply isn't available. It's a surprise that India got to know about it in 2015.
Also, the varsity didn't commented regarding the safety measures. An electric shock can harm animal and that is counted as cruelty against animals in India (legally). There were no words regarding the current or voltage transmission in fences. We hope, the varsity has tested it in real time.
Anyway, the varsity is planning to extend assistance to other farmers in the state who are looking for methods to get the monkeys off their farmland.
Himachal's cultivated farmlands are stormed by monkey gangs, causing crop losses every year. People have even died due to monkey menace in places like Shimla city.
The troubles begun after a ban was imposed on culling and export of monkeys to international market for medical research. It's indeed an ethical decision. No animals should be tortured for any kind of experiments.
However, the HP government never had any perspective plan to combat rising monkey population. According to government stats, the monkey population has declined by 236,000 in 2014 from 319,000 in 2013. The langur population also came down to 18,000 in 2013.
Still, there is no end to the misery of farmers in Shimla, Solan, Sirmaur, Bilaspur, Harmirpur, Una, Mandi and Kangra district. Near about 90,000 farmers are hit by monkey invasions.
Even the HP High Court had rebuked state government for not making any committed attempt to check monkey population. In November 2014, HC said,
"The growth of monkeys is at its peak and the number of stray dogs is also increasing day by day… it is shocking to record that in the last week we have lost the precious life of a young woman."
The capital city Shimla is like the 'Planet of Apes'. Expanding cities, sinking natural habitat and littering habits of people are supporting rise in the population. Open disposal of food waste attracts all kind of stray animals like monkeys, dogs, cattle etc.
The sterilization, re-locations, introduction of oral contraceptive for monkeys, and many other government programs have failed miserably. Crores of rupees were sanctioned by government in recent years to curb monkey menace, however, corruption devoured most of it.
Recently, the sterilization of monkeys in Shimla was put on stay after PETA reported cases of extreme cruelty against captured monkeys brought for sterilization. The centre was conducting sterilization without proper tools and facilities.
However, solar-powered electric fences can actually provide long term relief if spared by corrupt government officials and politicians in power. The chances are high that a huge amount of funds will be sanctioned to install such fences across Himachal. The government will take credit for the announcement, but in reality, it's hard to tell how much of it will reach the farmers.