Mumbai's e-toilets choked-up and stinking within months of installation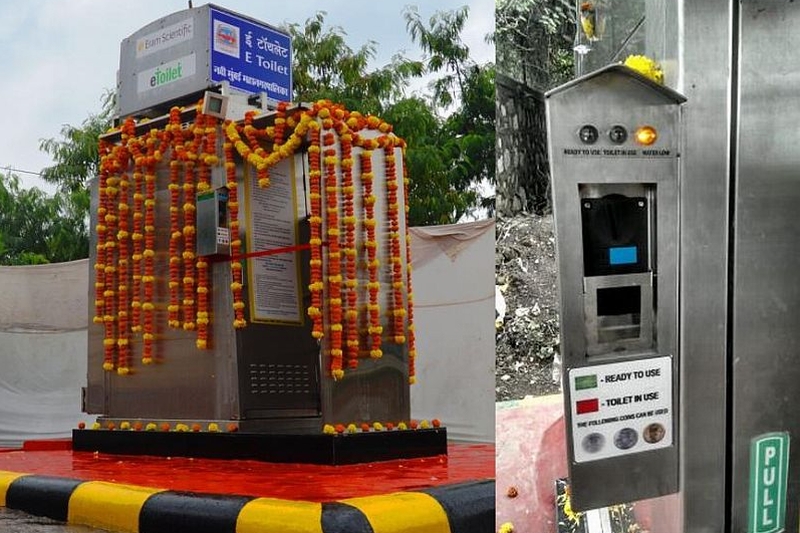 In September 2015, under 'Swachh Navi Mumbai Mission', Navi Mumbai Municipal Corporation (NMMC) had installed 14 e-toilets for public use. Former guardian minister Ganesh Naik, MLA Sandeep Naik and mayor Sudhakar Sonawane had inaugurated one at Mahape in a glittering manner.
Eight of them were installed on Thane-Belapur Highway and one at Uran Junction. NMMC had spent Rs.15 core in installation of 14 e-toilets. Each e-toilet was programmed to allow usage after Rs. 1 coin is inserted by a user. An e-toilet has automatic flushing and maintenance features including opening of doors to switching light on-off.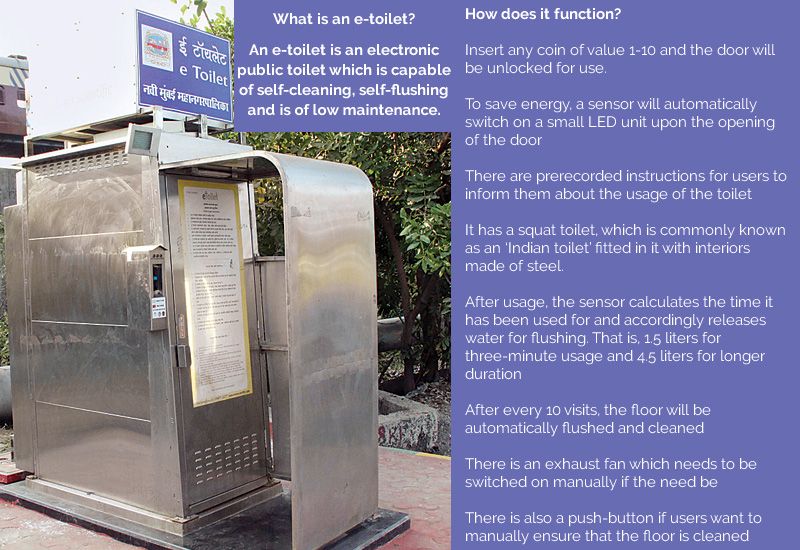 However, after a couple of months, Indian administration and public have proved why they deserve to be subjects of jokes for others. These e-toilets are now in a poor, unhygienic state with defunct and choked flushes, like majority of basic public toilets in India. The e-toilet opposite Reliance IT Park at Rabale and near Airoli aren't even working. The drains are clogged with filth emitting unbearable stink.
Raising stink over condition of e-toilets, a resident of Rabale said, "We are troubled a lot. Sometimes, the coin gets stuck, but the door doesn't open and there is no water in the tanks too."
Failure of this initiative again proves that Indian government departments still continue with their culture of providing facilities but not maintaining them.
The trouble with e-toilets had, in fact, begun on the day of inauguration. Three of the brand new toilets had developed glitches and did not function properly. Biggest trouble with an e-toilet is that it'll not allow usage in case of low-water supply. When executive engineer, sewerage department was asked about it, he had ensured, "There is some minor problem with the water supply to some e-toilets. We have received complaints about it and the problem will be solved at the earliest."
People had also criticized the Municipal Corporation for doing a half-hearted job. The condition of Indian Railways first AC toilet for disabled and women at Thane station is also pitiable. Garbage clogs the drains with unbearable stink. Due to AC's cool air, user find it suffocating as the foul smell fills the air and the toilets are choked-up due to the piled up filth inside.
The municipal corporations of Mumbai  were also ordered by the High Court to build 'She-Toilets' meant for women only. These toilets are similar to e-toilets in functionality and supposed to include vending machines to procure sanitary napkins at a minimum cost as well as integration of incinerators to allow for hygienic dispose of used napkins.
However, attitude of authorities and public haunts this initiative as well. The miserable failure of e-toilets explains why India isn't able to improve its state of poor sanitation and unhygienic. On the top of it, crores of public money are being wasted.
Hygiene, cleanliness and sanitation remain paramount issues for India. For developed nations, defecation and urination in open near public places and against walls have always been subjects of jokes and disgust. It's a bitter fact to digest, but unfortunately it's true. Poverty, illiteracy and lack of awareness are among major reasons behind such scenario, but are secondary to government's lack of interest in maintenance of public facilities.
Images: DNA/IAMIN