Third generation Smart Fortwo and smart bike unveiled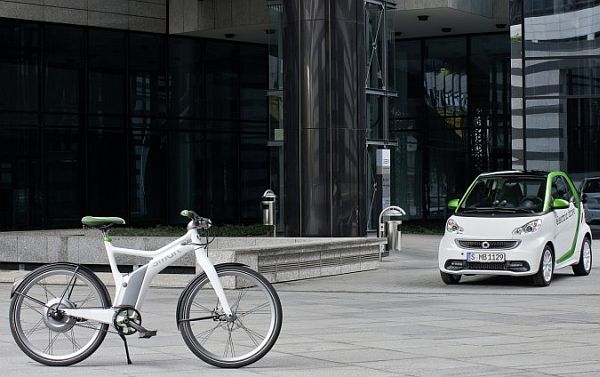 With a dynamic and considerable change in the power, third generation smart for two is ready for debut at Frankfurt Show. This time a second member, Smart Bike, might accompany the EV. Expect these two in at least 30 markets in 2012, as per the details. Third generation smart for two will come out with more powerful Bosch brushless electric motor and lithium ion bettery with improved capacity. If you compare the power, then it has been upgraded to 73 hp, which is 33 hp more than the present model.

Further, motor provides torque of 96 lb-ft and the car can go 0 to 37 mph in 5 seconds and that to 63 mph in less than 13 seconds. With a range of 87 miles, it boasts a top speed of 75 mph, which is 63 mph in the current model. German-based Deutsche Accumotive has provided a 17.6-kilowatt-hour unit battery, which increases the range of the car up to 16 miles as compared to current version. It takes at least eight hours to charge if you plug it to a standard European wall socket, and that will be 1 hour if connected to onboard 22-kilowatt charger. We can see 10,000 units in 30 markets as Mercedes plans for the new version.
In addition, the smart electric bike might come to market at the same time. The smart bike will have 250-watt brushless electric hub motor. 400-watt-hour lithium-ion battery will supply enough juice to assist the rider up to 100 kms. The electric assistance level can be adjusted through a handbar mounted control unit. The three-speed electric motor hub is mounted within rear 26-inch wheel.